Betternet VPN is a free and premium VPN that is available on the market. It is the only VPN that offers lifetime free VPN service and a paid VPN service. With the internet-based threats increasing every day, the need for VPN also increases. Everyone needs to have a good VPN to protect their personal data. There are a lot of free VPNs available just for the name but will do nothing other than having your data. Amidst the free VPNs, Betternet VPN is considered to be one of the best free VPNs. If you are going to install Betternet VPN on your device or going to upgrade to the premium package, read the below review carefully and decide it for yourselves.
Overview
| | |
| --- | --- |
| Jurisdiction | Canada |
| Servers | 7 virtual locations in the US |
| Countries | 10 |
| Website | www.betternet.co |
| Simultaneous Connections | 6 devices (for premium customers) |
| Netflix | Yes |
| Torrenting | Slow torrenting |
| Supported Platforms | Android, iOS, Windows, macOS, Browser Extension |
| Customer Support | Email and Help Page |
Pros
Free to use
Simple UI
Support iOS devices
Unblock Netflix
Cons
Slow service
No Kill Switch
Can't be used for torrenting
Limited features for premium users
Server Location
In Betternet VPN, you can change your location to 10 countries which are USA, Australia, Canada, France, Germany, Hong Kong, Japan, Netherlands, Singapore. In the USA alone, it has 7 virtual locations (servers), Atlanta, Chicago, New York, Virginia, Los Angeles, Salt Lake City, and Seattle.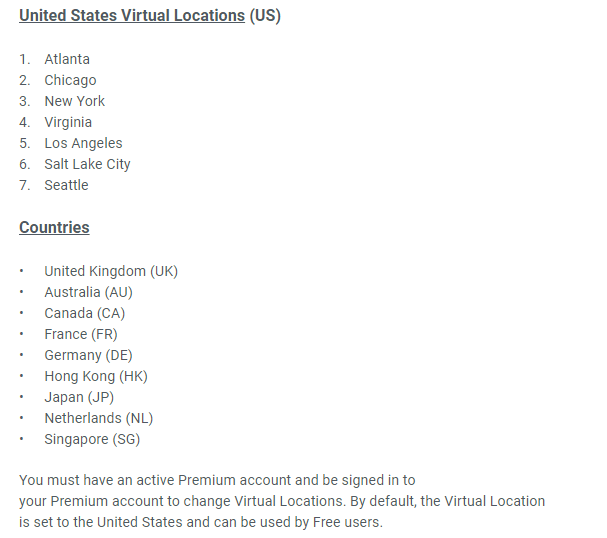 These are the 17 locations you can use in this VPN. As VPNs are considered, more server locations are the first expectations of a user. Having said that, these numbers won't justify the Betternet VPN.
Price and Package
Betternet VPN offers two types of services. Free and premium packs.
Betternet VPN Free Version
In the free version, you can use the VPN for free without any restrictions. You can get to choose four virtual locations in the free version, Russia, Canada, Germany, and the Netherlands. The free version is only available for Windows, Browser extension, and you can't access the free version in iOS devices. Instead, you can buy premium plans or a free trial for seven days.
Betternet VPN Premium Version
In the premium version, you can have access to 17 virtual locations and has three packages.

| | |
| --- | --- |
| Time Period | Price |
| One month | $11.99 per month |
| Six months | $23.94 ($3.99 billed per month) |
| One year | $35.88 ($2.99 billed per month) |
If you go for a long term subscription, you can save a lot of money. In the premium version, you get no ads and can link up to 6 devices. You can use the premium version in the iOS devices.
Betternet VPN Free Version vs Premium Version
| | | |
| --- | --- | --- |
| Features | Free Version | Premium Version |
| Data Limit | Unlimited | Unlimited |
| Virtual Locations | 4 | 17 |
| Ad-free | Premium ads appear | No ads |
| Simultaneous connection | No login required | Up to 6 devices |
| Encryption | Yes | Yes |
| Enhanced Speed | No | Yes |
| Supported Devices | Android, Windows, and Browser Extensions | Andriod, Windows, Browser Extension, iOS, and Mac |
Supported Platforms

Betternet VPN is supported in Android, iOS, Windows, Mac, and Chrome browser Extensions. You can download the VPN app on your iOS device but you need to have a premium plan to use the VPN. You can use the free VPN on all the other devices.
Jurisdiction
Betternet VPN is operating in Canada. Canada is one of the 14 eye countries. Generally, it is not a great choice to choose a VPN that comes under 14 eyes. Their government will monitor your data for safety purposes. If you are worried about these issues, just switch to any other VPNs like NordVPN and ExpressVPN.
Encryption and Security
Betternet VPN offers all the standard encryption that is available on most of the VPNs. 128-bit encryption over IPSec and 258-bit AES encryption over Catapult Hydra are the encryptions used in this. The Catapult Hydra VPN protocol is as secure as OpenVPN but there is no information available on the site.
In addition to these encryptions, it also has a feature called Auto-Connect. This feature will turn on automatically if you connect to an insecure hotspot network. This feature is available for Premium users.
Streaming and Torrenting
In Betternet VPN, you can unblock Netflix and Amazon Prime Videos but only in the premium version. Sometimes, you can get slower download speeds in the VPN. If you want a good streaming experience, Betternet VPN is not a good choice for you, choose any of the premium VPNs like NordVPN and ExpressVPN.
In torrenting, Betternet VPN is not the best choice. There are many VPNs that can do better than this. Torrenting also very slow and it is not recommended.
Logging Policy
The logging policy is one of the major concerns in the Betternet VPN. Since the jurisdiction is in Canada, the VPN may have the records of your browsing. The privacy policy is also not straight forward.
Betternet VPN may use your IP address to find your location but never store your IP address. It will have your real IP address, in order to encrypt it. Your IP address is deleted only after you disconnect the VPN.
Betternet VPN can keep records of all your visited websites. They claim that these records are impossible to trace back to the specific user. Though they claim this, it is still a threat to your privacy.
Betternet Free VPN users have more privacy issues. In the free version, the VPN is powered by ads, so definitely advertisers will have access to your browsing history, user location, advertising ID, and network.
All your browsing history and personal details are stored in the VPN logs and it is safe and secured. This is what the VPN claims. If you are satisfied with this, you can go for this VPN. If you want total anonymity, Betternet VPN is not for you.
Performance and Speed Test
The performance of the Betternet VPN is average. But in the free version, the performance is very low. You can't expect good performance without any sacrifice. If you go for the premium version, you can get a higher speed.
The speed tests are taken with 20 Mbps WiFi connection and using the website speedtest.com by Ookla.
Without connecting to the VPN, we get the below results.
Pings: 31 milliseconds
Download speed: 18.56 Mbps
Upload speed: 10.32 Mbps
By connecting to Canada server, we get, (free version)
Pings: 366 milliseconds
Download speed: 5.54 Mbps
Upload speed: 3.63 Mbps
By connecting to the US server (premium server), we get
Pings: 211 milliseconds
Download speed: 12.63 Mbps
Upload speed: 8.15 Mbps
In the speed test, the premium version performs better than the free version.
User Experience
The user interface is the simplest of all. You just have to click the Connect button to use the VPN. By default, it will connect to the US server. If you want, you can change the location to any of the four countries in the free version and 17 locations in the premium version.
The UI is pretty much the same in Windows app, Browser extension, iOS app, and Android app. All have the Connect button and the VPN logo. No extra details like download speed, upload speed, and session time are displayed.
Customer Support
Betternet VPN has a dedicated Help Centre to solve the queries. In the Help Centre, the articles are categorized into types of devices that make it easier to find your query. You can also use the search bar to find a solution to your query. It has no live chat or phone call support to its users.
Premium users will have access to email helpline which is available 24/7. The email support is very responsive. We got a reply within a few hours of time but the solution is not clear enough.
Is Betternet VPN safe?
In recent years, Betternet VPN faced a lot of criticism. In the year 2016, the VPN is ranked as one of the top Android VPNs. Since 2016, Betternet VPN made a lot of changes in the app and the services which includes the premium version.
Still, Betternet VPN is one of the vulnerable VPNs. The VPN is not 100% safe for you.
Is it worth the buy?
Betternet VPN costs $11.99 per month which is pretty much equal to NordVPN ($11.95) and costlier than PureVPN (10.95), Ivacy VPN (9.95), & IPVanishVPN ($10.00). Despite having a high cost, the features offered are very minimal. To spend $12 on this Betternet VPN, it is wiser to spend that money on other better VPNs.
Are you impressed with the Betternet VPN and its features? Leave a comment below. Also, don't forget to follow us on Twitter and Facebook for more updates.
Was this article helpful?