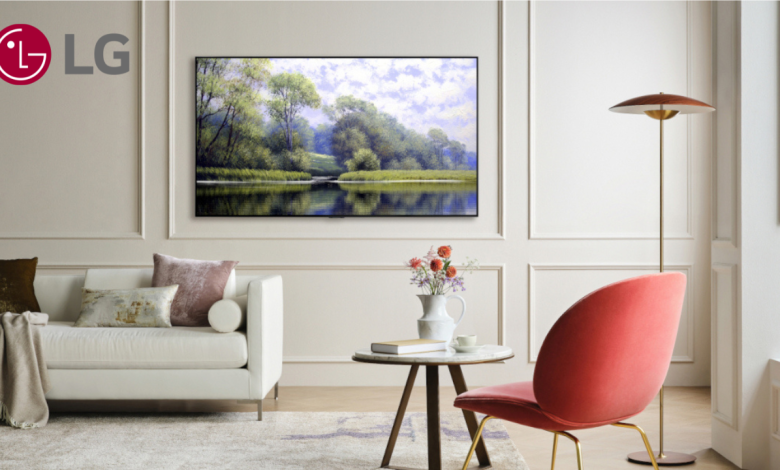 Key Highlights
Gallery Mode is available on 2018 and above model LG smart TVs.
LG TV: Navigate to Home → App List → Art Gallery → Choose artwork → Install artwork→ Enable gallery mode.
Ever wonder about turning your LG smart TV into a modern piece of art? Gallery mode is here to fulfill your wish. If you're using a 2018 and above model LG smart TV, you can access the feature to enable gallery mode which converts your regular screen into a modern painting hanging on a wall. To use this feature, you should navigate to "Art Gallery", a built-in application available on specific model LG TVs. This app offers an extensive collection of art and paintings including 3D pictures and sceneries. By scrolling down a little bit, you can know more about the gallery mode and its exclusive features.
What is Gallery Mode?
Basically, gallery mode is a screen saver for LG TVs. After enabling the gallery mode, it will display your desired image as a screensaver when your device is idle. It displays the slideshows of pre-installed landscapes and stock images and also prevents image retention and burn-in issues. Besides displaying a dull low-quality image, gallery mode optimizes to display high-resolution art for personalized viewing. Similar to Samsung Frame TVs, it adjusts the screen brightness based on ambient lights to deliver natural artwork.
Gallery Mode Compatible LG TVs
Not all LG TV models support the gallery mode. It is one of the most notable and unique features, you can buy any of the below-mentioned LG smart TVs to get the feature.
LG OLED evo
LG SIGNATURE OLED
LG OLED
LG QNED
LG Nanocell
LG 8K TVs
LG Ultra Large TVs
LG UHD 4K TVs
How to Enable Gallery Mode on LG TV
Enabling the built-in gallery mode feature is a straightforward method on LG smart TVs. Just follow the below algorithm to turn it on.
[1] Turn on your LG TV and connect it to a stable WiFi network.
[2] After that press the Home button on your remote control and navigate the home screen.
[3] From there, select the Art Gallery app under the App List section.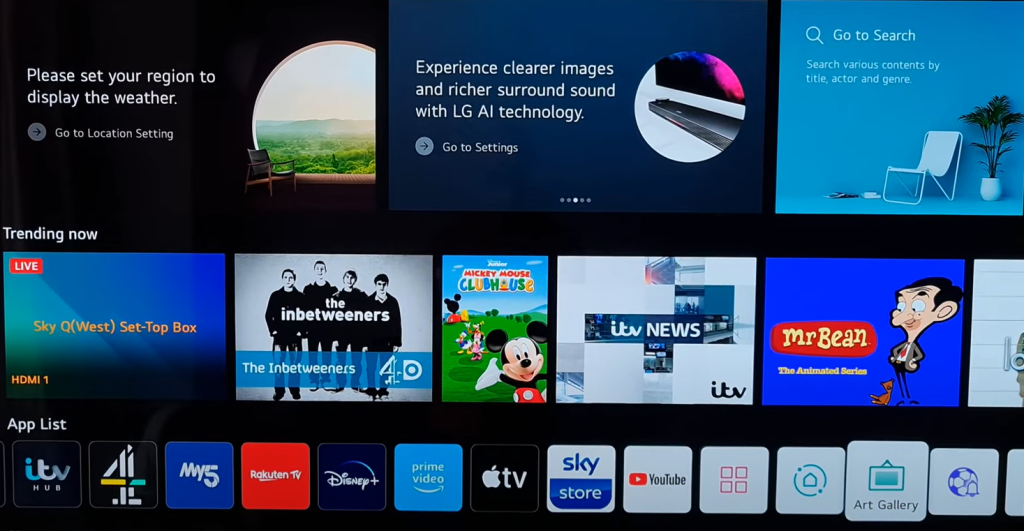 [4] Upon opening the app, you can access artworks that are pre-installed on Art Gallery.
[5] Choose the one you like, and point the cursor at the art if you're using the magic pointer. Else, use the directional pad and tap the Download icon to install the art.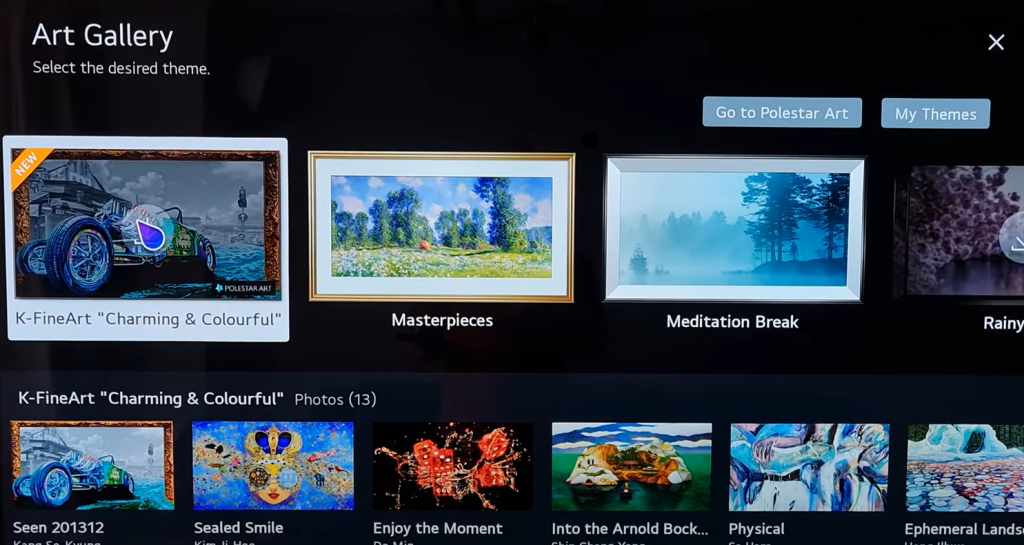 [6] Wait for a minute or two, it will install depending on your network conditions.
[7] Once installed, the gallery mode will be enabled and the desired art will appear on your screen.
[8] Moreover, you can also use audio in your art by turning On the Theme Sound option.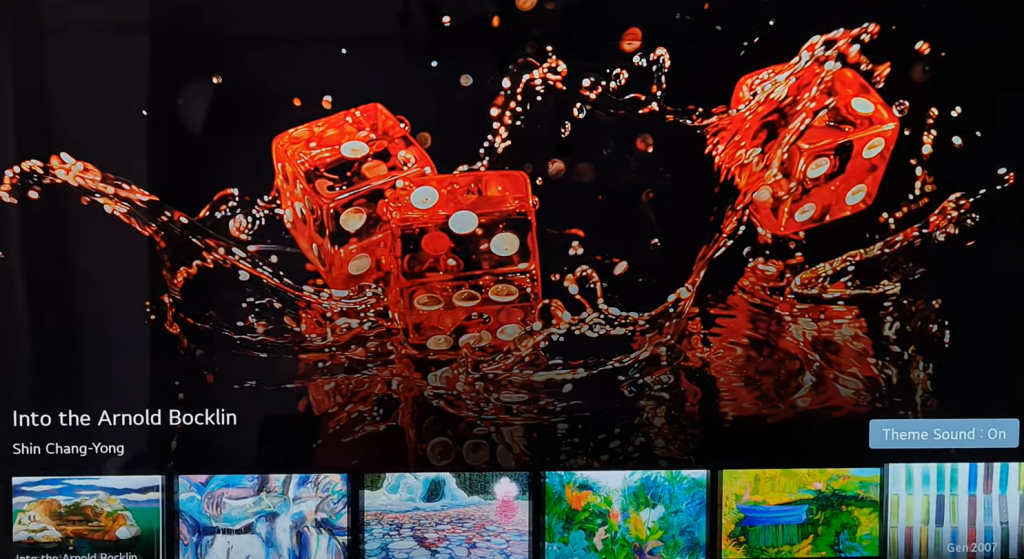 How to Turn Off Galery Mode on LG TV
However, not everyone like the gallery mode option enabled on their TV screen. If you get annoyed, disable the feature by accessing the Hidden menu on your LG TV.
[1] Launch your LG smart TV.
[2] Press the Mute button 3 times continuously.
[4] Now, the Hidden menu will pop up on your LG TVs screen.
[5] From there, scroll down and toggle Off the No Signal Image option.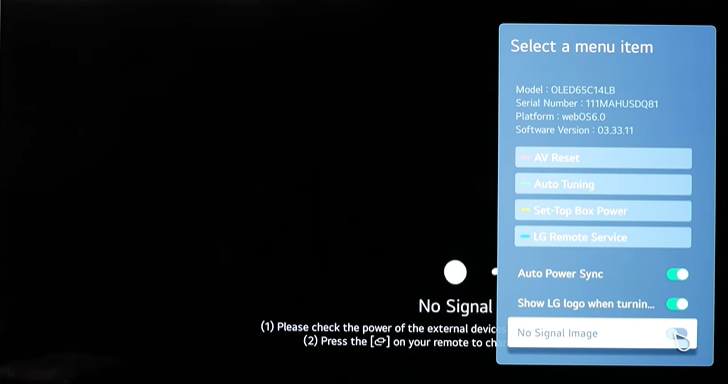 Gallery Mode – Overall Review
After overviewing the Gallery mode, here are the pros and cons that we've analyzed:
Pros
You can turn your LG TV into a poster or painting while it's not in use.
It is an extraordinary feature for users who owns LG UHD 4K model TVs.
Adds extra details in your living room with its detailed colors and saturation.
Cons
There are no customization options available in gallery mode.
Can't adjust the time interval to display a specific image.
There may be a lot of energy being consumed while enabling gallery mode.
Can't Enable Gallery Mode on LG TV – Fixes
Are you facing issues with enabling gallery mode, don't worry. You can follow simple troubleshooting techniques to resolve the issue.
While installing, make sure that you've connected your LG smart TV to a stable WiFi network.
Make sure that you've purchased LG TV which supports gallery mode.
It is mandatory to clear cache files on your LG TV regularly to eliminate bugs and glitches that are affecting your device's performance.
FAQ
1. Can I enable gallery mode on LG C1 and C2?
Yes. If you own an LG C1 or C2, you can turn on the gallery mode by accessing the Art Gallery.
2. Can I add my own pictures to Art Gallery on LG TV?
No. Besides the default images, gallery mode doesn't support your own pictures while displaying.
Was this article helpful?