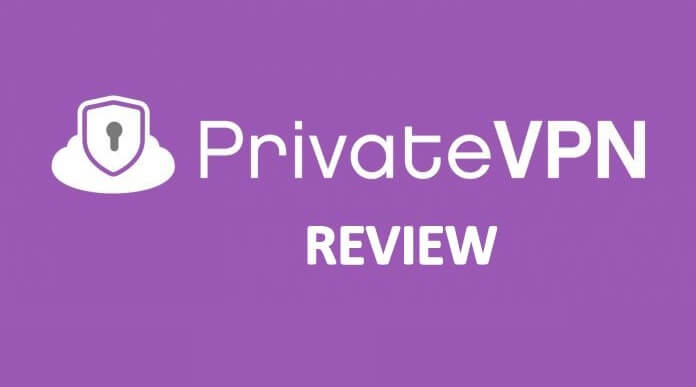 Gn today's world, we hear a lot of news every day featuring a security breach or privacy threat. To control and protect these issues, VPN was introduced. Nowadays, VPNs are also vulnerable to security threats. In the midst of all threats and problems, VPNs are delivering services to the customers in the world. PrivateVPN is one among the VPN which is considered as a medium-range VPN. Here we give you the expanded review of the PrivateVPN with all its features, advantages, disadvantages, and its worth.

Overview
| | |
| --- | --- |
| No. of Servers | 91 |
| No. of Country | 60 |
| No. of devices | 6 |
| Logging | No Logging Policy |
| Supported Platforms | Android, iOS, Windows, Mac |
| Encryption | 2048-bit Encryption with AES-256 |
| Torrenting | Allowed |
| Available in China | Yes |
| Jurisdiction | Sweden |
| Contact Support | Live Chat, Email Chat, and Support Page |
| Website | privatevpn.com |
Pros
Unblock Netflix
Consistent speed
User-friendly apps
Cons
No browser extension
Not available for Linux
live chat
Pricing
PrivateVPN is one of the cheapest VPN services available when compared to other VPN services.
| | |
| --- | --- |
| Time period | Price |
| One month | $5.48 |
| Three months | $11.25 ($3.75 per month) |
| 37 months | $72.00 ($1.95 per month) |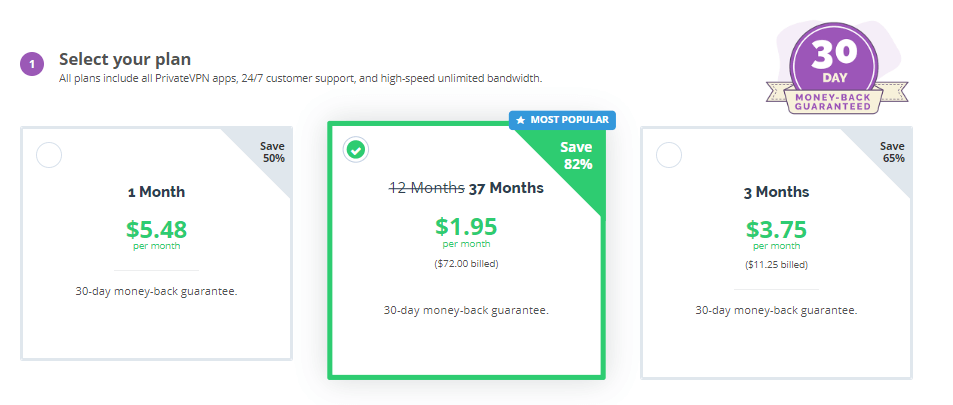 In the 37 months plan, you will get the cheapest per month ($1.95) which is way more than lower than the one month pack. All three plans have a 30-day money-back guarantee period.
Other than these paid plans, it has a free trial too. You can get the free trial for 7 days. In the free trial, you can use the PrivateVPN to its full potential.
Supported Devices
PrivateVPN is not a big VPN service provider. It is maintaining its resources in a shorter environment. It is supported by Android, iOS, Windows, and macOS. The VPN is not supported by Routers and Linux Computers. PrivateVPN doesn't have any browser extension.
It is pretty evident that the VPN is restricting its services to only popular platforms. Considering its user accounts, PrivateVPN is doing what's best for its users.
Server Locations
The server counts and the country location is a bit disappointing. In the home page of the website, they have mentioned that it has servers in 100 locations. In the server page, they have mentioned 150+ servers. But they have only 91 servers for real. We can many customers who were fooled in the online feedback. There is no standard transparency on the website.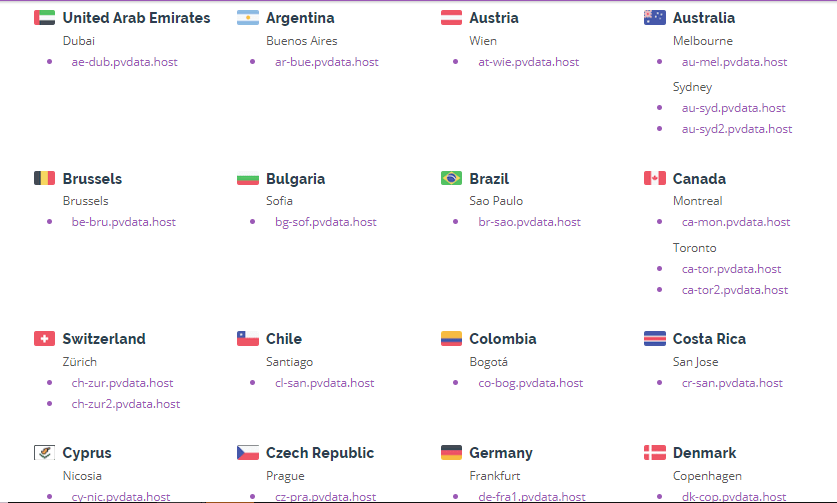 In terms of locations, PrivateVPN is available in 60 countries as said on the website and it is true. They have locations in continents like America, Asia, Europe, Africa, and Australia. It covers almost all regions in the world.
Jurisdiction
PrivateVPN is based on Sweden which is one of the 14 eyes countries. It is not advised to use a VPN which is based on 14 eyes. There is no guarantee that your data can't be leaked.
Between the 14 eyes, there is a pact that they will release the user data in the name of world safety. These 14 eyes countries will always keep an eye on your data without your knowledge. The location is one of the major reasons for the minimal count of PrivateVPN users.
Logging Policy
In the website, they have mentioned that they are not keeping any logs. But it is upto the PrivateVPN employees about the liability of the company. They say that the email address and the password are the only information that is stored and they strictly follow the no-logs policy.
But the location of the 14 eyes countries is one of the major concerns to be considered. Sweden is known for its security breach and data leak. Even though the PrivateVPN alleges that they don't track any information, we cannot completely trust them because of their location.
Features
The main advantage of the PrivateVPN is that it is made simple and at the same time gives you all the necessary features for a VPN.
PrivateVPN has almost all the common features that a VPN need to have. It has common features like Kill Switch, DNS Leak Protection, and IPv6 Protection. It doesn't have Split Tunneling which is one of the important features of a VPN.
To replace Split Tunneling, PrivateVPN has a feature called Application Guard. This is one of the best features of the VPN. You need to add apps in the Application Guard so the next time when your VPN connection gets disconnected abruptly, all the apps on the Application Guard will be closed automatically.
The other notable feature is the Stealth VPN. It is a special proxy server that is used to hide your web traffic in order to bypass the high restricted sites like Netflix, BBC iPlayer and in secured firewall locations like China and UAE.
These are the two features that are the key features in the PrivateVPN. This VPN will hold good for casual users use and for beginners. One who needs a lot of features and a lot of customization options, you need to go for some other high-end VPNs like NordVPN.
Encryption and Security
PrivateVPN is using the 2048-bit encryption with AES-256. This is the same encryption that is used by the military and government. It also has OpenVPN with UDP/TCP, L2TP, IPsec, PPTP, and IKEv2. The default setting is OpenVPN with UDP. If you want you can change it. For security purposes, PrivateVPN has DNS leak, IPv6 leak blocking, and Kill Switch options.
It also has advanced security features like Tor over VPN. In this method, you will get connected to a VPN server and then to Tor. In this way, you get the protection of the Tor network in addition to the VPN protection.
Torrenting and Streaming Services
Though the PrivateVPN is a basic VPN, it unblocks popular streaming services like Netflix, BBC iPlayer, Amazon Prime, Hulu. The PrivateVPN has a list of servers that are dedicated to streaming services alone. You can see the list of streaming services it can on the BY SERVICE list. You can choose which service you want to stream, PrivateVPN will show you the specific server that can unblock the specific streaming service.
PrivateVPN can be used for torrenting. In all the servers P2P is allowed and there are servers in some specific countries that are specially used for torrenting. In the BY SERVICE section, there is an option named Dedicated IP/Torrent where you find servers for torrenting alone.
Available in China
PrivateVPN is one of the fewest VPN that you can access in China. With the Great Firewall in China, you can't easily access any restricted content. China is following a strict policy in this aspect. So it is highly competitive to get a VPN in China. Only a very few VPNs are available in China, PrivateVPN is one among them.
Performance and Speed Test
Coming to its speeds, PrivateVPN will never disappoint you. PrivateVPN maintains a constant speed. Not so fast or not very slow. PrivateVPN doesn't have any fastest server connection. You need to connect to the server manually.
USA Server
Pings: 139 milliseconds
Download Speed: 63.48 Mbps
Upload Speed: 25.78 Mbps
UK Server
Pings: 164 milliseconds
Download Speed: 54.98 Mbps
Upload Speed: 29.76 Mbps
Germany Server
Pings: 248 milliseconds
Download Speed: 80.23 Mbps
Upload Speed: 49.31 Mbps
Europe Server
Pings: 208 milliseconds
Download Speed: 63.16 Mbps
Upload Speed: 38.79 Mbps
Australia Server
Pings: 324 milliseconds
Download Speed: 39.53 Mbps
Upload Speed: 24.09 Mbps
The speed tests are taken from the website speedtest.net, you can also check the result if you want. Test results may according to the location.
Customer Support
PrivateVPN has live chat, email chat, and Support Page which is the most available option on the other VPNs.


The Live Chat option is not exactly a live chat. It is not available 24/7. Sometimes the live chat will direct you to the email chat. In a live chat, you need to wait for a long period of time to get a reply to your queries. When you ask for a query they will send you the solution link not giving the solution directly. PrivateVPN live chat is definitely not the best.
There is an indication of the availability of the live chat. The green colour on the live chat indicates that the live chat is available now and the red colour indicates that the live chat is not available at the moment. Live Chat is meant to provide a solution immediately. PrivateVPN's live chat is not the greatest.
The email chat is also not up to the mark. It takes more than a day to get a reply. But you get the exact solution. When compared to live chat, email is far better. Though you will get a late reply, PrivateVPN will deliver your needs exactly. You can also check the status of your email query with the ticket ID.
In the Support Page, it has solutions on category wise like Getting Started and FAQ. In the Getting Started menu, it will have the guides on how to set up PrivateVPN on various devices in a step by step manner. In the FAQ section, it will have all the questions regarding the installation and working of the VPN.
User Experience
Even though there are some advanced features available on the PrivateVPN, the VPN is easy to use. Opening the VPN will allow you to choose a server and connect which is very great for a beginner. If you want more in-depth features, click on Advanced option on the bottom left corner of the screen. There you can see the Dashboard, VPN Settings, Connection Guard and Stealth VPN. If you are a pro VPN user, you can explore these settings.
Server arrangement is one of the best things in this PrivateVPN. The servers are arranged by streaming services, for torrenting, all servers list, and favorite server list. You can add the fastest server or your nearest server to the Favorite list so it will be easier to choose it. In addition to that, you can also search for a server in the search bar which is on the top of the screen.
Missing features on PrivateVPN
PrivateVPN has missed some of these features that a VPN should possess.
There is no extension for specific browser use.
The Kill switch feature is available only on the Windows app.
Only a few numbers of servers are available
The VPN app is not available for Linux OS
Is PrivateVPN worth buying
By considering its cost, it is worth the buy, as the VPN is one of the cheapest VPN. But when the services and quality are considered, PrivateVPN is not worth the money. PrivateVPN is not the high-end VPN, it is more apt for low range use. If you expect your VPN to be cheap and deliver the basic VPN service, PrivateVPN is the best choice for you. If you want high-end VPN servers, you may have to look for alternatives.
Have you tried it, what's your take on PrivateVPN? Leave a comment below. Also, follow us on Twitter and Facebook for other updates.
Was this article helpful?