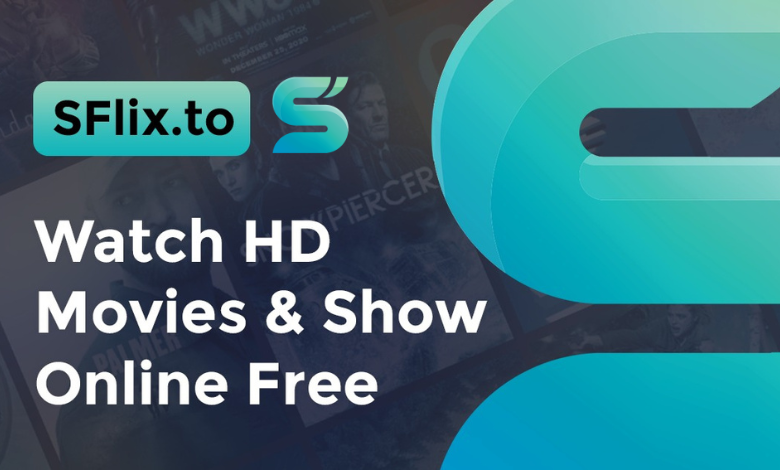 From the list of on-demand streaming platforms, Sflix is a great choice for those who want to watch their favorite media with friends and family. With access to content from a variety of streaming services, users can access a wide selection of movies and TV shows free of cost. Additionally, this service provides recommendations based on users' viewing habits, allowing them to discover new media according to their needs.
With a stable WiFi network and web browser, you can watch all the content on SFlix from your smartphone or PC without any interruptions.
DISCLAIMER! We don't have any affiliation with SFlix and the content available on the website. We have provided this article only for educational purposes and aren't responsible for any legal issue arising while using this service.
SFlix – Site Design
The SFlix Website [https://sflix.to/] has a simple and user-friendly interface in a well-organized manner. The main page contains a navigation bar to search for your favorite movies and TV shows for convenient use. Additionally, the website provides all the necessary information about SFlix on the main page.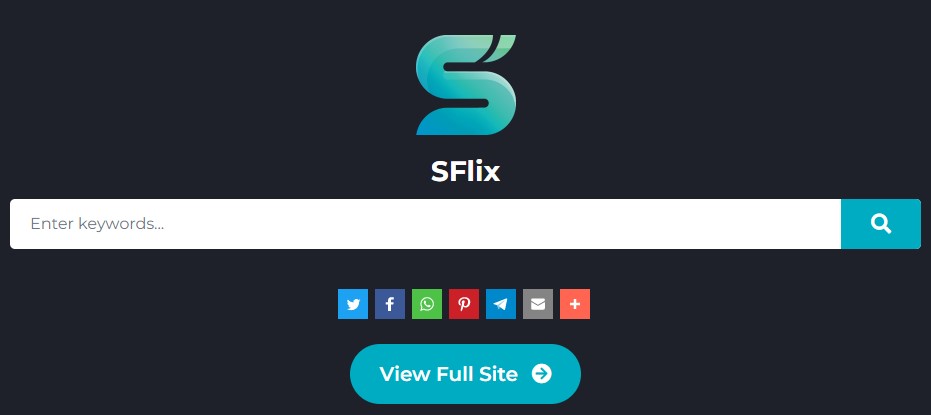 From the Main page, you can scroll down and click, View Full Site or Go to SFlix to visit the home page. The home page consists of a list of popular and recently added movies & TV shows in a unique way. Despite being a free streaming platform, it provides a premium interface for users to access the content.

On the home page, you can see the Browse tab at the top left. After selecting the tab, you can view a list of categories like Movies, TV Shows, Top IMPDB, and Android App. It also offers a Genre and Country section that contains all the genres, which include action, adventure, crime, comedy, romance, thriller, western, and many more from top countries.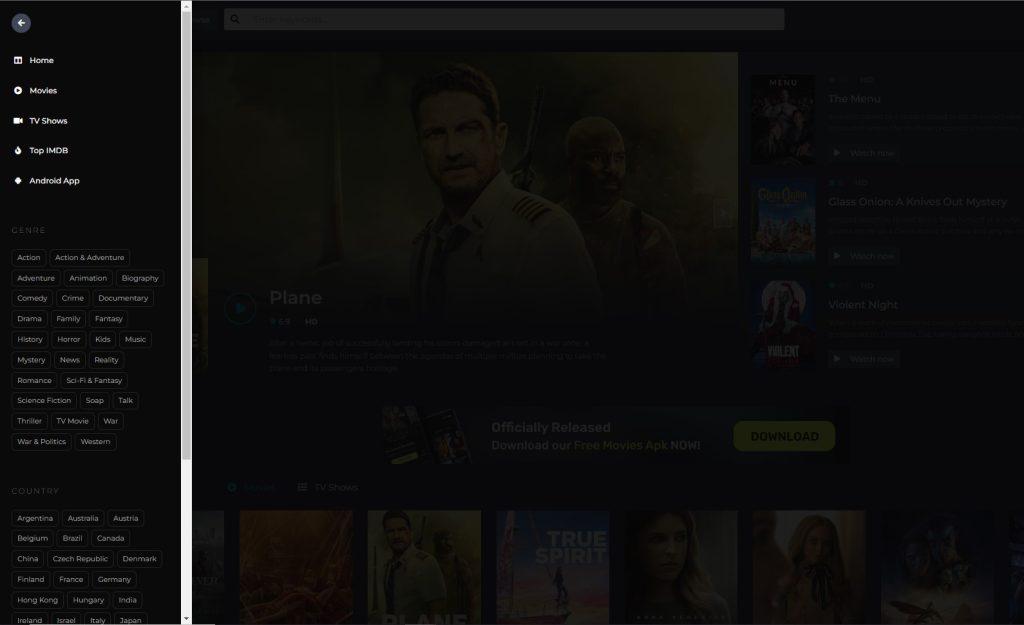 Movies
Under the Movies section, you can find all the movies available on the SFlix platform. After selecting the Filter icon at the top, you can view movies according to type, quality, year of release, genre, and country to your preference.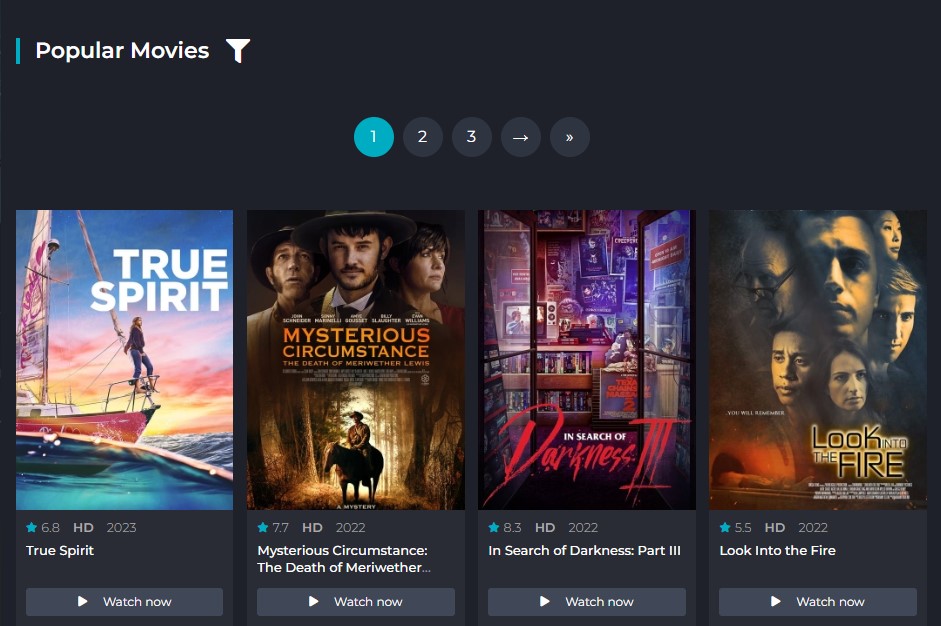 TV Shows
This section provides users with their favorite collection of TV shows in a precise manner. You can watch all the episodes of the TV show in HD, SD, and CAM quality. After selecting your favorite TV show, choose the respective season and click the episode to watch it online. Moreover, it also provides you to watch the Trailer before starting the specific show along with IMDB.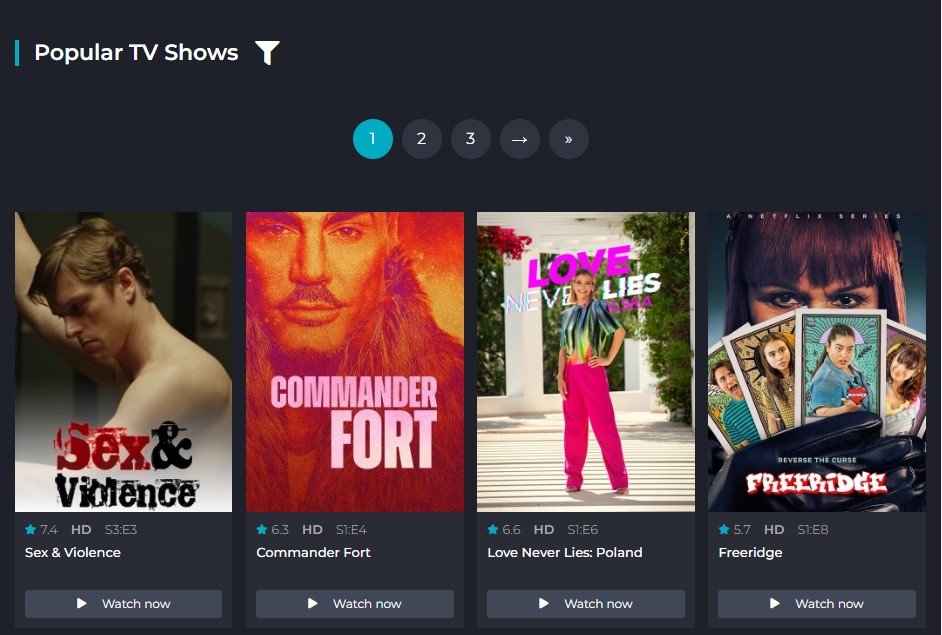 Top IMDB
It is a unique section where you can find the movies and TV shows listed according to their IMDB rating. You can select the Movies/TV Shows option to view the top-rated media separating Movies and TV Shows.
Apart from movies and TV shows, you can watch tons of anime, cartoons, and reality shows.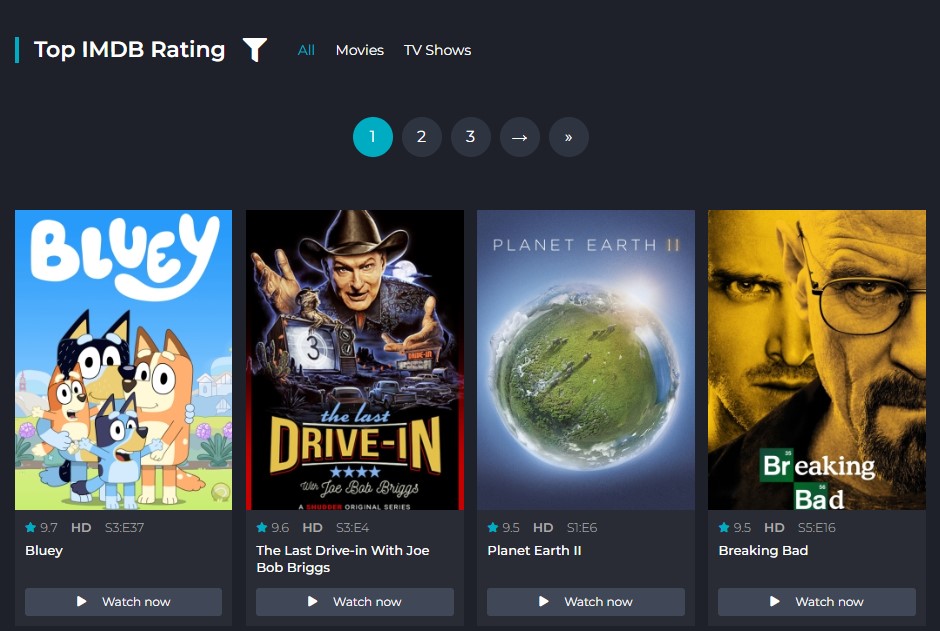 Android App
In addition, this platform also provides users with its official apk for Android devices. By clicking the Download for Android button, you can download the apk file on your Android device and install the app to watch the same content on your smartphone. Moreover, it also comes up with Chromecast support to watch video content on your smart TVs.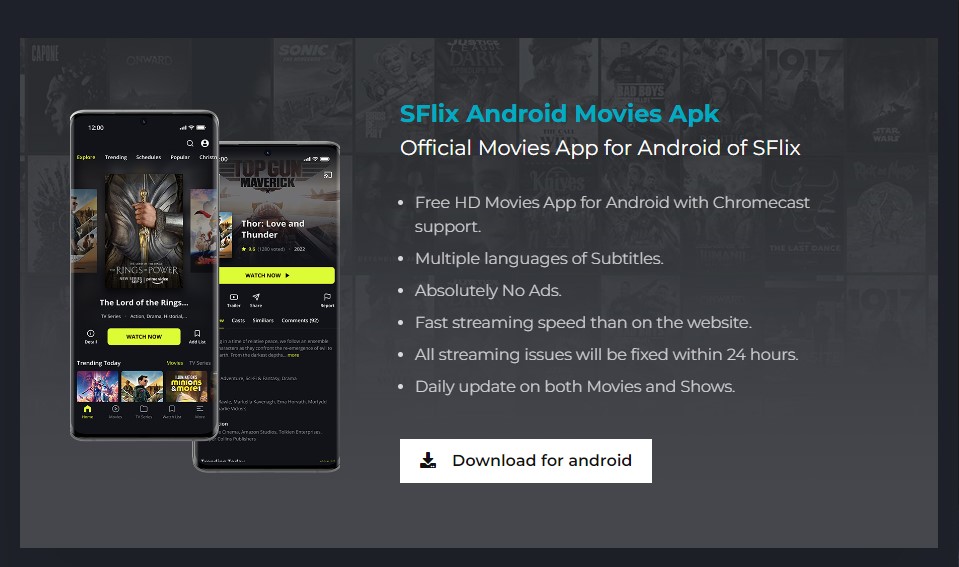 SFlix Supported Devices
SFlix is a unique streaming service that isn't officially available on Play Store or App Store. Luckily, if you're an Android user, you can install the apk file on your Android smartphone to stream all content on SFlix without ads.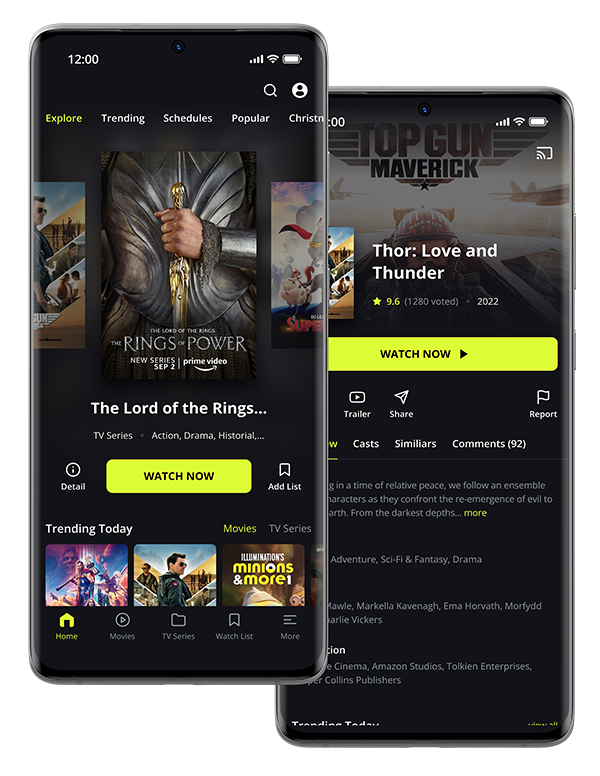 On other devices, you can install web browsers like Chrome, Edge, Brave, Firefox, and Safari to watch content directly on the website.
How to Watch Movies and TV Shows on SFlix
[1] Open a web browser of your choice on a PC or smartphone.
[2] Visit the website [https://sflix.to/].
[3] From there, click View Full Site.
Note: You can also make use of the navigation bar on the main page to quickly search and stream video content.
[4] Now, you can view the list of movies and TV shows. Click Browse and choose your favorite category.
[5] C choose your favorite show and click Watch Now.
[6] Finally, choose the server cloud of your choice to watch the required content on SFlix.
List of Popular Movies & Shows on SFlix
| | | | | |
| --- | --- | --- | --- | --- |
| Avatar | Puss in Boots | Teen Wolf | The Last of Us | Titanic |
| Velma | The Watchful Eye | Grind | The Catch | Bluey |
| Planet Earth | Breaking Bad | Bleach | Vinland Saga | Chernobyl |
| Cosmos | JoJo's Bizare Adventure | Rick and Morty | Game of Thrones | The Sopranos |
| Sherlock | Fullmetal Alchemist | Death Note | Arcane | The Dark Knight |
| The Office | Fargo | Cowboy Bebop | Friends | Snowdrop |
Is SFlix Legal to Use?
Technically, SFlix isn't a legal site to stream movies and TV shows. The content provided on this platform is not licensed or authorized for distribution, so downloading or streaming from this site is considered copyright infringement. However, using this site to stream content is not illegal too. So, you can download or watch the media at your own risk.
Stream SFlix With VPN
VPN is highly recommended while watching movies or shows on the SFlix website for safety and privacy reasons. A VPN will encrypt your data and protect your online activities from being monitored or tracked. So, a VPN helps you to bypass the geo-restrictions to access this service.
We've recommended you use the below VPNs to stream securely:
SFlix Alternatives
Since SFlix is not a legal one, the site may be taken down at any time by the government or ISP. In that situation, you can use sites that offer similar features to SFlix.
FMovies

FMovies provides users with a large selection of movies and TV shows for free. It is well known for its large library of content and ability to stream high-quality content. Moreover, it is also one of the best alternatives for paid streaming services like Netflix, Hulu, and others.
PrimeWire

Being one of the best alternatives for SFlix, PrimeWire provides free streaming of movies and TV shows. It is one of the popular websites that offer a range of content, from classic films to new releases. From PrimeWire, you can access content from genres like action, romance, comedy, sci-fi, horror, animation, documentary, and more.
CMoviesHD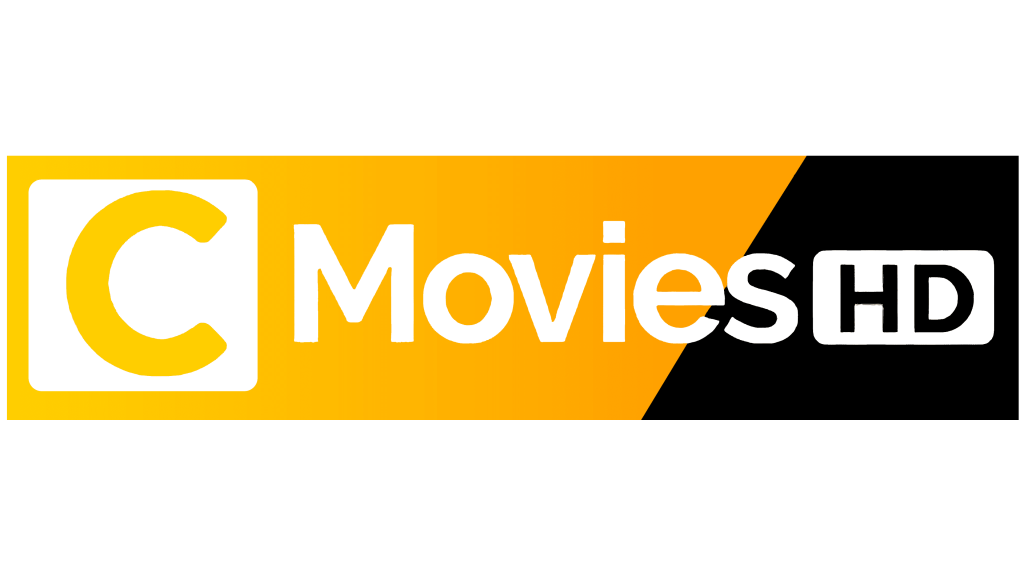 CMovies is another streaming service that offers free & endless streaming of your favorite shows. It has a large library of content, including old and new releases. In addition, it offers a variety of subtitle options and is easy to navigate. Undoubtedly, CMoviesHD is one of the top-notch streaming platforms with free movies and shows.
SFlix – Overall Review
Pros
The interface is simple and easy to navigate.
It has several exclusive content that deals with other streaming services.
It also has support for apk files on Android devices.
You don't have to register or subscribe to watch media content.
Cons
It doesn't provide any live TV content in its lineup.
An application for SFlix is not available on any device's app store.
Due to geo-restrictions, you can't watch content on specific regions.
It doesn't offer access to any pay-per-view events.
If you're looking for a free streaming service to stream on-demand content like movies, TV shows, and anime, you can choose SFlix. With its wide variety of library content and hassle-free streaming, you can gain a new experience on this platform. Keeping security and privacy risks in mind, you can easily watch media content on your web browser with a stable internet connection.
Was this article helpful?