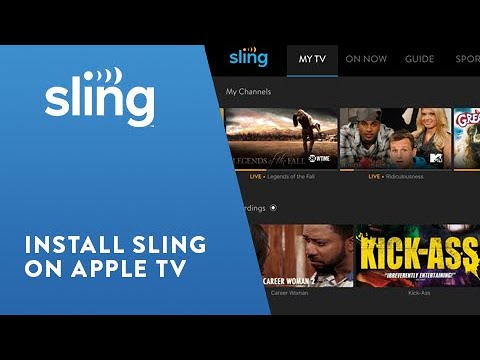 Sling TV is an over the top Television streaming service which lets you watch your favourite movies and TV shows. It is a subscription-based streaming service with only month to month subscription packages and there is no long term subscription. In addition to movies and live TV, it contains Available now features to stream on-demand video contents. It includes cloud DVR storage with 100 hours of recording time. It is currently available on Android, iOS, Xbox One, Firestick, Android TV, Apple TV, Chromecast and many more.
Sling TV Subscription
Sling TV is available in two different packages which are Sling Orange and Sling Blue.
Sling Orange costs $20 per month and it offers more than 30 channels to stream.
Sling Blue costs $25 per month, and it offers more than 45 channels to stream.
Sling TV is now integrated with NBA League pass for football streaming channels like NBA TV, NFL RedZone and NHL Network.
How many People Stream Sling TV?
Streaming of Sling TV depends on your subscription plan. If you subscribed to Sling Orange, you can stream Sling TV on only one device. If you subscribe Sling Blue plan, you are allowed to stream Sling TV on 3 devices simultaneously. If you got both Sling Orange and Sling Blue you are allowed to stream on 4 devices at the same time.
Sling TV Channels
Sling Orange subscription comes with various channels like ESPN, AMC, CNN, Comedy Central, Cartoon Network, the Disney Channel, TNT, IFC and A&E.
Sling Blue plan comes with Fox, NBC, USA, Bravo, TBS, FX, Syfy and Bloomberg TV, FX, El Rey, Viceland.
Both the plans are provided with a number of sports channels, for that you have to pay some extra other than your subscription.
Install Sling TV on Apple TV
Sling TV is an official streaming app available on all iOS supported devices like iPhone, iPad and Apple TV.
Step 1: Launch your Apple TV.
Step 2: Open App Store app.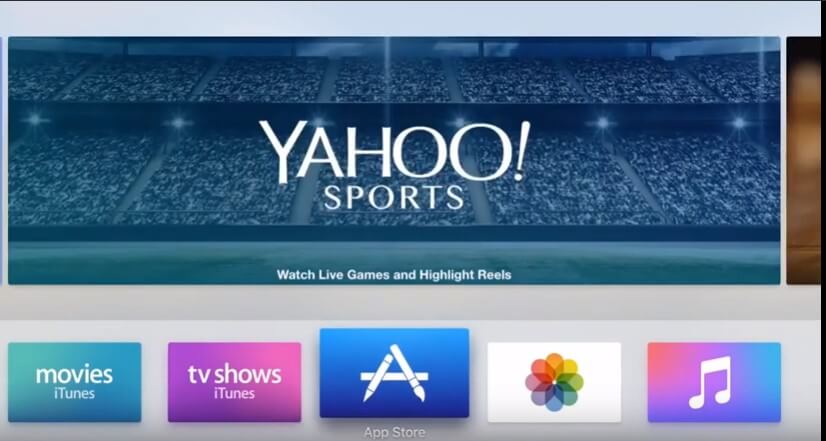 Step 3: Search for Sling TV and select Sling TV from the list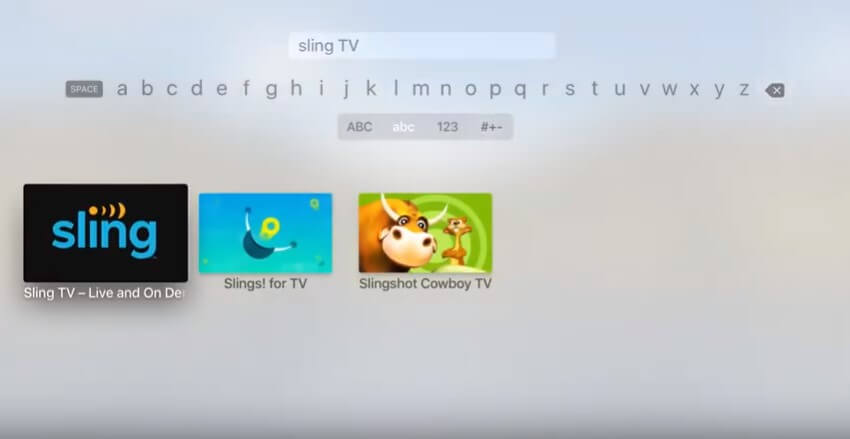 Step 4: Click on Install to get the app. Click on Preview button to see the Sling TV preview images.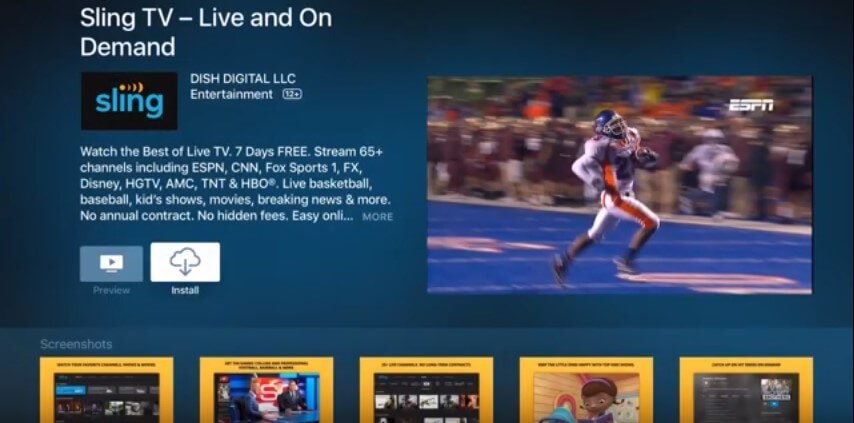 Step 5: Once the app is installed, Click open to launch the app.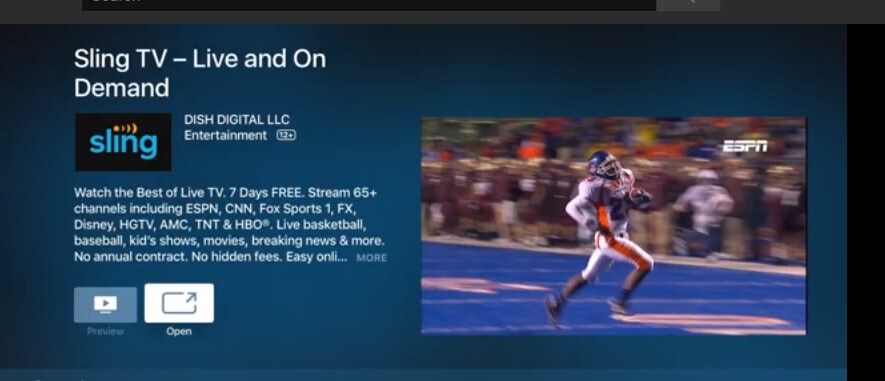 How to Access Sling TV?
Step 1: Open the browser on your mobile or computer.
Step 2: Visit www.sling.com.
Step 3: If you are a first-time user select 7 days free trial otherwise click on Sign Up.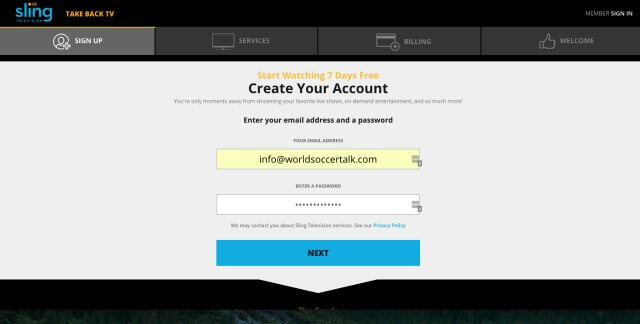 Step 4: Enter your Email ID and Password which you like to use for this service.
Step 5: Click Next button.
Step 6: Now select your subscription package and click on continue.
Step 7: Enter your payment details and click on the Finish and Submit button.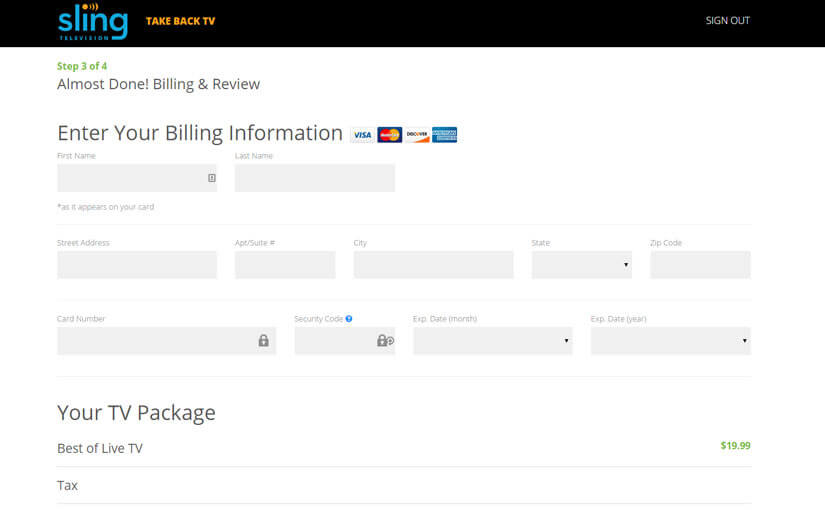 Step 7: Now you open the Sling TV app on your Apple TV.
Step 9: Enter your Email and Password.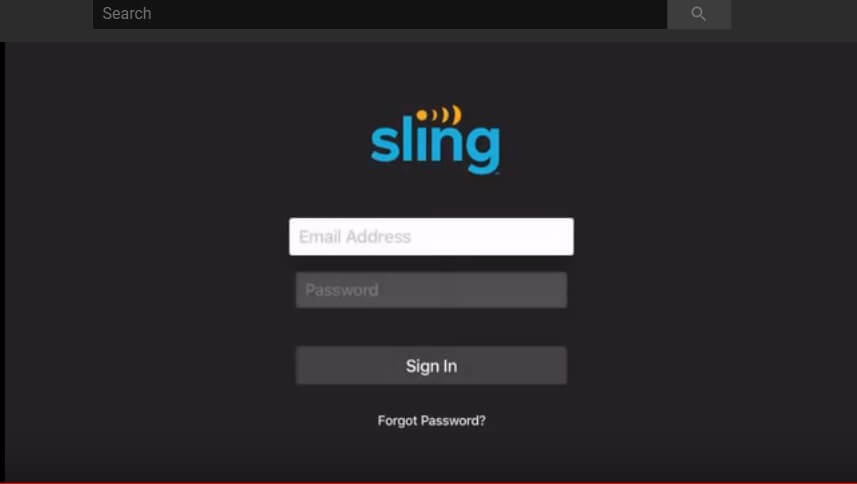 Step 10: Click on Sign in to enter into the Sling TV.
Now you can stream your favourite Sling TV channels.
Sling TV doesn't require any long term contract to stream live TV. It offers more than 150 live channels at less cost. It offers the TV shows and programs in 22 languages including Hindi, Arabic etc. Other than movies and shows it features kids friendly contents from Disney Channel and Cartoon Network. Sling TV runs smoothly on Apple TV, it does not require any special setup to access.
Sling TV Alternatives
There are so many streaming services available on this platform. Among them, some of the best Sling TV alternatives are Hulu TV, Philo, FuboTV, At&T TV Now, PlayStation Vue, YouTube TV and much more.
Comment below if you had successfully installed Sling TV on Apple TV. Follow us on Twitter and Facebook for more updates.
Was this article helpful?