Replacing cable TV subscription with live streaming service isn't easy unless you find the right cord-cutters. They are widely considered for the support of instant playback, low price, more streaming videos, parental controls, and more. Hotstar is one the best over the top streaming service to stay tuned with the local contents. It covers almost all your favourite topics on the go. For more related information, you can get in the section below.
Overview of Hotstar & its features
Hotstar is an Indian video-on-demand service by Novi Digital. It is an online streaming service and can be accessed from anywhere any device. The users of Hotstar can stream unlimited live popular TV shows, latest movies, live sports and news on the go. 
It is one of the Indian's largest premium streaming service to stream almost anything. Watch 100,000 hours of movies and drama, global sporting events in 17 different languages. The contents are classified under different categories and thus making it easy-to-use by anyone.
As a user, you need not compensate on the video quality while streaming on this app. The adaptive video streaming technology of this online streaming service will bring high-quality videos. i.e., the video will playback based on the bandwidth available automatically. Despite this, the users can even manually choose the video resolution based on internet speed.
Hotstar Compatible Device
Hotstar is designed to be the cross-platform supported service and you can watch any videos on any device. There is a dedicated app available for the following devices including
Android 
iOS
Android TV
PC/Mac Web browser
A closer look at its interface 
All the videos will be categorized under live TV, movies, sports, news, and premium contents on the home screen.
Clicking on the TV tab will show you the list of channels. Just select a channel to watch the list of programs. Under the Movies tab, choose the language to choose from the wide range of movie collection.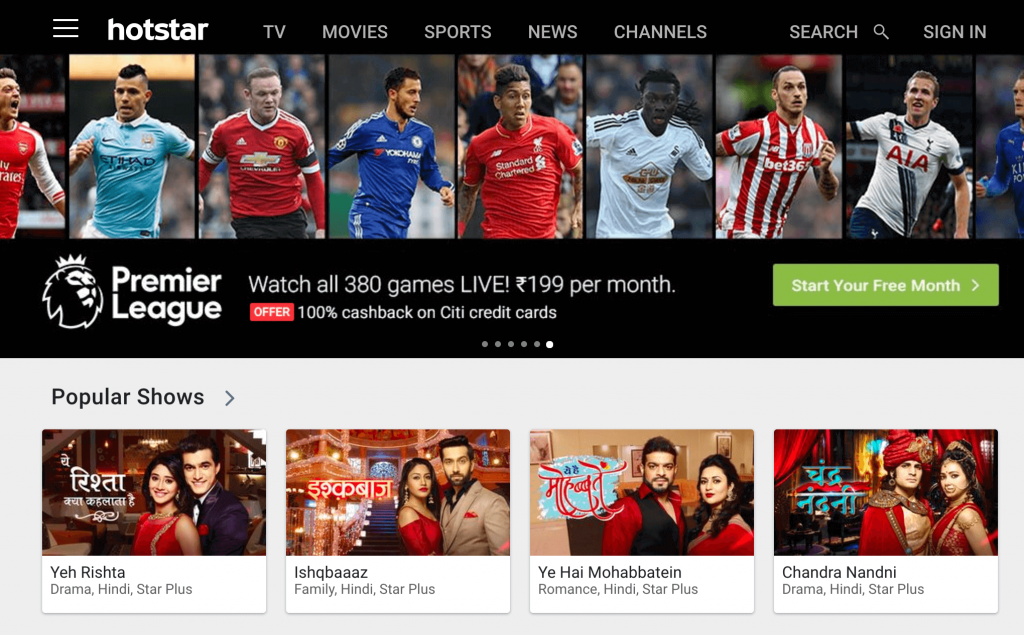 Under the Sports tab, you will find multiple sports events. Upon selecting a video, you shall start streaming your favourite matches. From the News column, you can watch live news in different languages.
Hotstar Specialities
It is an OTT streaming app and brings a unique collection of videos for sports and movie enthusiasts. It even supports binge-watching shows and series. 
With Hotstar, you will get live cricket scores, highlights, points, etc, of your favourite teams. Additionally, users can stream other sports matches like tennis, football, hockey, table-tennis, badminton, kabaddi, etc.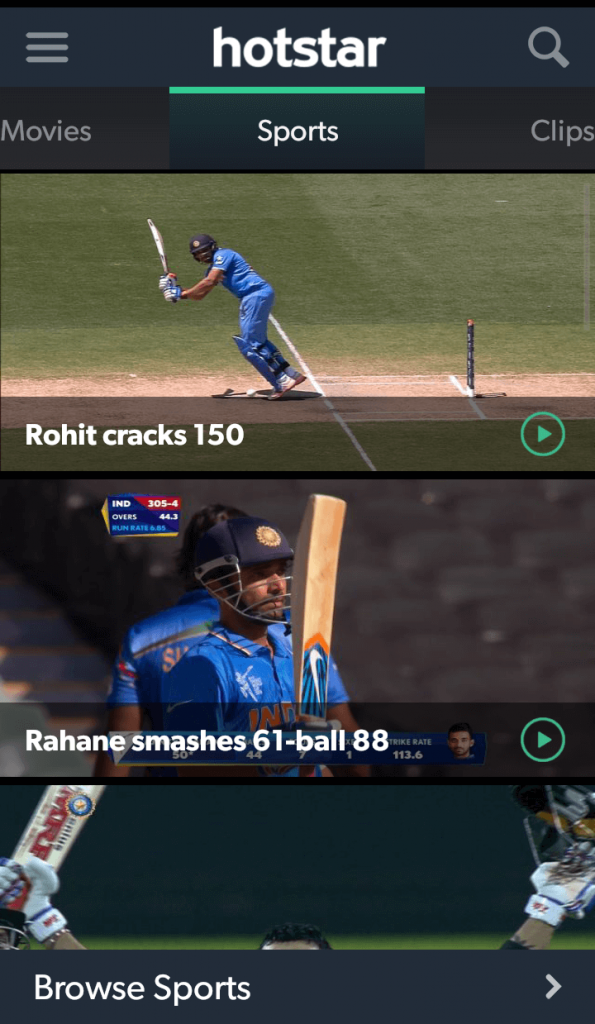 Besides watching movies in your vernacular languages, it supports streaming them from Bollywood to Hollywood and popular titles. Those TV bingers can watch local language shows and series, English shows, along with Hotstar specials.
It features smart search option and it lets its users discover videos with ease. It is optimized and so you will not find a delay in getting the search result.
This app will give you lightning-fast autocomplete suggestions and thus the user will get minimal navigation friction. Above all, you shall stream Hotstar originals like On Air with AIB, One Tio One Hand, and more. 
Hotstar Subscription Packages
It is free-to-sign up from the web as well as on the app. In addition to the free version, the users can choose from different subscription version to stream more of contents. 
With Hotstar VIP package, the users can stream live sports events like IPL, Premier League, Tennis, Formula 1, etc, for an unlimited time. It is available at $4.449/month. This will enable you to watch the Star serials before it gets air on TV and Hotstar Specials. 
Hotstar Premium supports streaming the latest American TV shows and Hollywood movies. It is available at $19.99/month or pay $11.99/year. With this, you can stream premium titles that are available including live sports. The members can watch premium English shows and movies. Along with this, you can stream from a library of current seasons and shows. Watch the latest primetime episodes before they air on TV.  
Other subscription packages include
All Sports Annual costs $3.99/month
Sports and Entertainment costs $9.99/month and $49.99/year
Entertainment costs $3.99/month and $39.99/year
How to become a Hotstar Premium Member?
The instructions given below will help you become the Premium member. 
System Requirements:
Android v4.0/iOS 9
Chrome v49.x/Firefox v44.x
Windows 7 or above/Mac 10.2 or higher
(1) Visit https://www.hotstar.com/subscribe/get-started on your browser.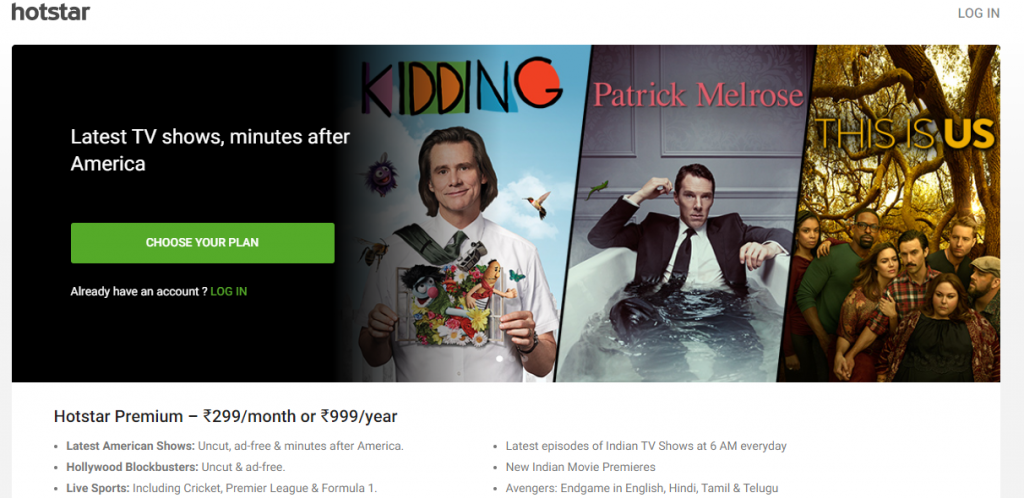 (2) Choose Premium Plans or All Sports plans.
(3) Provide your email id and password. Alternatively, use the Facebook account.
(4) Select the payment method and provide details to subscribe to it.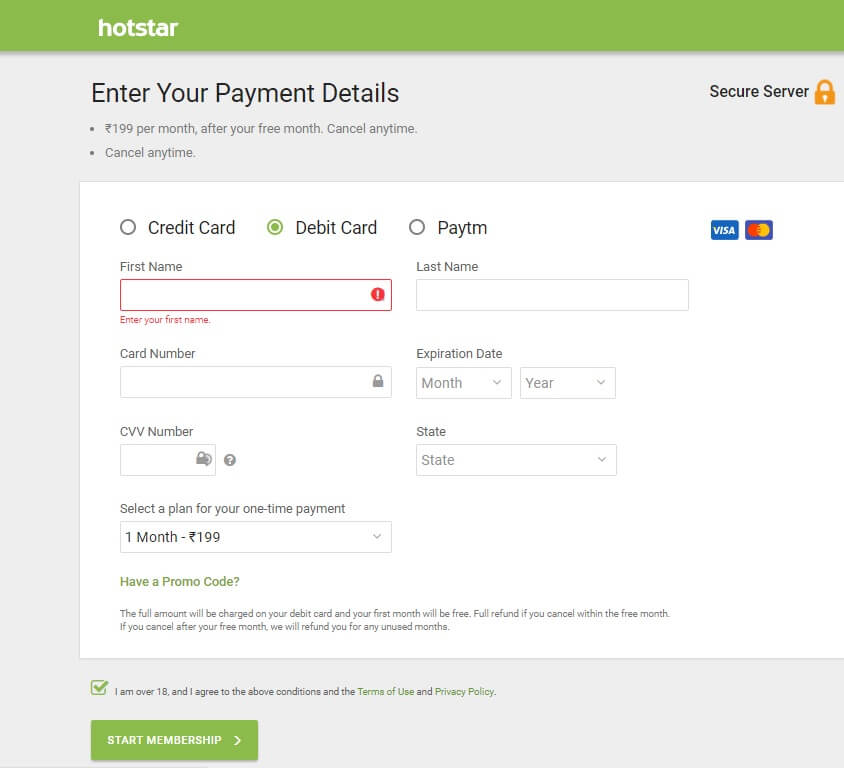 (5) After successful payment, you can start using Hotstar premium version.
How will I get billed for the subscription?
Hotstar membership is a periodical subscription service where the members will be billed at the beginning of each billing period. Visit My Account section to find the billing cycle or payment history.
The subscription charges for Premium and VIP are available annually and yearly. You may choose either of the plans and they are non-refundable.
Does Hotstar supports offline watching?
It supports downloading videos in addition to online streaming. So, you can watch your favourite videos from anywhere, even in the absence of an internet connection. If the internet connectivity is stable with high bandwidth, then the users can download the videos instantly and watch it offline. As of now, not all the videos are available for download. Only select movies and TV shows have a download button.
Can you stream regional contents on Hotstar?
It supports streaming regional contents effortlessly. It is therefore used as an alternative to TV watching. This app supports the entire range of Star channels on both web and app version. You can further choose the language to find videos you are looking for to watch it. Go to Settings and select Languages to choose your preferred language like Hindi, Tamil, Bengal, Kannada, Gujarati, etc.
Our opinion
Those who love streaming Indian TV channels and its contents will find Hotstar a useful tool. You need not subscribe to Hotstar if you don't want to stream live content. A subscription is a must in order to live stream, latest movies, and watch the contents before it gets air. The quality of video it is offering is overall outstanding than its rivals. Overall, It is the best tool to get unlimited entertainment from anywhere.
Frequently Asked Questions
What is Social Feed in Hotstar?
It is a feature that lets users share views, comments, and photos about cricket with other cricket fans. Moreover, it lets the users watch N Play for an unlimited streaming experience.
How to login to my account on a smart TV?
Open this app on smart TV > click on My Account/play any paid content. Now code will be shown > visit www.hotstar.com/activate on phone/PC > login to Hotstar account > enter code shown on TV to start using Hotstar on a smart TV.
Will I be able to watch all premium contents with Hotstar VIP subscription?
Yes and no. With VIP subscription, users can watch all the premium contents except American and international movies/TV shows.
Is it possible to upgrade to Hotstar Premium from Hotstar VIP?
Yes. You can upgrade from VIP by subscribing to Hotstar Premium Annual package. Go to My Account on Hotstar app to subscribe.
What are the different payment methods available on Hotstar membership?
Its users can make membership payment using credit cards, Paytm, and iTunes (iOS users only).
If you have any queries about this app, leave it in the comment section below. Follow us on Twitter and Facebook for more updates.
Was this article helpful?