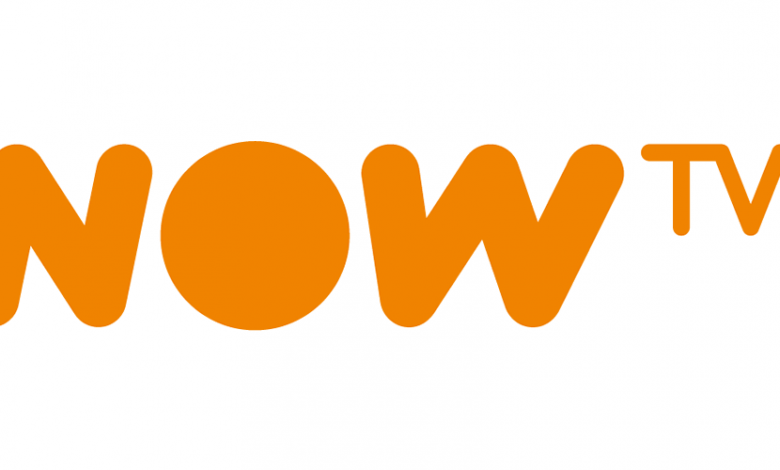 There are a multitude of options available to watch TV without the cable connection. Streaming apps plays a major role in providing unlimited entertainment. Online streaming services are the better options to reduce some bucks on your monthly cable bill. Getting awesome entertainment is no more a big deal with NOW TV. It is an internet TV service to watch top-quality TV even without a box or satellite dish. NOW TV is an ideal solution to watch anything you want without any contract. Here is everything you should know about NOW TV in detail.
Table of Contents
What is NOW TV All About?
Types of NOW TV Passes & its Cost
List of NOW TV Supported Platforms
How to Start Off with NOW TV?
Unique Features of NOW TV
How to Download NOW TV?
What are NOW TV Streaming Devices?

What's inside the Box?
What is NOW TV Smart Stick?
What is NOW TV Smart Box?

List of Apps Available on NOW TV Devices
How to Cancel NOW TV Passes?
NOW TV – Our View
Frequently Asked Questions
What is NOW TV All About?
NOW TV is a subscription-based VOD and internet television by Sky Limited. It lets its users stream blockbuster movies, exclusive TV shows, never miss series, live sports, best of kids contents, etc. NOW TV aims to provide the best of pay TV without any contract. Just by signing up for an account and internet, you can start streaming anything.
You can download movies or TV shows to watch it offline from anywhere on any device. The contents downloaded will be saved and it will be available in My TV section for about 30 days. NOW TV is all about different passes and you can start streaming premium content at a low cost.
Unlike other streaming services, you need not tie yourself with a one or two year contract. Every other NOW TV pass offers different types of contents and you can buy them based on your entertainment needs on a monthly basis. With NOW TV passes, in just a few clicks away, you will get epic entertainment.
Types of NOW TV Passes & its Cost
There are five different NOW TV passes available and you can get anything based on the content you want to watch.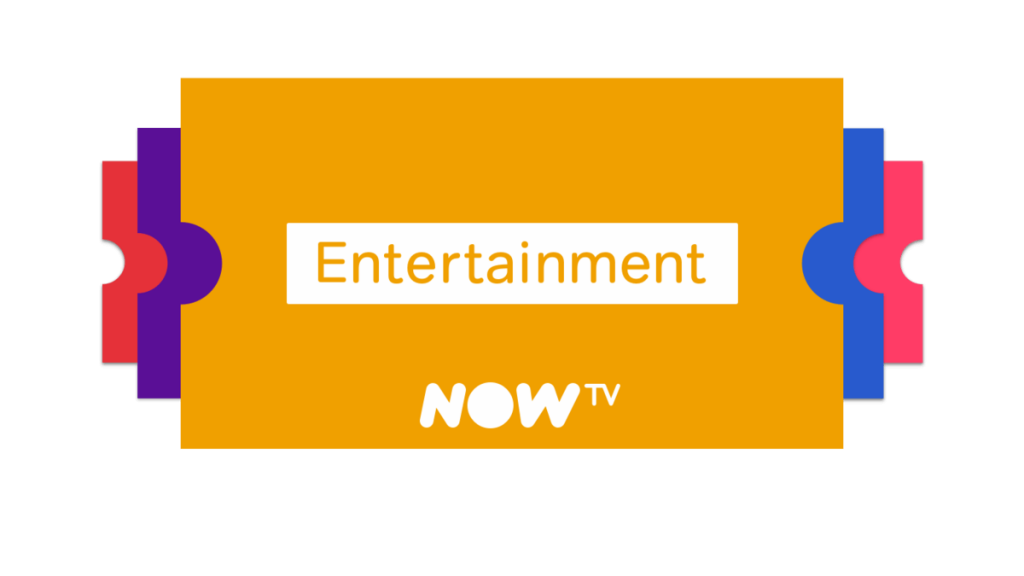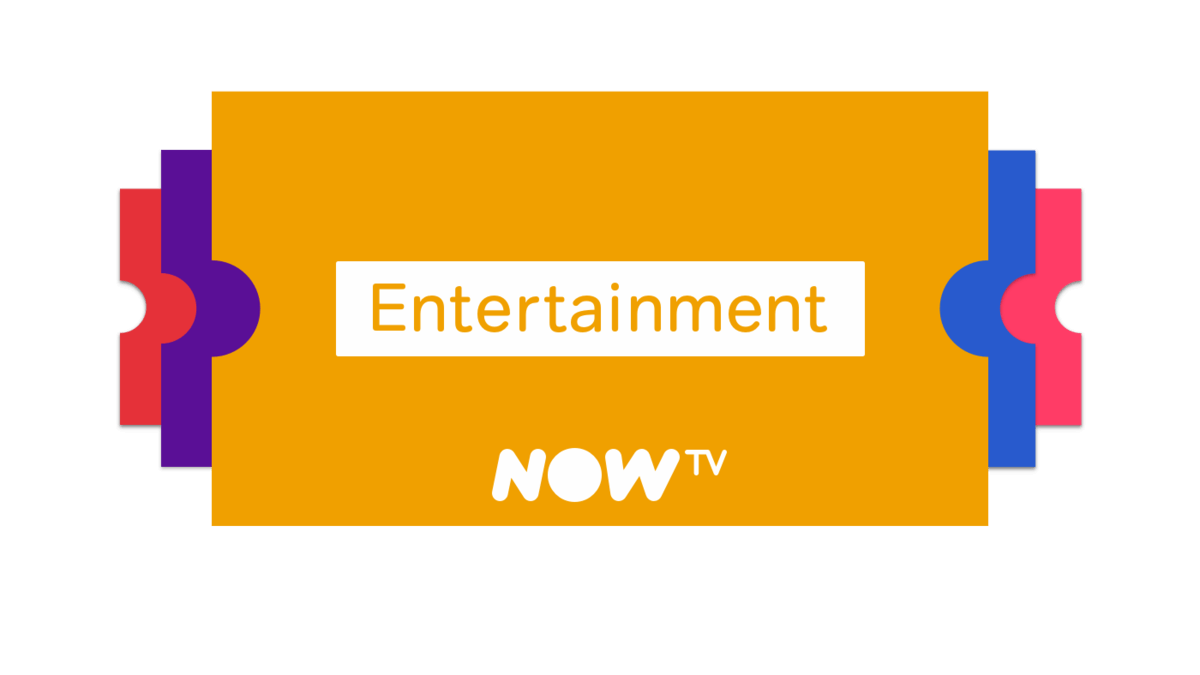 Sky Cinema Pass – Buy it at £11.99/month
Stream over 1000 movies, classic on-demand, Sky Cinema channels, and a premiere every day with Sky Cinema Pass.
Sky Entertainment Pass – Get it for £8.99/month with a 7-day free trial 
With Entertainment pass, you can watch premium channels from more than 300 binge-worthy box sets, live channels, Catchup shows, etc. 
Kids Pass – Costs £3.99/month and offer 7-day free trial
With Kids Pass on NOW TV, you will get kids shows, six live TV channels, thousands of episodes on demand, etc.
Hayu Pass – Buy it for £3.99/month with a 7-day free trial
With Hayu Pass, you can stream thousands of episodes, reality shows from the US, and more at any time on any of the devices.
Sky Sports Pass – Get Sky Sports Day/Week/Month pass or choose Sky Sports Mobile Month Pass
Get Sky Sports Day Pass at £9.99 or buy Sky Sports Week Pass at £14.99 or get Sky Sports Month Pass at £33.99/month. With this, you can stream live sports events along with 11 Sky Sports channels.
List of NOW TV Supported Platforms
NOW TV content can be streamed in about 60 different devices including big and small screens. It supports registering up to six devices and you can watch it on two devices at the same time. List of NOW TV supported platforms include
Android 
iOS
Windows PC
Mac PC
Android TV
NOW TV Smart Box
NOW TV Smart Stick
How to Start Off with NOW TV?
To begin with NOW TV, you need to create a NOW TV account and become a NOW TV member at first.
You can even create an account and start the free trial at https://www.nowtv.com/ with an internet connection.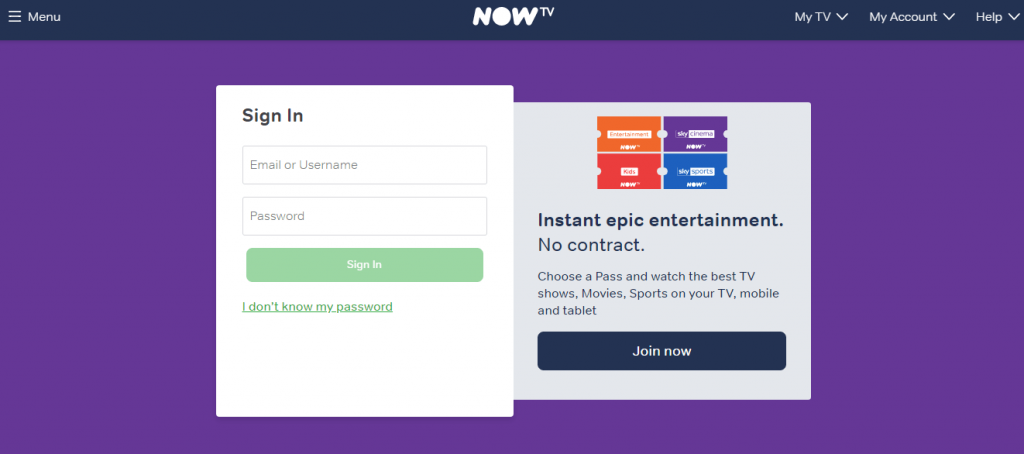 Then you should choose between any of the five different passes as mentioned in the above section.
Click the Checkout button and fill in your details to create an account with NOW TV.
Finally, click on Start watching to stream NOW TV contents.
Unique Features of NOW TV
With NOW TV app, you can stream videos with subtitles for selected movies, shows, etc, on compatible devices.
You can download contents on NOW TV app on Android or iOS devices if you have Sky Cinema/Hayu/Entertainment/Kids Month pass.
With NOW TV, users can stream videos in HD quality if your device is an HD screen. Otherwise, you can stream videos in SD and 720p quality.
How to Download NOW TV?
NOW TV is available officially for different operating systems like mobile phones, smart TVs, gaming consoles, etc. The procedure given below will help you easily download it on any devices.
Step 1: Open the respective app store on your device from the Apps column.
Step 2: On the search bar, type as NOW TV and click the search icon/enter button.
Step 3: Select NOW TV app from the list of apps suggested.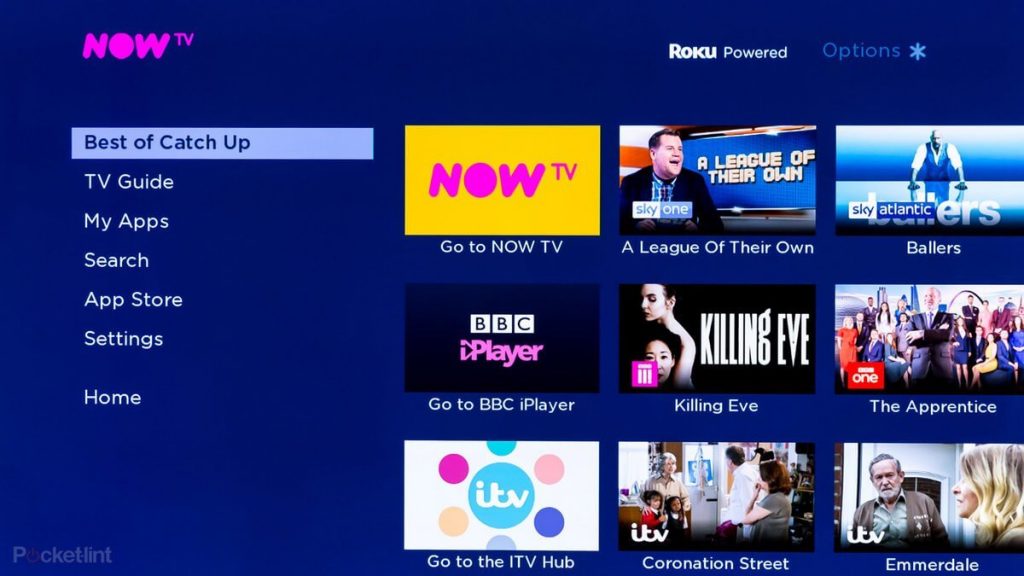 Step 4: When directed to the app info screen, click the Get/Install/Download button.
Step 5: When prompted, read the list of permissions and select Accept option.
Step 6: After the download, tap on Open button to launch NOW TV app on your device and start streaming.
What are NOW TV Streaming Devices?
NOW TV streaming devices are based on plug and play technology. You can just connect it with the TV and start watching. With NOW TV devices, you will get the best way to get entertained that you love on the big screen. Further, these devices need no installation. The streaming devices may be either NOW TV Smart Stick or NOW TV Smart Box and needs to connect with the smart TV. 
What's inside the Box?
Whether it is a NOW TV Stick or Smart TV, the following items will be included within the box.
NOW TV Smart Stick/Smart Box
Remote Control
Power cables
Two AAA batteries
User manual
What is NOW TV Smart Stick?
It is a small device that you need to plug into the compatible TV and then connect it into the internet/Wi-Fi. With this, you will get access to unlimited video contents, loads of catch up TV, favourite apps, voice search, etc.
You may get NOW TV Smart Stick at £14.99 or buy NOW TV Stick at £19.99 along with different passes.
What is NOW TV Smart Box?
Just like the Stick, you should connect the NOW TV Smart Box into the TV for uninterrupted entertainment. It includes four NOW TV passes and you can watch movies, kids TV, Sky sports channels, etc. You can explore the latest contents and watch all your favourite shows within a few clicks. NOW TV Smart Box is especially useful if you wanted to stream video contents in 4K quality.
Buy NOW TV Smart Box at £45.99 with remote or buy NOW TV Smart Box with one month pass at £49.99 (Entertainment, Sky Cinema, Kids, Sky Sports Day Pass)
List of Apps Available on NOW TV Devices
NOW TV devices supports about 50 different apps. They include
Vevo  
Sky Store 
UKTV Play 
BBC iPlayer 
iTV Hub 
Sky Sports 
Sky News 
All 4 
BBC News 
BBC Sports 
Demand 5
How to Cancel NOW TV Passes?
Cancelling NOW TV passes is all the way simple just like subscribing to the passes. To cancel any of the passes, you may follow the instructions given below.
Step 1: To Cancel NOW TV Entertainment/Hayu/Sky Sports Month Pass, open NOW TV app or go to its official web page of NOW TV web.
Step 2: Select My Account option and then choose My Passes to enter your username and password.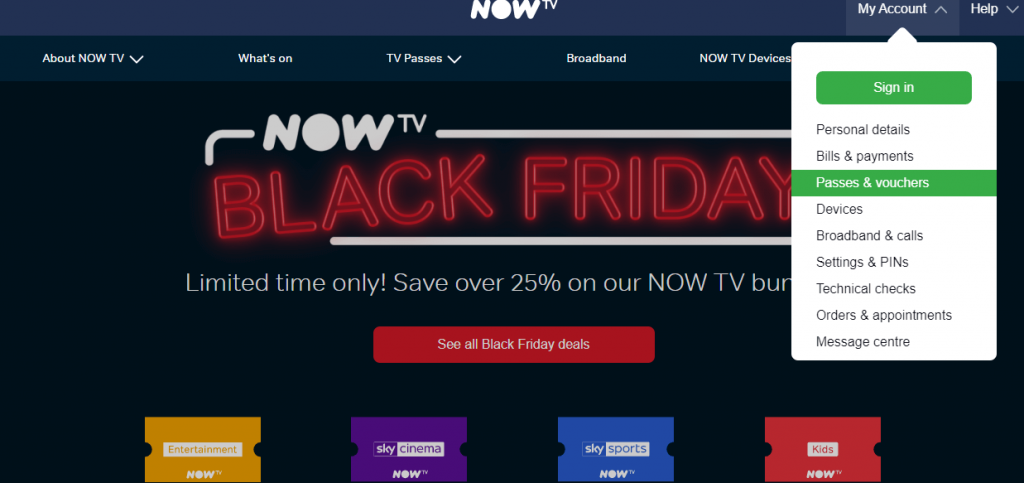 Step 3: Choose Cancel option present next to the pass you want to cancel.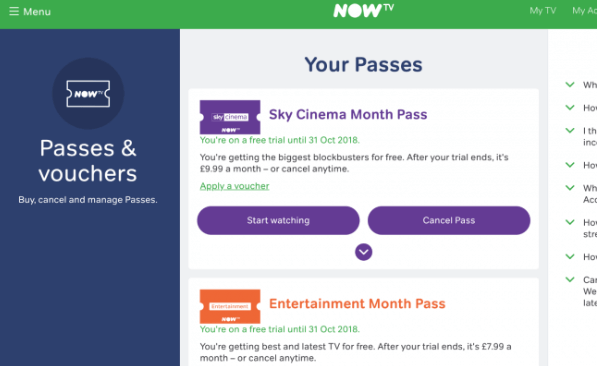 Step 4: Choose the reason for cancelling NOW TV Passes from the given list.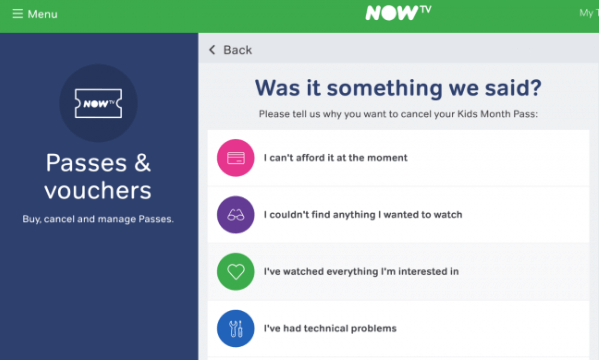 Step 5: Follow the on-screen instructions and when the subscription is cancelled, you will get a confirmation message.
NOW TV – Our View
NOW TV is worth the money and you can stream all your favourite contents at an affordable cost. Further, the NOW TV passes hold categorized contents and you shall opt anything between the five for limitless streaming experience. Apart from the NOW TV app, smart TV users can even buy NOW TV Box or Stick to watch contents without any setup. Overall, NOW TV service is the best entertainment app for all sort of entertainment fans out there.
Frequently Asked Questions
Is it possible to watch NOW TV on Sky Box?
No. It is not possible to watch NOW TV on Sky Box.
Is it possible to restrict others from buying Passes using the saved cards?
Yes. If you don't want your family or friends to buy passes or other contents using your saved cards, then you can turn on Payment PIN.
Does NOW TV support setting up the Parental PIN?
Yes. With NOW TV, you can restrict your kids from watching content that isn't relevant to them by setting up a parental PIN.
Ready to buy your NOW TV subscription. Which NOW TV pass seems more attractive to you, leave a comment below. Stay connected with us on Facebook and Twitter.
Was this article helpful?