Comedy Central is an American TV channel that offers many original shows, short videos, series, and stand-up comedy videos. Comedy Central needs cable TV provider details to watch the media. The supported providers are AT&T TV, AT&T U-verse, Dish, Cox, Spectrum, and many more. You can watch popular shows like South Park, Crank Yankers, Inside Army Schumer, Drunk History, Tosh.0, Broad City, and many more. Comedy Central app is downloadable on Android and iOS devices. But streaming on a bigger screen gives you a better experience. You can make use of the Chromecast feature to cast the Comedy Central media on your TV. The following section will show the two different ways to Chromecast Comedy Central.
Methods to Chromecast Comedy Central
There are two different ways to Chromecast Comedy Central to your TV. The following procedure is also applicable to TVs that have built-in Chromecast support.
Using Smartphone (Android or iOS)
Using Web browser
Prerequisite: Plug in your Chromecast device to the TV's HDMI port. Make sure to connect the Chromecast and casting device to the same WiFi network.
Method 1: Chromecast Comedy Central Using Smartphone
In this method you can use both you Android and iOS smartphones to cast the Comedy Central app to your TV. To do so, follow the given instructions.
[1] Install and open the Comedy Central app on your Smartphone.
[2] Select and play any of the video.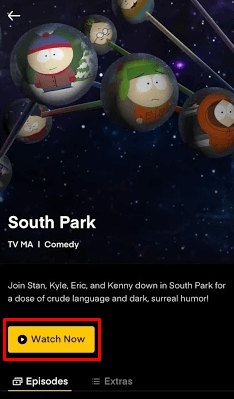 [3] On the right top corner of browser, you will see the Cast icon, click on it.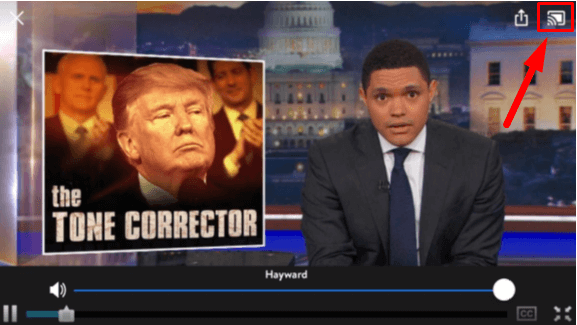 [4] The screen will show the available device. Choose your Chromecast device.
[5] Once you selected the Chromecast device, the selected video will start to play on your big TV screen. Enjoy watching it.
Method 2: Chromecast Comedy Central Using Web Browser
[1] Turn on your PC and open the Google Chrome browser.
[2] Visit the Comedy Central site: https://www.cc.com/.
[3] Select the three dotted menu icon that appears on the top corner of the web browser.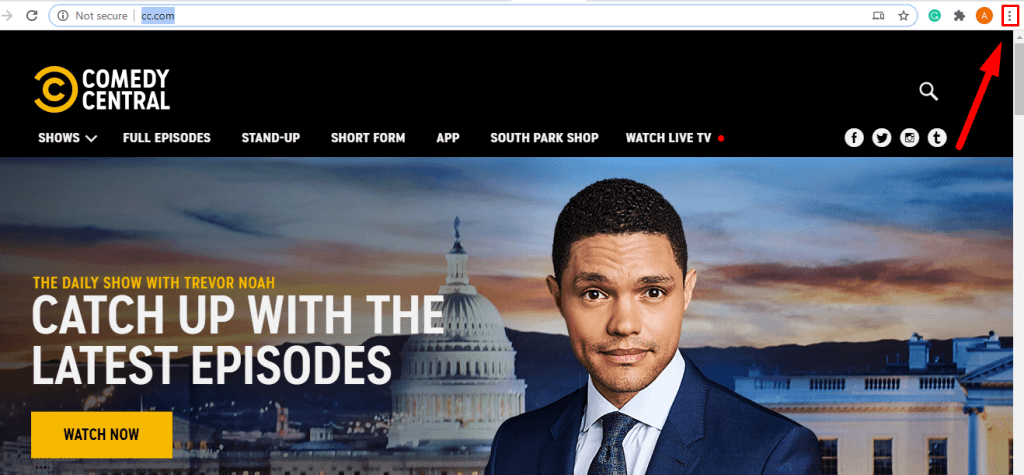 [4] Select the Cast option.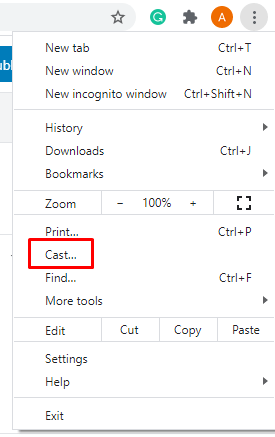 [5] The browser will look for the available devices.
[6] Choose your Chromecast device.
[7] You can see the Comedy central on your TV screen and start to watch your favorite shows.
Alternative Way – Use Streaming Services for Comedy Central
If you haven't opted for any cable TV provider, you can sign up for the below-mentioned streaming services to watch Comedy Central. Here are the services that stream Comedy Central:
All the above-mentioned services are compatible with Chromecast, and you can cast them right from your smartphone. If you had any queries or feedback related to this guide, mention them in the comments section. Follow Techowns' Facebook and Twitter pages to read our Chromecast tutorials instantly.
Was this article helpful?