Key Highlights
Browser – Visit Chrome Web Store → Search Mendeley → Add to Chrome → Add Extension → Create Account → Start using the extension.
Mendeley is a web importer tool that helps the people of academic researchers to write their research articles. The Mendeley Chrome extension is used mostly to manage references, write a bibliography, and give citations. You can use the Mendeley extension to save & view articles online and convert them to PDF format. Using this extension, you can instantly add many references to your paper.
Mendeley Pricing & Plans
Mendeley offers three kinds of premium plans with free additional cloud spaces.
Plus – $4.99/mon
Pro – $9.99/mon
Max – $14.99/mon
The Mendeley Chrome extension is completely free.
How to Install Mendeley Extension on Chrome
1. On your Google Chrome browser, visit the Chrome Web Store.
2. In the search bar, type Mendeley and press Enter to search.
3. Click on the Mendeley Web Importer extension from the search results.

4. Click Add to Chrome and Add extension from the pop-up.
The Mendeley Web Importer will be added to Chrome. Click on Extensions → Click the PIN icon to bring out the Mendeley extension on Chrome (Near the address bar) for easy access.
Note: Moreover, you must create an account on Mendeley to use the extension on the browser.
Tips! You can add Gofull page Chrome extension to take full-page screenshots on your browser.
How to Use Mendeley Extension
1. Search for a particular term and select a particular article or paper in your browser.
2. In the extension area, click on the Mendeley extension icon. A small pop-up will appear on the screen. Now, click the +Add to Mendeley button on the top of the pop-up.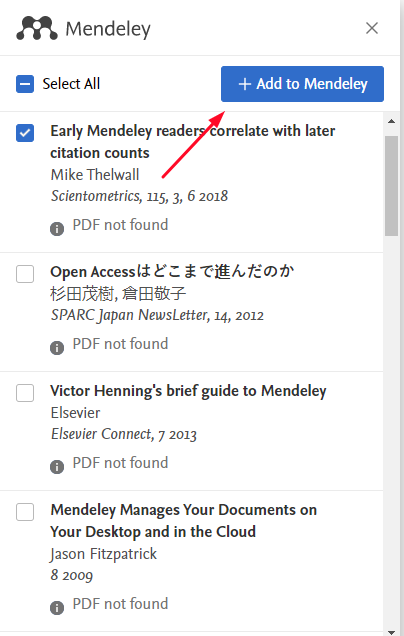 3. The selected article will be added to your library that you can view by clicking on View Library at the bottom of the pop-up.
4. Also, before clicking on +Add to Mendeley, hover the mouse over the selected article to get the pencil icon.
5. You can make edits such as adding authors, titles, Reference type, Publication details, and more.
Make sure to update the Chrome browser regularly to keep it free from
Other Useful Extensions to Install on Chrome
Frequently Asked Questions
1. How to fix the Mendeley Chrome Extension not working?
If you are facing any issues with the Mendeley extension, restart the browser or remove the extension and add it to the browser to fix the issue.
Was this article helpful?