When it comes to streaming live sporting events, you can find plenty of streaming options. Most of them require a monthly or annual subscription to stream the content. However, there are services available to stream sporting events for free. VIPLeague is one such streaming site that offers various sports live streams and on-demand videos.
It offers good-quality content with a neat and clean interface. It offers live streams from 20+ different sports with all the leagues worldwide. With excellent design and an intuitive user interface, it is still one of the best free sports streaming sites worldwide.
Disclaimer! VIPLeague is an illegal streaming site and is not recommended for streaming. We don't have any affiliation with VIPLeague and the contents available on the website. The article is entirely for educational purposes, and we aren't responsible for any issues that arise while using this sports streaming site.
VIPLeague – Site Design and Interface
Like VIPRow Sports, VIPLeague presents a simple interface with a tile for each sport on the home screen. It also has a dedicated tile for FIFA World Cup 2022.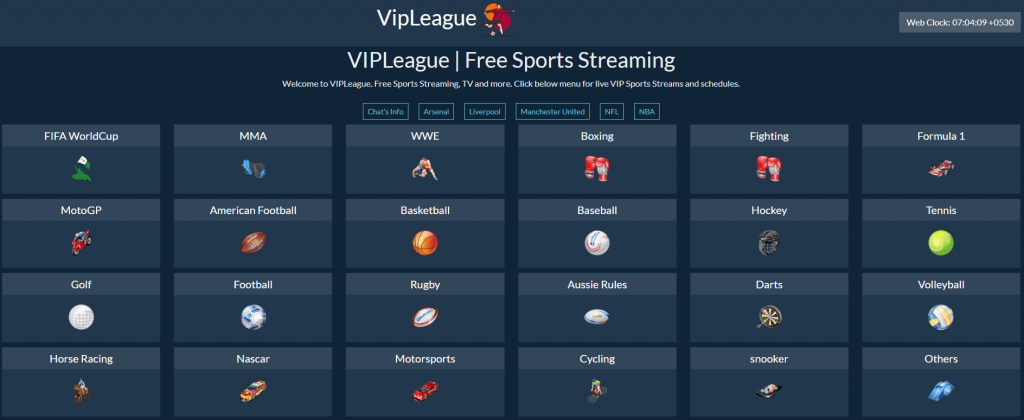 Upon selecting the required tile, it will display the list of current and upcoming events related to that particular sport. Select the match you want and tap on the Streaming Link to stream it on your device without any fee.
Since it is a free site, you will get advertisements while streaming the sports content. You can block it by using an ad-blocker on your browser.
VIPLeague doesn't host or stream any sporting events directly. It just presents the third-party links to stream the events. Since the website comes with a dark appearance, it looks pleasant to use in night conditions.
What You Can Watch on VIPLeague
VIPLeague includes 20+ sports to stream on your device. It covers all the popular sporting events like FIFA World Cup 2022, NFL, NBA, UFC, F1, NRL, and more.
MMA
Fighting
Formula 1
Basketball
Baseball
Tennis
Golf
Volleyball
Horse Racing
NASCAR
Snooker
WWE
Boxing
MotoGP
American Football
Hockey
Football
Rugby
Aussie Rules
Darts
Motorsports
Cycling
Is VIPLeague Free to Stream?
Yes. The website is completely free to stream on all the supported devices. Instead, you need to watch the advertisements which pop ups while using the site. At the same time, you don't need to register for a user account for streaming.
Is VIPLeague Shut Down?
Yes. The official website of VIPLeague was taken down due to copyright infringement. However, various VIPLeague proxy sites (https://www.vipleague.st/) are available online to stream sporting events. The proxy sites will function similarly to the original site. When you can't access VIPLeague, try other streaming websites with similar features.
Is VIPLeague Safe to Use?
No. VIPLeague and its proxy sites are 100% illegal and unsafe to use on any device. The pop-up ads and the re-direct links on the website may harm your device by injecting malware. Regarding legality, it streams all the events without consent from the legal providers. So it is not legal to use anywhere. If you want to VIPLeague, use a VPN and antivirus on your PC or smartphone to secure the device.
How to Stream VIPLeague on Your Device
To stream sports on VIPLeague, you need a browser and the correct domain.
(1) Open a web browser on your computer or mobile phone.
(2) Visit the official site of the VIPLeague (The domain keeps changing, so make sure to get the right one to stream).
(3) Once the site loads, you will see the homepage.
(4) Now select the sport you want to stream.
(5) A new page with the live and upcoming events related to the selected sport will appear.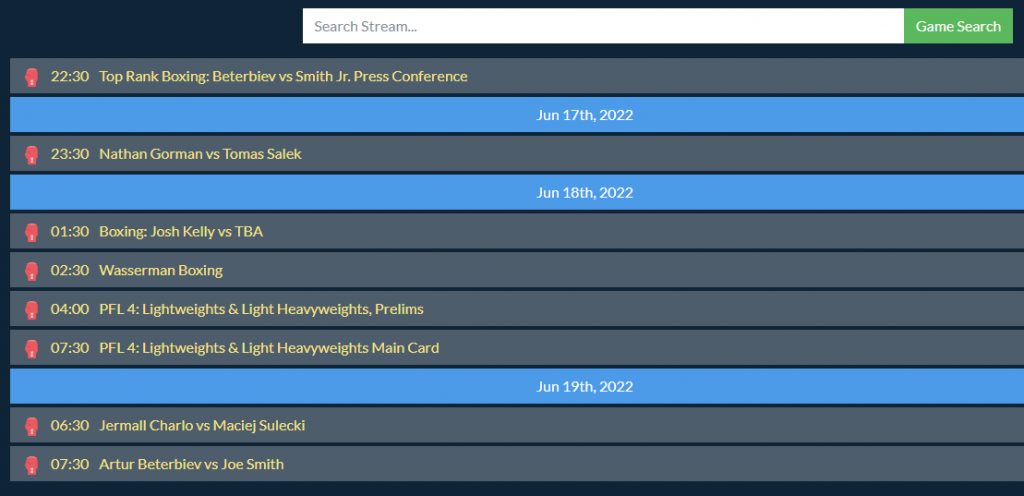 (6) Select the event and click the desired link of the league you would like to stream.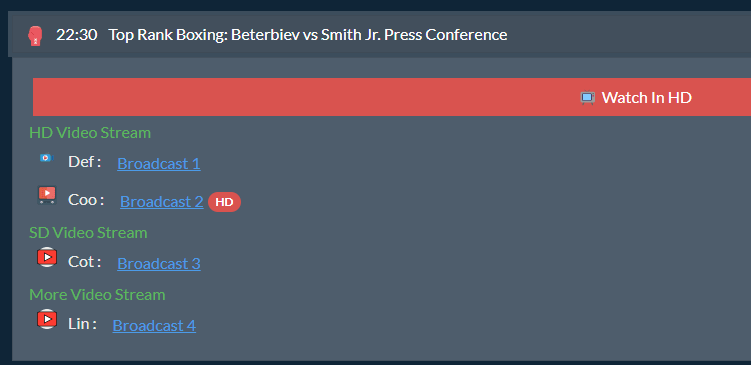 (7) Now, the content will load on the screen to stream.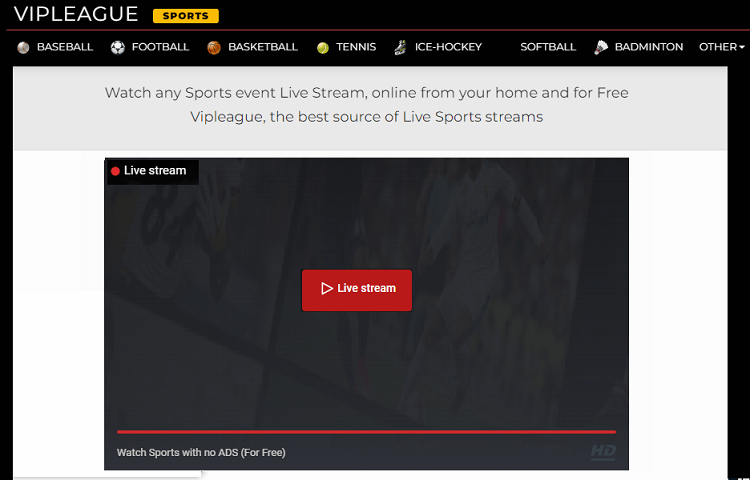 How to Watch VIPLeague on Firestick
Since Firestick has a built-in browser on the Amazon App Store, you can access the VIPLeague website easily.
(1) Connect your Firestick to a WiFi connection.
(2) On the home screen, go to Find → Search.
(3) Type Silk Browser and select the app name from the suggestions.
(4) Select the browser and tap on the Download or Get icon.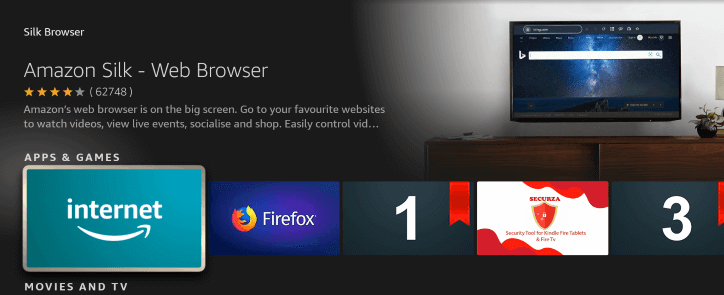 (5) Click on the Open icon to launch the browser.

(6) Navigate to the URL bar and enter the official site of VIPLeague.

(7) Click the Go button, and the website will load on your device immediately.
(8) Now, play the media you want.
Why Do I Need a VPN for Streaming VIPLeague?
Most of the time, all free sites offer pirated content. Streaming them will lead to copyright infringement issues. It may be legal in some countries. Most countries have a law against it and will take necessary legal actions against those who stream copyrighted content without any fee. To avoid those, you can use a VPN which will hide your IP address and makes it difficult to track you. Make sure to use the best VPNs to ensure advanced safety and security. It will also prevent internet throttling and access to geo-restricted content and prevent unwanted ads too.
Pros and Cons
+It offers 30+ different sports to stream live and on-demand.
+A wide range of content comes with a neat and clean interface.
+It even comes with a search option to find what to stream.
+It is completely free.
+While streaming, you can discuss with your fellow members using the chat option.
+It offers quality active links.
-The repetitive ads could be annoying sometimes.
-The domain keeps on changing often.
Alternatives for VIPLeague Website
As we mentioned earlier, VIPLeague is not a legal one for sports streaming, and the site may be taken down by the government at any time. Hence, it is advisable to know similar sites which can be used as an alternative to VIPLeague.
Frequently Asked Questions
Is VIPLeague legal?
Free and legal don't always work together. The site claims that it offers free content that is legal to stream. But sometimes it may bring issues too. So we can't guarantee that the site is completely legal.
Is it possible to Live stream ESPN on VIPLeague?
No. VIPLeague doesn't provide access to streaming the Live channels. But you can watch all the sporting events broadcast on the ESPN network.
Is it possible to watch NFL RedZone on VIPLeague?
Yes. You can stream all the NFL RedZone matches for free with this streaming site.
Why VIPLeague website is not working?
The website won't work if you have a slow internet connection. On the other hand, the website might be blocked in your location. Use a VPN to bypass the geo-restriction.
Was this article helpful?