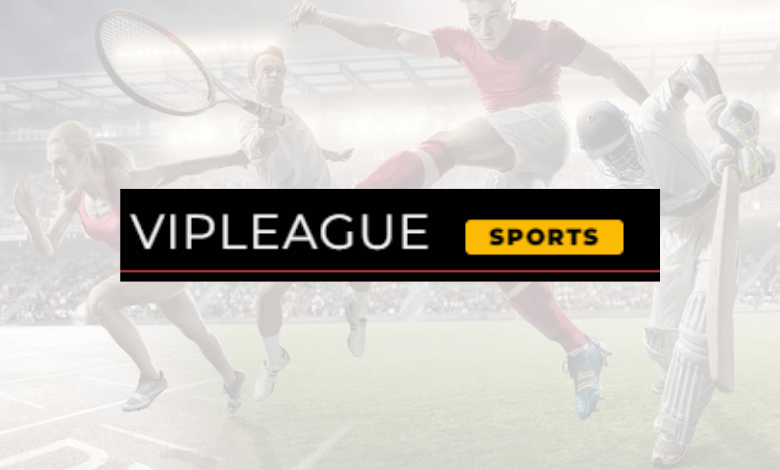 VIPLeague is a sports streaming site that streams various sports live streams and on-demand videos. It offers good quality content with a neat and clean interface. It offers live streams from 20+ different sports with all the leagues worldwide. With excellent design and intuitive user interface, it is still one of the best free sports streaming sites worldwide.
VIPLeague – Major Highlights
Chatbox – VIPLeague offers a chatbox, a feature you can't see even on some premium sporting streaming sites. While streaming a sporting event, one can utilize the live chat feature to communicate with the users about the event.
Sports Availability – One of the best things about VIPLeague is that it covers live events related to all the Sports. Whether you're a fan of basketball, football, rugby, tennis, or any other sports, VIPLeague has options for all your streaming needs.
Simple Interface – The next best thing about VIPLeague is that the website has a simple interface that all types of people can use. You can find the option to stream the required content on the home page itself.
Search functionality – Whenever you can't find the required content on the home page, the search function will come in handy. By simply entering the sports name, VIPLeague will display the upcoming events and the link to watch the ongoing event.
Mobile friendly – The VIPLeague was designed to suit both mobile and PC users. Regardless of the device, the VIPLeague site will suit all browsers perfectly.
Chromecast Support – The built-in media player on VIPLeague has Chromecast support which lets you cast the site from a smartphone to bigger screens of TV.
Contents Offered by VIPLeague
Here is the list of sports which you can stream on VIPLeague. It includes 20+ different sports.
UFC
WWE
Boxing
Fighting
Formula 1
Moto GP
Basketball
Baseball
American Football
Hockey
Tennis
Golf
Football
Rugby
Aussie Rules
Darts
Handball
Racing
Motorsports
Cycling
Snooker
NASCAR
Cricket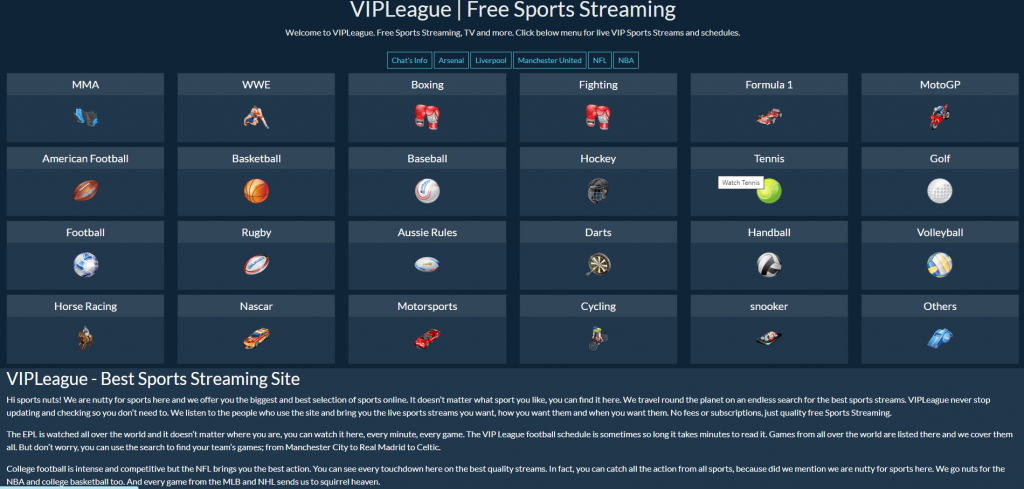 Is VIPLeague Completely Free?
If you wonder how a streaming site could offer completely free content, here is the answer. VIPLeague earns its money via ads. There are a large number of ads that pop up during a stream. It will earn them the necessary income. That's why the streaming site is completely free to use and doesn't need any signup or registration.
Is VIPLeague Site to Use?
No. VIPLeague and its proxy sites are 100% illegal and not safe to use on any device. The pop-up ads and the re-direct links on the website may harm your device by injecting malware through it. When it comes to legality, it streams all the events without consent from the legal providers. So it is not legal to use anywhere. If you want to VIPLeague, make sure to use an antivirus on your PC or smartphone to secure the device.
Is VIPLeague Shut Down?
Yes. Like Putlocker, the official website of VIPLeague was taken down due to copyright infringement. However, various VIPLeague proxy sites (VIPLeague.mobi, VIPLeague.lc, VIPLeague.tv, VIPLeague.eu) are available online to stream the sporting events. The proxy sites will function similarly to the original site. When you can't access VIPLeague, try other streaming websites with similar features.
How to Stream VIPLeague on Your Device
To stream sports on VIPLeague, you need a browser and the correct domain.
(1) Open a web browser on your computer or mobile phone.
(2) Then visit the official site of the VIPLeague (The domain keeps on changing, so make sure to get the right one to stream).
(3) Once the site loads, you will see the homepage.
(4) Now select the sport you want to stream.
(5) A new page with the events related to the selected sport will appear.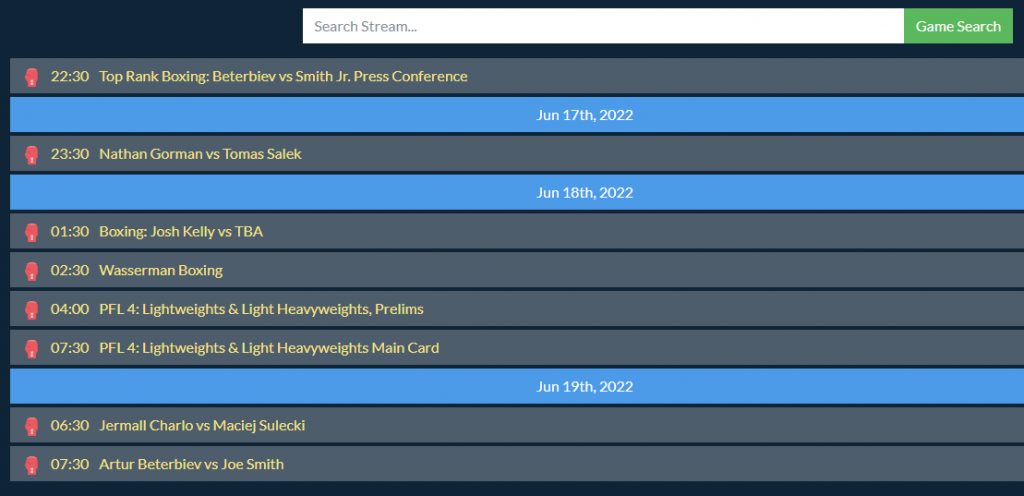 (6) Select the event and click the desired link of the league you would like to stream.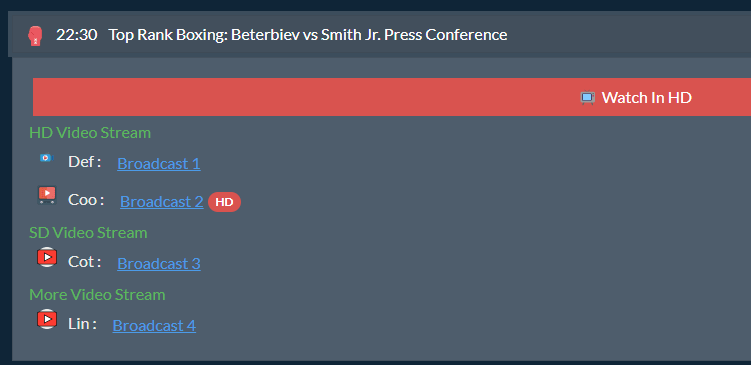 (7) Now, the content will load on the screen to stream.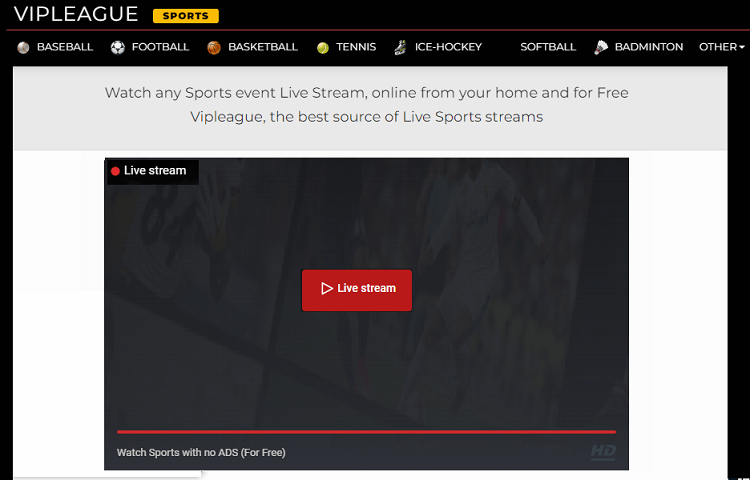 Why Do I Need VPN While Streaming VIPLeague?
Most of the time, all free sites offer pirated content. Streaming them will lead to copyright infringement issues. It may be legal in some countries. Most countries have a law against it and will take necessary legal actions against those who stream the copyrighted content without any fee. To avoid those, you can use a VPN which will hide your IP address and makes it difficult to track you. Make sure to use some best VPNs to ensure advanced safety and security. It will also prevent internet throttling and access to geo-restricted content and prevent unwanted ads too.
Pros and Cons
Pros
It offers 30+ different sports to stream live and on-demand.
A wide range of content comes with a neat and clean interface.
It even comes with a search option to find what to stream.
Moreover, it is completely free.
While streaming, you can discuss with your fellow members using the chat option.
It offers quality active links.
Cons
The repetitive ads could be annoying sometimes.
The domain keeps on changing often.
Alternatives for VIPLeague Website
As we mentioned earlier, VIPLeague is not a legal one for sports streaming, and the site may be taken down by the government at any time. Hence, it is advisable to know similar sites which can be used as an alternative for VIPLeague.
Frequently Asked Questions
1. How to access VIPLeague on Firestick?
To access VIPLeague on Firestick, you must install the Silk Browser. Once you have installed the app, you can load any sites you want on your Amazon Fire Stick.
2. Is VIPLeague legal?
Free and legal don't always work together. The site claims that it offers free content that is legal to stream. But sometimes it may bring issues too. So we can't guarantee that the site is completely legal.