Key Highlights
Android/iPhone: Snapchat app → Choose an image → Send to your friend → Type SB → Send.
Snapchat is a widely used social media app among teen users. It lets users exchange pictures and videos called Snaps. Like other social media apps, you can communicate with your friends with text messages, stickers, photos, videos, and even send GIFs on Snapchat. Most of the stickers have acronyms. Nowadays, people prefer to send acronyms via stickers or texts instead of typing the texts for a long time. However, users sometimes don't understand the right meaning of some acronyms like SB, SS, FT, and more. To clarify, we have explained what SB means and its purpose on Snapchat.
What does SB Mean on Snapchat?
SB is abbreviated as Snap Back on Snapchat. It signifies the other user requests you to respond to the snap they recently sent you. SB or Snap Back is the most common acronym used in Snapchat. With this short word, you can find out who wants to exchange snaps with you. If a Snapchat user sends you an SB, it implies they want you to send them a snap in return.
How to Use Snap Back on Snapchat
[1]. Launch Snapchat on your smartphone [Android or iPhone], and open the chat you send the snap.
[2]. Choose the picture or video from your gallery, or take a new snap by pressing the Camera icon.
[3]. Tap Send to share with your friend.
[4]. Type SB and hit Send to remind them to reply to your snap.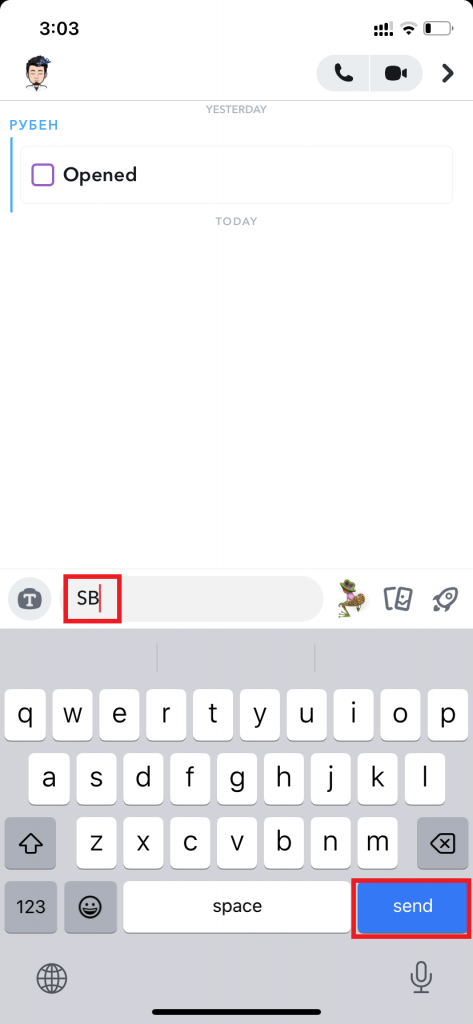 Tips! Like Instagram, you can do Boomerang on Snapchat by using the Bounce feature on your smartphone.
Snapchat Acronyms
| Acronym | Abbreviation |
| --- | --- |
| SFS | Snap For Snap or Shoutout For Shoutout |
| GMS | Good Morning Streaks |
| GNS | Good Night Streaks |
| PU | Pop Up |
| SU | Swipe UP |
| SNR | Streaks N Recents |
| FFF | Follow For Friend |
| AMOS | Add Me On Snapchat |
| PMOYS | Put Me On Your Snapchat |
| SCM | Snapchat Me |
| NRS | No Replies |
| SR | Slow Replies |
| ESB | Everyone Snap Back |
| SMO | Serious Mode On |
| SMH | Shaking My Head |
| TM | Text Message/Too Much/Trust Me |
| LMK | Let Me Know |
| GTG | Got To Go |
| BRB | Be Right Back |
| PCM | Please Call Me |
Other Meanings for SB
Soft Block in Facebook
Somebody in the conversation
Senate Bill of Government
Stolen Base in BaseBall
Stibium (Antimony on Periodic Table)
South Britain
Frequently Asked Questions
1. What do SB and F mean on Snapchat?
SBF acronym is abbreviated as Snapchat Best friend or Single Black Female.
2. What is SSB on Snapchat?
SSB stands for Send Snap Back. It means that another user is requesting you to send the snap in return.
Was this article helpful?