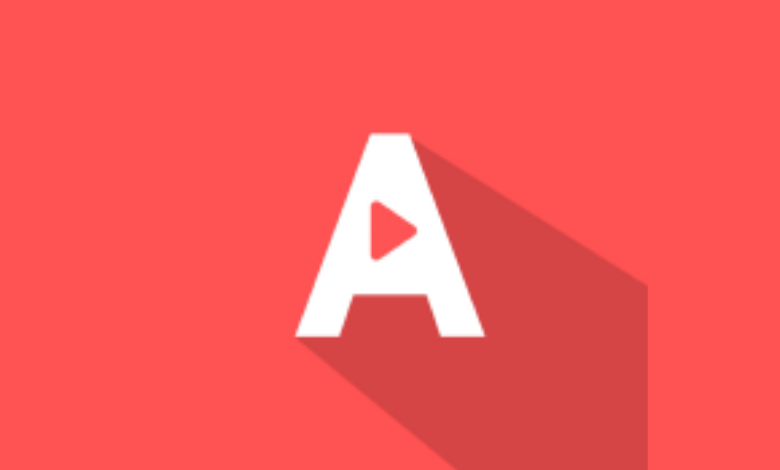 From an infant to an older person, everyone will have their favorite cartoon or anime. Few streaming sites offer endless anime entertainment free of cost. AnimeUltima is one of those streaming sites. You can enjoy dramas, series, and movies with this streaming site. It has got classic series to the latest released ones. Also, the website undergoes frequent updates of content and the latest episodes of the new series.
Each title comes with a brief description for the user to choose whether they can watch it or not. As an anime lover, you can find everything on this streaming site. It has got a plethora of anime. Other features include an appealing and intuitive interface to connect with the user and make it easy for everyone to find the content they are looking for. Moreover, most of the animes are dubbed and subbed, which even demolishes the language barrier.
Features of AnimeUltima
Whenever a new episode comes, the users will get alerts and notifications.
All videos are available in FHD 1080p.
It ensures seamless streaming with no buffering.
It even has got a built-in tracker. The tracker will keep track of your favorite shows.
This streaming site also comes with discussion forums.
The homepage will have the favorite series that includes all newly added and latest anime.
Every anime will have all the details. It includes type, synopsis, rating, release date, total episodes, genre, duration, etc.
A search box will be provided so that you can search for titles.
Is AnimeUltima Completely Free?
Yes, AnimeUltima is a completely free streaming service. If you want notification alerts, you can subscribe.
Is AnimeUltima Legal to Stream?
Legality and completely free streaming don't go well together. There might be copyrighted content, which makes you a victim of copyright infringements. But then the developer claims that the site to completely legal to stream.
Most countries don't allow such sites. So make sure to use a VPN to bypass the geo-restrictions and stream content as you wish. Find one of the best VPNs to ensure safety and security.
How to Create an Account on AnimeUltima?
#1 Install and open the AnimeUltima app on your Android device. The app isn't available on the Play Store. You have to install it from unknown sources.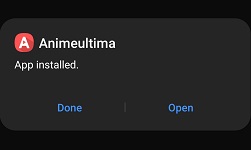 #2 On the home screen, click on the Create an Account option.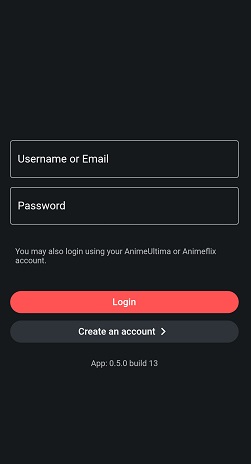 #3 In the following screen, enter your Username and the Email ID.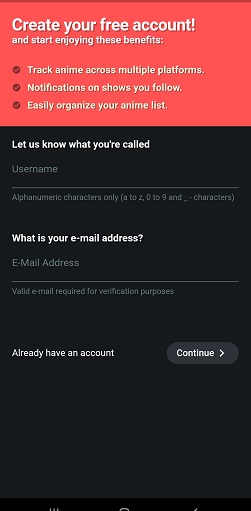 #4 Click Continue to proceed.
#5 Now, you can complete the account by proceeding with the on-screen instructions given.
How to Stream AnimeUltima?
#1 Install the app on your Android device.
#2 Launch the app on your device.
#3 Now, log in with your username and password.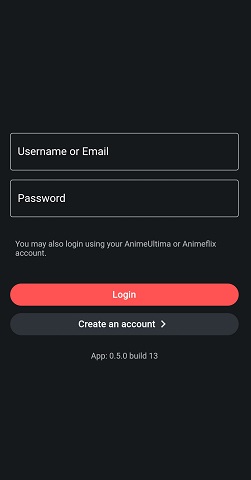 #4 On the home screen, select the anime video that you want to watch.
#5 Now, start streaming the content and enjoy your animes.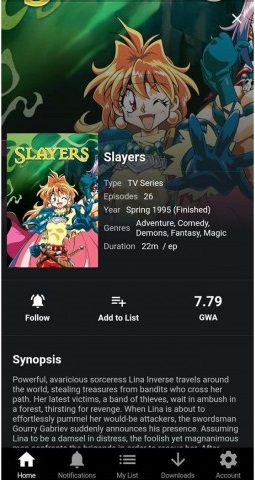 Pros and Cons of AnimeUltima
Pros
A plethora of anime content from classics to the latest released ones.
All the endless entertainment for completely free of cost.
You can enjoy a high-quality streaming experience.
They even allow you to discuss anime while watching in discussion forums.
Cons
Only the Android version app is available.
There is always the question of legality while streaming.
Alternatives for AnimeUltima
The following are some of the best alternatives to AnimeUltima.
KissAnime
Hulu
Amazon Prime
Funimation
Chia Anime
Anime Land
Anime Planet
Because. moe
WatchAnimeMovie
Naruto Get
Why is AnimeUltima Not Working?
AnimeUltima not working doesn't mean that it is shut down. The content might be pirated or have copyright issues. AnimeUltima offers completely free content, which isn't legal. So most of the time, the site might be taken down by the Government for various reasons. Most of the time, they will come back with a new server. If it is down only in your region, you can use a VPN to go surfing.
Frequently Asked Questions
1. Is there an AnimeUltima app in Google Play Store?
No, the app isn't available on the Play Store. But you can still download the app from the Google Chrome site from reliable sources.
2. How to log in to the AnimeUltima account?
You can install the app, and from the home screen, you will be asked for your username and password to log in.
Was this article helpful?