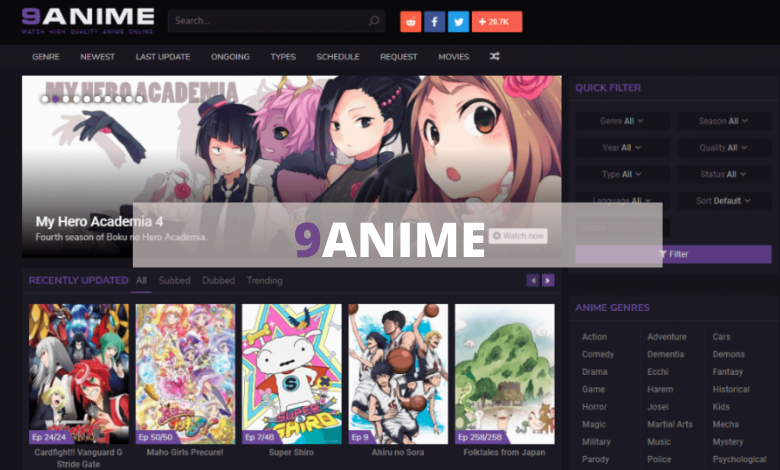 One of the most used Animation websites is 9Anime, and it features various Anime episodes to stream. Moreover, you can even watch currently airing shows on this site and stay up to date. The catalog contains various subbed and dubbed movies, TV shows, and series. All the animations are categorized under various categories. It is one of the safe and reliable animation sites for users. Here is a detailed review of the 9Anime site.
Is 9Anime Legal?
As far as its legality is concerned, 9Anime is not a legal site as the contents aren't licensed properly, and the revenue is delivered to the original developers. Distributing content without the owner's permission and using ad revenue is a criminal offense in many countries. As far as viewers are concerned, there isn't much trouble. But in various countries streaming from illegal sites is considered as one of the crimes. It is considered one of the acts of piracy. So make sure to use a VPN to stream your favorite animated TV shows and series.
Why Use a VPN?
While streaming from sites that illegal or legal is at stake, you may need to use a VPN to escape from various trackers. The contents you stream are tracked by the Government, service providers, and others too. It may lead to some legal issues in various countries. So we advise you to use a VPN to hide your IP address and stay anonymous on the internet. It will prevent you from various trackers. Moreover, some countries have banned some sites. So to bypass such geo-restrictions, you may need a VPN.
Features
It features various anime shows of high quality.
There is no need for any registration and subscription.
You can watch all your favorite anime shows and download them without any limitation.
There is a section where you can find the schedules for the new shows and upcoming shows.
It also features trial anime.
You can get the anime site in a dark mode too.
Contents offered
The site offers various animated movies and TV shows under the following several categories.
1. Demons
2. Historical
3. Horror
4. Sci-Fi
5. Shounen
6. Space
7. Supernatural
8. Drama
9. Mystery
10. Psychological
11. Seinen
12. Adventure
13. Comedy
14. Ecchi
15. Mecha
16. Action
17. Military
18. Josei
19. Music
20. Romance
21. Slice of Life
22. Fantasy
23. Kids
24. Superpower
25. Samurai
26. Magic
27. Harem
28. School
29. Police
30. Shoujo
31. Martial Arts
32. Vampire
33. Sports
34. Game
35. Parody
36. Cars
37. Thriller
38. Hentai
39. Dementia
40. Shoujo Ai
41. Shounen Ai
42. Dub
43. Yuri
44. Yaoi
How to Watch 9Anime?
1) From your phone or computer web browser, go to the 9Anime site.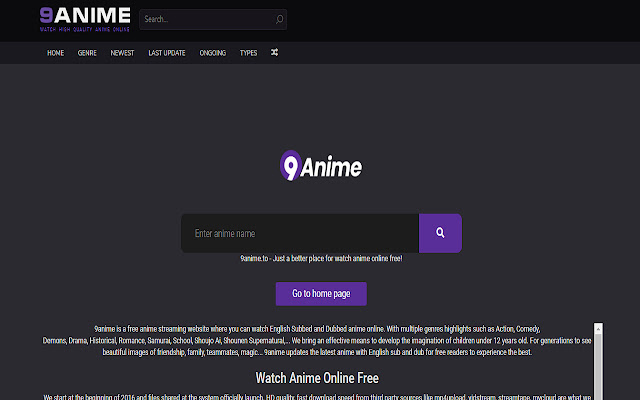 2) Choose your genre from the top menu bar or scroll down where you can find the animations in alphabetical order.
3) Select your favourite animation and hit play.
Pros
9Anime is one of the best animation sites that offer animation content for free.
It offers various videos in HD quality, and you need not download any applications to stream.
You can watch the contents whenever and wherever you want as long as you have an internet connection and a web browser.
No need for registration, subscription, or sign-up process in 9Anime.
Cons
The site is not legal and thereby causing legal issues.
The ads are so annoying.
Animated movies can be added more.
Alternatives
Kissanime
Funimation
Animeheaven
Animefreak
Chia-Anime
MyAnimeList
Our Verdict
9Anime has its own pros and cons giving you reasons to stream and not stream from the sites. Make sure to use a VPN to protect your security and privacy. Along with that, use an antivirus to prevent your device from malware. Given that, it is one of the best Anime sites to stream your favorite content.
Follow Techowns' Facebook and Twitter pages for more review guides.