Virtual Private Network aka VPN is one of the essential tools irrespective of the device you have. It is indeed important to take the ultimate advantage of the internet. If you are really concerned about protecting your online activities, then VPN is the one-stop destination. It ensures enhanced security and lets you browse the web confidently. In order to help you better deal with Avast Secureline VPN, we have come up with a review section. You will find if or not Avast Secureline VPN is what you need.
Avast Secureline VPN Overview
AvastVPN or Avast SecureLine VPN is one of the security software tools from Avast. It provides real privacy and security while keeping your important data away from hackers and trackers. Avast VPN is ultra-fast with a large number of anonymous VPN proxy servers all around the world for you to surf the web without any limitations. Access any content including even those blocked websites, apps, shows, and more.
With an anonymous IP address, it will hide your online activities from ISP, hackers, government, etc. It supports peer-2-peer (P2P) in select server locations. Has bank-grade encryption and aims to keep your private info private. Avast Secureline VPN provides better online experience in terms of not only speed but also performance. With its secured connection, you will stay safe at any place. Above all, it provides security even to Android smart TV and lets you stream favorite content.
Notable Features of Avast Secureline VPN
The VPN has some unique features and you will find them interesting.
Uses the single shared IP address
Secures your connection from network threats
Has 256-bit advanced encryption standard (AES)
Apple approved as it is built on Apple's proprietary stacks
With UDP, users can stream contents in hi-definition
Keeps real IP hidden over IPv4 and blocks the IPV6 requests
Get lag sensitive twitch gameplay
Server speeds and performance are boosted for a speedy online experience
General Info
| | |
| --- | --- |
| Jurisdiction | Czech Republic |
| No.of.Servers | 55 |
| No.of.Countries | 36 |
| Simultaneous Connections | Yes |
| Unlimited Bandwidth | Yes |
| No-Log Policy | N/A |
| Live Chat | Yes |
| Allows Torrenting | Yes |
| Encryption Protocol | AES (256-bit) |
| Multi-Platform Support | Yes |
| Website | https://www.avast.com/en-us/secureline-vpn |
Avast Secureline VPN Supported Devices
Avast has made SecureLine VPN as a cross-platform VPN software. So, you will find it accessible from the most popular smartphone and desktop operating systems. You can download AvastVPN on the following devices
Mac PC
Windows PC
iPhone
iPad
Android Phone
Android TV
Avast Secureline VPN Plans & Pricing
As internet usage isn't the same for everyone, AvastVPN has multiple plans. Those new users will get a 7-day free trial and it supports canceling the subscription at any time before the end of the free trial. Also, it ensures a 30-day money-back guarantee.
| | | | |
| --- | --- | --- | --- |
| Device | One Year Plan | Two Year Plan | Three Year Plan |
| 1 | $3.99/month | $2.99/month | $2.99/month |
| 5 | $4.99/month | $3.99/month | $3.99/month |
Avast Secureline VPN Servers & Location
Avast Secureline VPN has clearly listed all its server locations and in how many cities it has servers. Out off 34 locations, 28 cities have one server each. AvastVPN servers are found in 3 cities of the United Kingdom, while Canada, Spain, Germany, and Russia have servers in 2 cities each. The United States has the maximum of AvastVPN servers in 16 cities. So, you will find the total number of servers in 55 cities all over the world.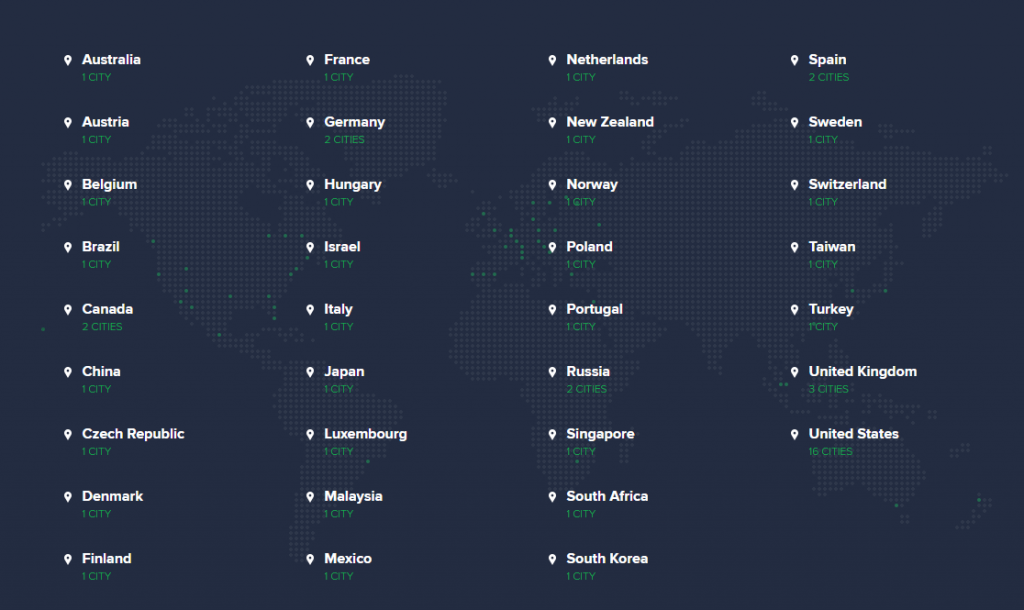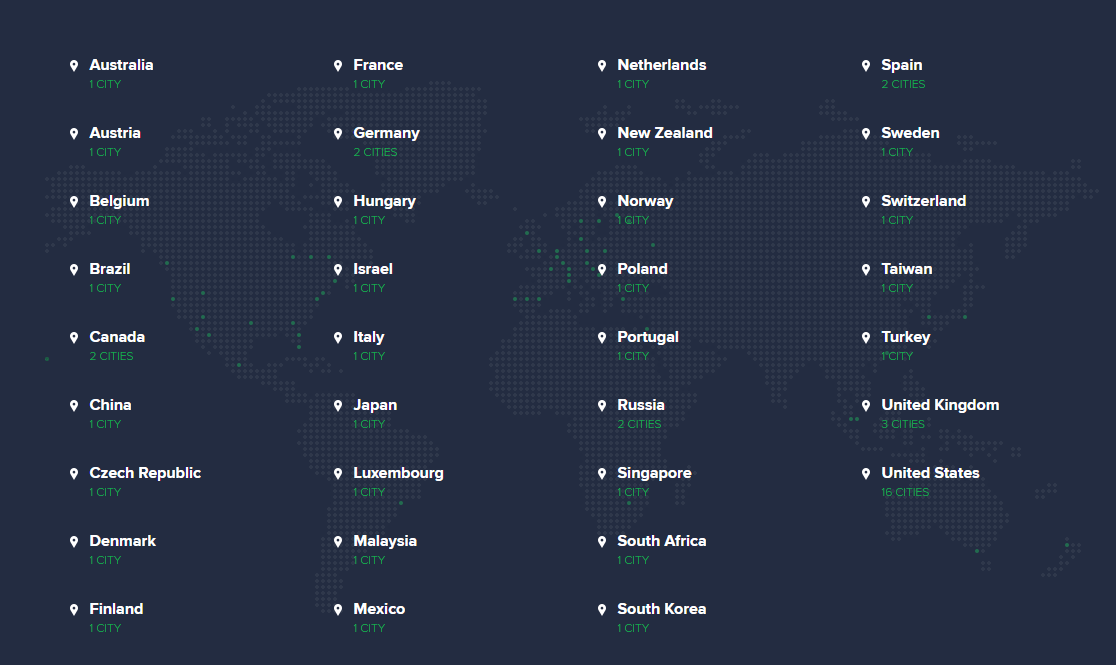 Logging Policy
Once after connecting your device to the Avast Secureline VPN server, the VPN will not track the websites you visit, apps you use, or the content you access. However, the company policy has clearly mentioned that it will record the IP address used and the time stamp when the users connect and disconnect to the VPN. It also records your data uploaded and downloaded during the session. The server logs it collects includes region, cookies, web page you request, websites you visit, etc.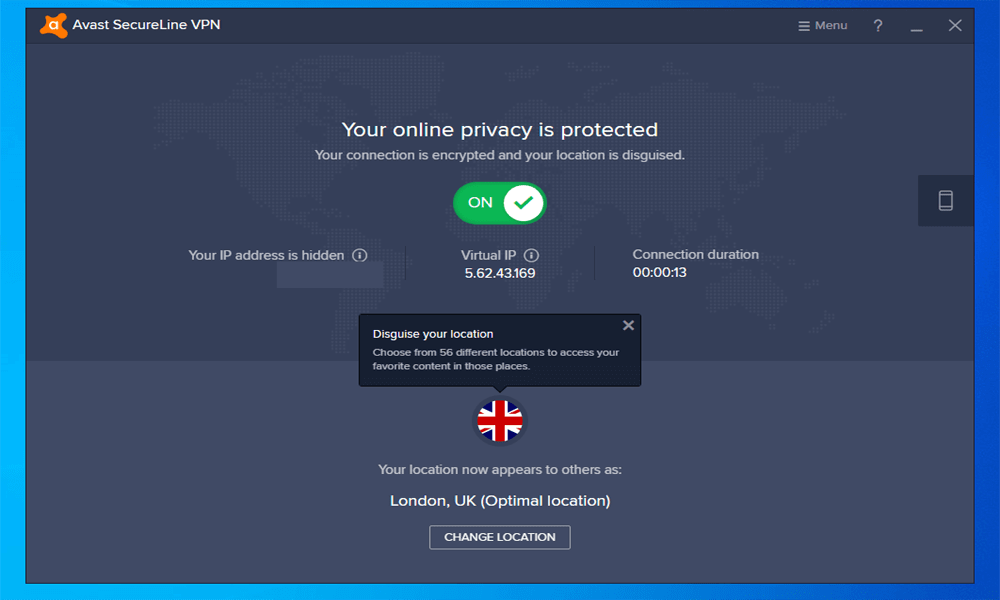 Avast Secureline VPN Privacy Protection
You will get the most reliable privacy protection on AvastVPN. It is because it is all about open-source privacy protection. This VPN is built on the most widely used and transparent privacy protection protocols called OpenVPN and OpenSSL. With AvastVPN, your connection and data are absolutely secured.
Performance
Avast Secureline VPN is a lightning-fast VPN and it lets you access the online contents without any lag. Its gateway runs on a dedicated set of hardware servers that can handle a large number of users while still maintaining the best performance. It will balance the traffic automatically across the servers and makes sure they aren't overloaded. AvastVPN servers have 2 Gbits/s as the theoretical throughput. Besides this, the developers also test the servers regularly under intense loads.
Avast Peer-2-Peer Torrenting
AvastVPN is optimized for torrenting. So, those who download torrent files can make use of this VPN. Among all its servers, eight of them are optimized for P2P streaming. The data centers that supports P2P torrenting includes
Prague – Czech Republic
New York City – New York
London – United Kingdom
Paris – France
Seattle – Washington
Amsterdam – Netherlands
Frankfurt – Germany
Miami – Florida
Ease of Use
The user interface of Avast VPN is simple and user-friendly. It will ask your country, first name, last name, email id, zip code, etc. when you opt to subscribe to it. You can purchase the Avast Secureline VPN license using PayPal, credit, or debit card. An activation code will be inboxed via email. When you download and launch it, a large red button will be available in the middle of the screen. Tap on it and it will activate the VPN. When prompted, start with the seven-day trial. Further, click on the text that reads, you already have an activation code and enter it as you received on email. With this, you can choose the server and Avast VPN will take care of the rest.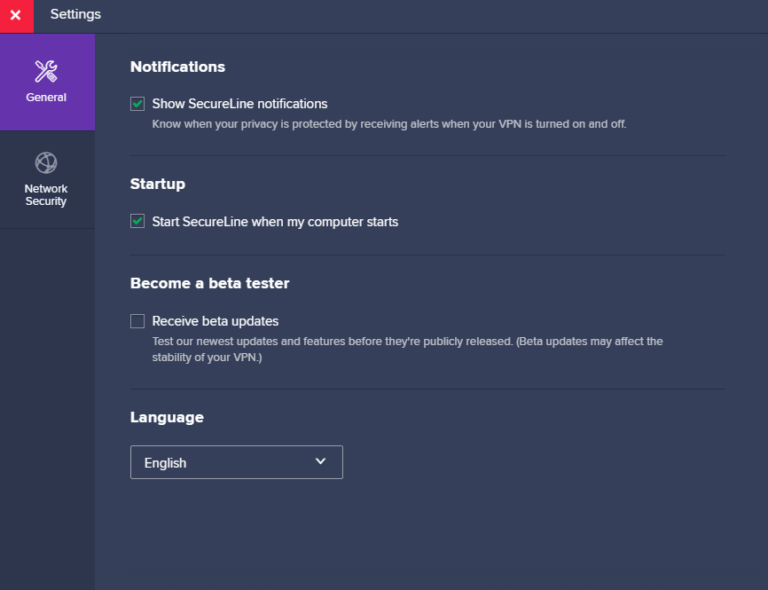 Does Avast Secureline VPN works with Netflix?
Yes. Avast Secureline VPN unlocks Netflix without any issues. It even provides streaming without buffering or lagging issues. In addition to Netflix, AvastVPN also supports accessing Hulu, HBO GO, BBC iPlayer, Amazon Prime Video, Spotify, and lots more. So, accessing geo-restricted contents is no more an issue with this VPN.
Even More!
AvastVPN is found to have issues and leaks with IP, DNS, and WebRTC. We haven't even noticed any malware or adware while using this VPN. Besides this, the customer support provided by Avast VPN is neither worst not best and thus it falls under good. You can choose to live chat or email for immediate response. Your issue will be resolved within 24 hours.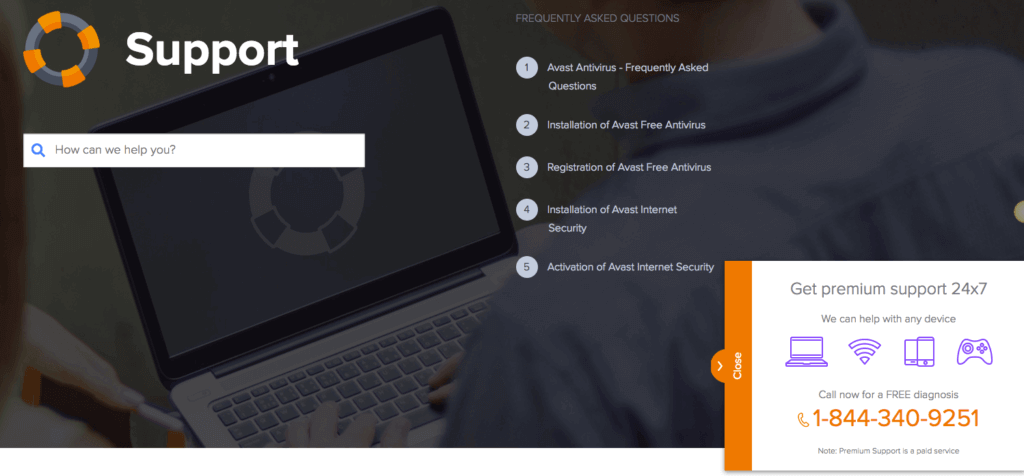 Pros
The advantages of using this VPN includes
Multi-platform support
P2P torrenting
Easy user interface
AES 256-bit encryption
Money-back guarantee
Cons
The limitations you face with the VPN includes
A limited number of servers
Lacks advanced features
Keep connection logs
Our Opinion
Avast Secureline VPN is a decent VPN that encrypts connection with one-click. It gives the best features for the price it is available. However, it isn't going to work if you don't want it to access some of the server information. Although it has a number of useful features like DNS leak-proof, P2P, etc., it still lacks advanced features. I hope you have got clear information about Avast and if it is worth buying.
Comment below your thoughts on the VPN. Follow us on Facebook and Twitter for more updates.
Was this article helpful?