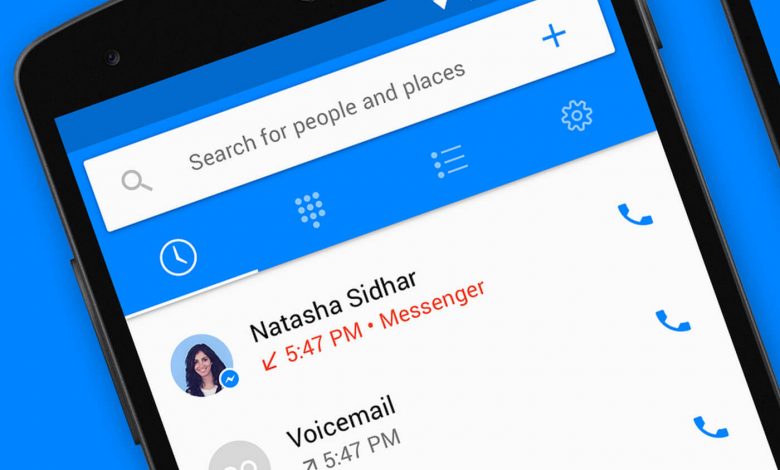 The statistics say that the modern-day buyer researches 14 different news sources before buying a smartphone. Despite spending so much effort on research, what if your smartphone does not have a decent dialer? Nowadays, manufacturers launch smartphones with stock dialer apps. However, this article has listed a few dialer apps for Android to enhance the dialing experience.
Unlike the default ones, these apps will let you know many things like tracking caller IDs, recording calls, call reminders, etc. They also have different themes and looks to make the dialer more appealing.
On the whole, using an alternative dialer app is a better choice. After analyzing all the features and functions of various apps, the best ones are listed below in this article.
Best Dialer App for Android:
Let's get started with the list of the nine Best Dialer apps for Android.
Simpler Caller ID
Simple Caller ID app is considered to be one of the best alternatives for the default dialer app on our Android phones. It's completely a free app. It has features like Caller ID and spam detection, blocking of calls, merging all duplicate contacts, one-tap to backup all the contacts, sending instant group text & emails, T9 Dialer for quick search of names & numbers, and beautiful themes (almost 40+ themes). Due to its easy user interface and effective functions, it tops the list.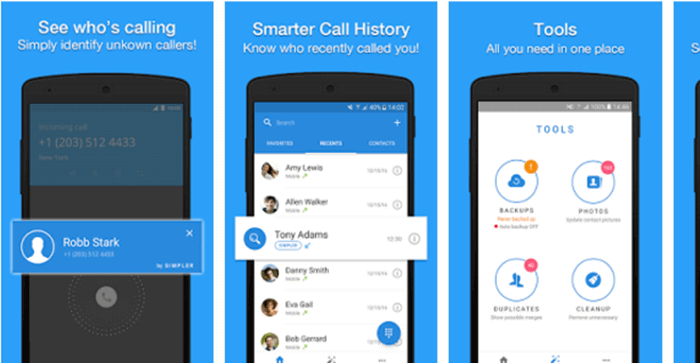 Truecaller
Whenever you think of blocking/tracking any number, the first thing that comes to anyone's mind is the Truecaller app. It has around 500 million downloads to date, with an average of 4.5 ratings in the Google Play Store. It is completely free to use. At the same time, it also has the option to go premium too. By opting for premium, you will get access to know who viewed your profile, ad-free usage, advanced blocking & filtering options, and you can also view other profiles privately. It makes Truecaller one of the best Caller ID & Dialer apps for Android.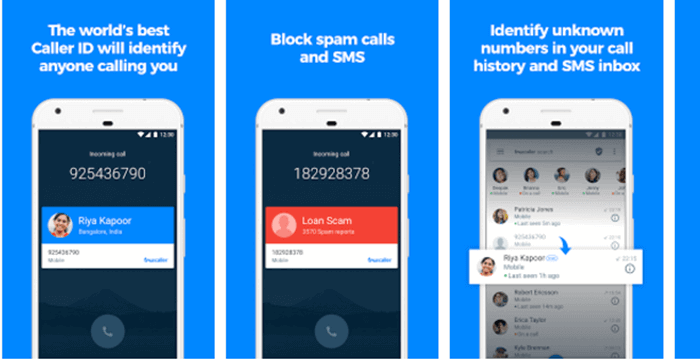 Contact+
Contacts+ was first released in 2010. It has almost 10+ million downloads. It has all basic and advanced features like Caller ID, calls and SMS blocks, white/black themes, fast dialer search, Birthday reminders, etc. One of the most important features offered by this app is its 'Security.' Contacts+ has all your calls, messages, and log backup.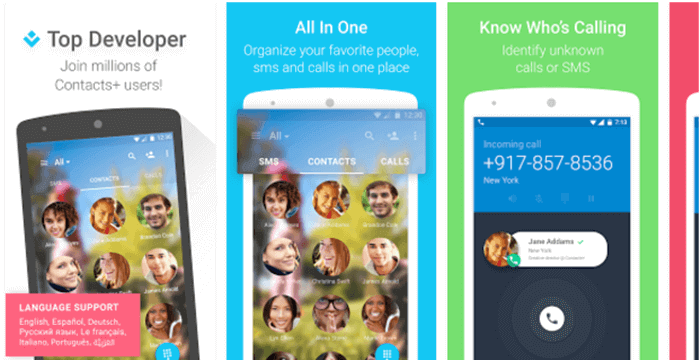 ZenUI Dialer & Contacts
If you want to get a good performance dialer with extraordinary features, definitely go with this one. Actually, it is a default dialer app for ASUS devices. Here, all calls & contacts are organized properly. Another best feature of this app is if someone tries to unlock/use your phone without your knowledge or if someone tries to break your password, your phone's front camera will automatically turn on and capture a picture of that person. In terms of security, this app tops the list. So you can choose this app if you consider security a major thing.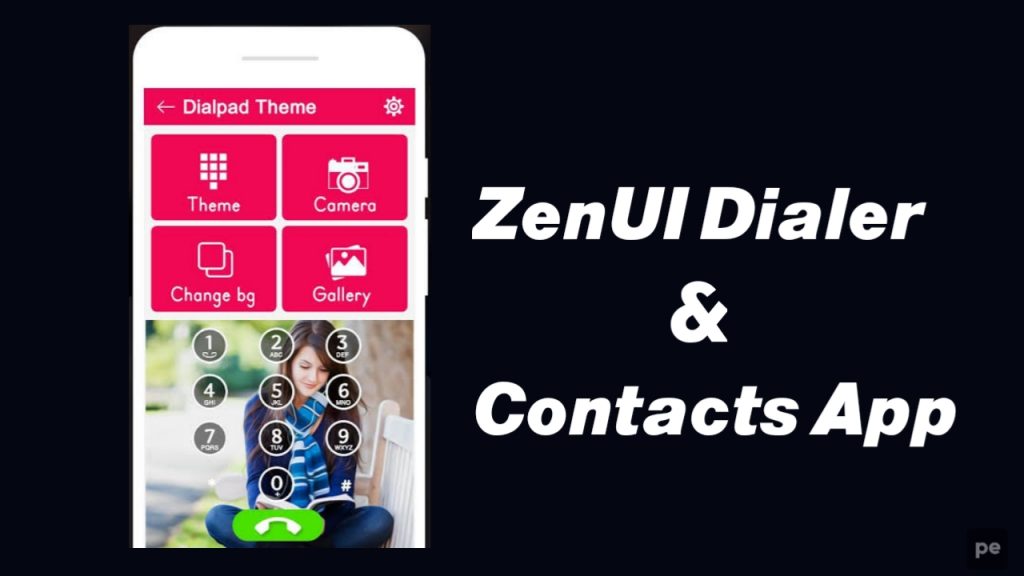 Swipe Dialer
Swipe Dialer app's user-friendly interface makes it get on the top list. It has great features like full T9 support, different themes, one-tap switching between contacts, dialer pad, favorite contacts, recent calls, Call log grouping, the ability to send SMS, edit or call contacts through long press, and so on. This app was released in 2020, but its extraordinary features made it get more reach.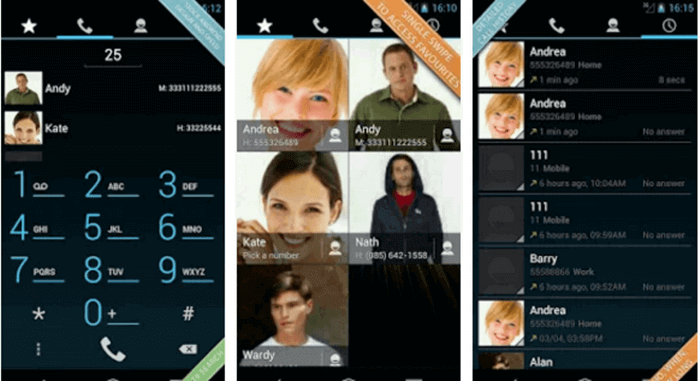 Exdialer
Exdialer and Contacts app is a reliable app that offers a great set of features. The fast and smooth functioning of the app is one of the best things about this app. It uses the T9 predictive touch keypad for making calls and sending messages. It supports 30+ languages. With a few clicks, you can call or message others instantly by making use of the shortcuts. Swiping right will help you make calls, and swiping left will help you send messages. The app has several new themes and plugins to improve the phone's look.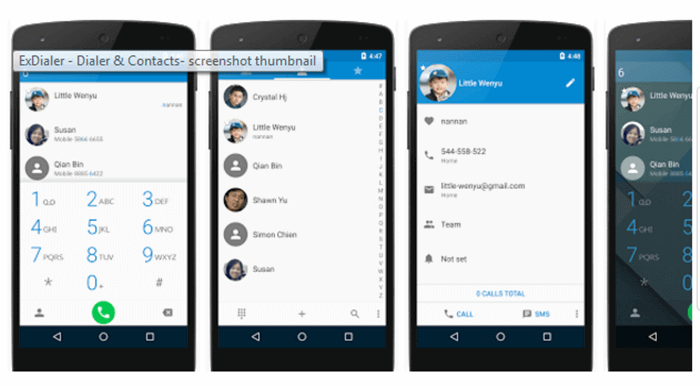 OS9 Phone Dialer
OS9 Phone dialer app is yet another best Android dialer app because of its features such as automatic call recording, dual SIM management, responsive T9 dial pad, call blocking, etc. It has all the basic and advanced features which a good dialer app needs. It has more themes and gets you the best that suits your requirement. There is another feature called 'Animation,' with this, you can change the 'enter and exit' animation for the call screen. You can easily set the background for the dialer screen too. These features make the app one of the best dialer apps for Android devices.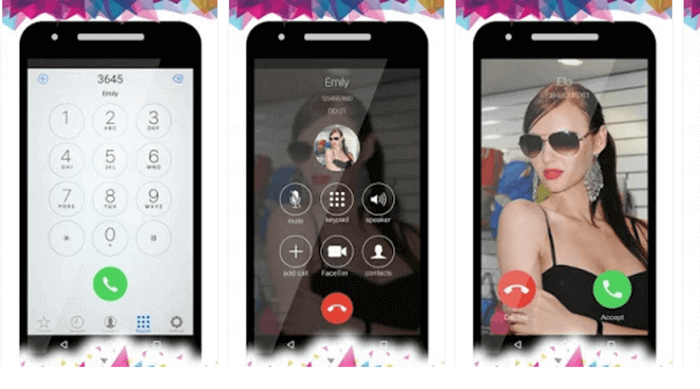 True Phone Dialer & Contacts
It provides multiple language support with a fast T9 search for all your calls and contacts and extended dual SIM support. It also supports all major languages, a feature that you can't find in other Dialer or Caller ID apps that we reviewed. Launched in 2014, it quickly gained a lot of attraction in Google Play Store. It provides quick access to your recent calls, contacts, favorites, and groups. In addition, it cuts down unnecessary elements to save space for content and makes daily usage so easy. Overall, it can be considered one of the best dialer apps for practicality.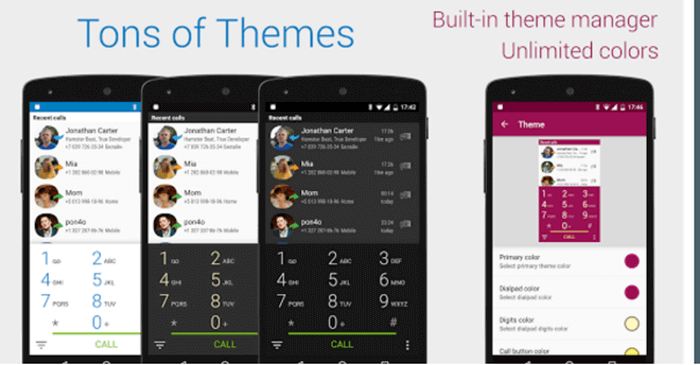 Contacts Phone Dialer
Drupe has more than 10 million downloads. It is considered to be the best because of its simple interface. It has some good features like a smart dialer interface, a facility to block spam calls and messages with just one click, an inbuilt call recorder, a call-based reminder, and lots more. This app too supports various languages. Though this app contains ads, it is completely free to download. To have an innovative look, it has a special theme gallery.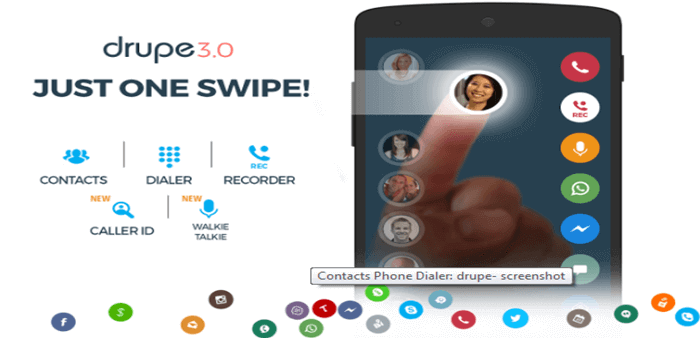 Frequently Asked Questions
How to set a speed dialer on an Android smartphone?
Go to default Contacts app > touch Settings icon -> click on Call Settings -> open the item labeled as 'Speed Dial.' You would see tiles in a 3*3 layout with numbers between 1 to 9. Tap on any tile, and it will bring up your 'Contacts' list. Next, tap on any contact to assign the selected speed dial number. Once this step is done, open your default dialer and long press on any number from 1 to 9 to speed dial the contact assigned to that particular number.
Is there any voice dialer for Android?
Yes. To place a call using the voice dialer, bring the lock screen alive by tapping the display. Next, tap the mic icon on the bottom left of the lock screen. Say 'Call,' followed by the contact name you want. If there are multiple contacts by the name you told, you will get a prompt to be specific. Once the Android has identified whom to call, you will see the calling screen.
Was this article helpful?