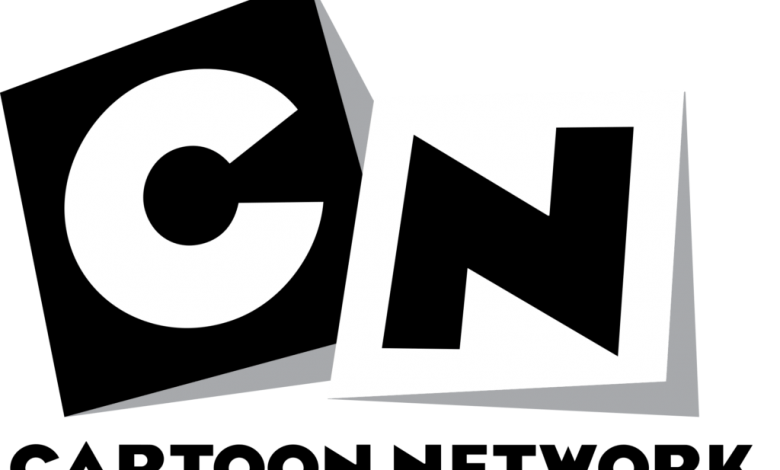 Cartoon Network is the most favorite cable TV channel not only for the kids but also for adults. With digital media players and the emergence of streaming services, Cartoon Network is made available as an app. So, you can watch your favorite cartoon characters and their episodes at any time anywhere. It lets you catch up with the latest full episodes the day after it is aired or even before that. You will get a personalized video mix with the latest episodes. Cartoon Network users can stream a selection of full-length episodes even without login. Watch exclusive premiere episodes that are app-exclusive before it is aired. In addition to Android and iOS device, Roku supports accessing this kid's channel. It is officially available on the Roku Channel Store and this section will guide on the installation of Cartoon Network on Roku.
How to Download Cartoon Network on Roku?
Here are the simple-to-follow guidelines that let you get Cartoon Network on Roku.
(1). Power on and connect Roku to the WiFi.
(2). Select Streaming Channels on the home screen.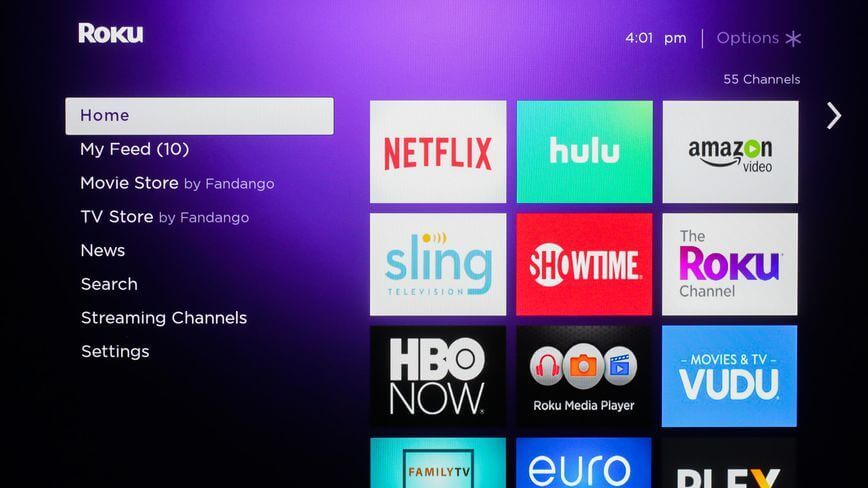 (3). Choose Search Channels option on the following window.
(4). Use screen keys to type as Cartoon Network and select it on the suggestion.
(5). Select Add Channel button on the info screen to start downloading Cartoon Network.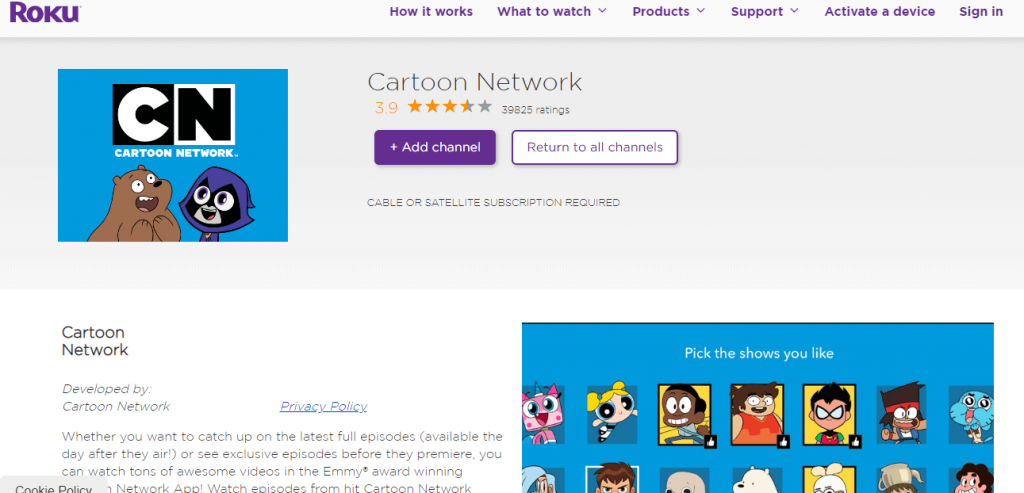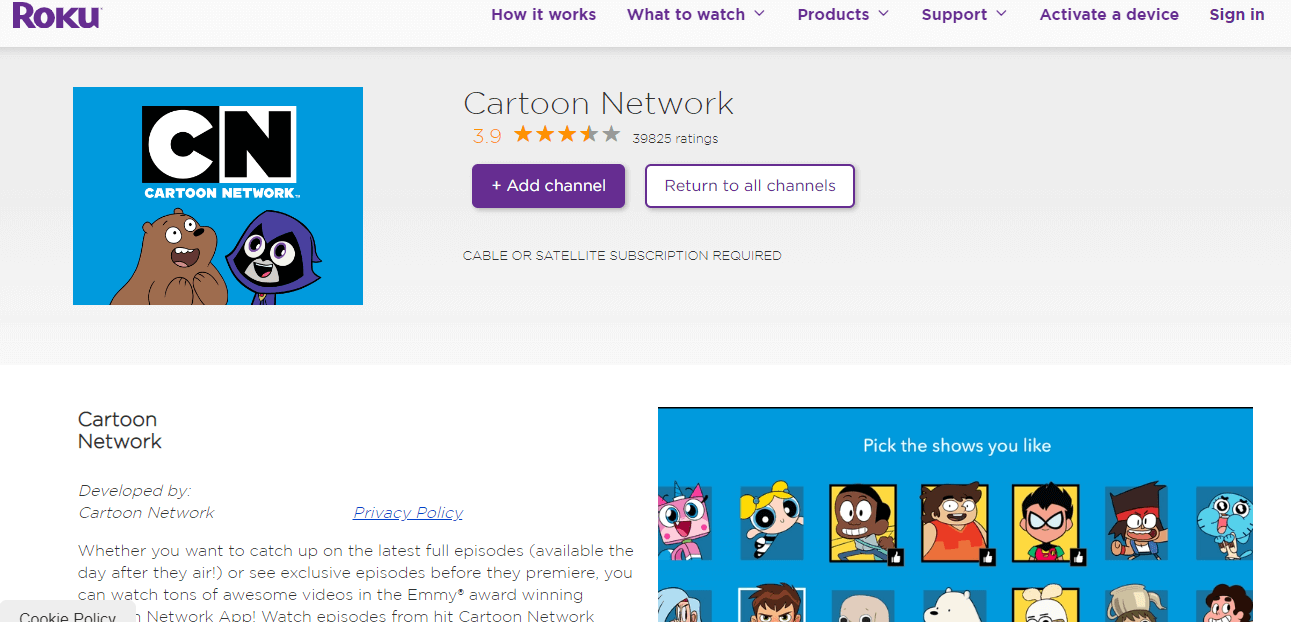 (6). After the download, launch it by selecting Go to Channel.
How to Activate Cartoon Network on Roku?
After downloading Cartoon Network on Roku, you must activate the device to stream its contents.
(1). Launch Cartoon Network from the apps section.
(2). Select Login to provide your sign in credentials.
(3). Make a note of the activation code shown on Roku TV.
(4). Open a browser on your PC and visit https://cartoonnetwork.com/activate.
(5). Enter your login details and type in the code as shown on Roku.
(6). Upon entering the right code, your Roku TV will auto-refresh and you can start streaming your favorite cartoon shows.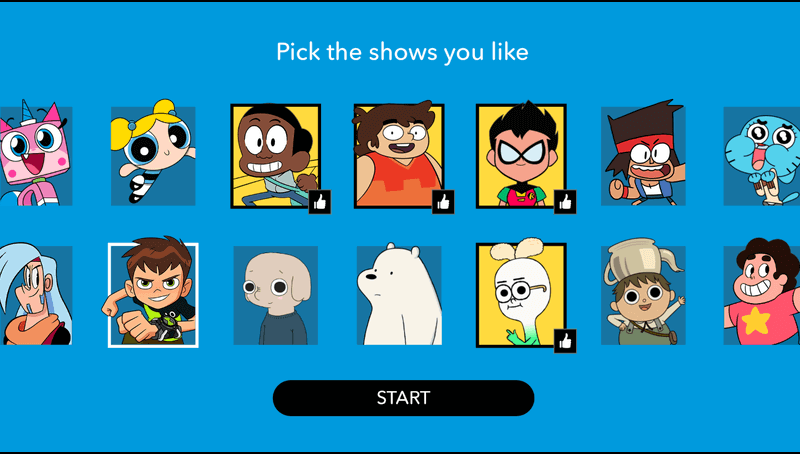 List of Roku Channels that Support Cartoon Network
If you have subscribed to any of the channels, then you can instantly access the Cartoon Network channel on your Roku.
Some Popular Cartoon Network Shows
The most viewed Cartoon shows includes the following
Steven Universe
Teen Titans Go
Ben 10
Clarence
Infinity Train
We Bare Bears
The Amazing World of Gumball
Craig of the Creek
Our Opinion
That was all about Cartoon Network. You can buy the dedicated channel from the channel Store or get access to Cartoon Network with any of the channels that we listed above. This way, you will be able to save some device space.
Do you find this section informative? Let us hear it out as comments. For more useful articles and updates, follow us on Facebook and Twitter pages.
Was this article helpful?