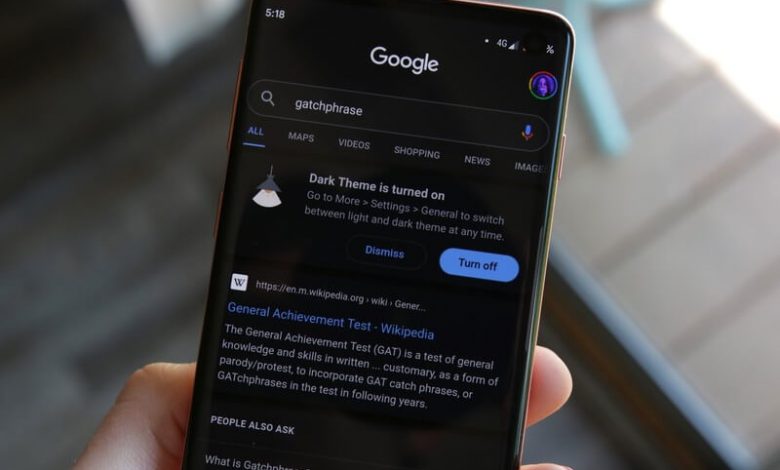 Google Discover is the place to get your news based on your browsing habits. It shows topics, news, videos, and blogs based on your interest, your favorite sports teams, smartphones, websites, and more. With dark mode being the talking of the town in recent times, users are looking for ways to enable dark mode on the apps they use including Google Discover feed. Apart from reducing your eye strains, the dark mode also saves your battery life a little bit when your device has an OLED display.
How to Enable Dark Mode on Google Discover Feed?
Depending on the Android version of your device, the steps to enable dark mode on Google Discover will vary. At the same time, if you have installed third-party launchers on your Android device, you may not get Google Discover feed.
Android 10
Devices running on Android 10 have built-in support to change the appearance from usual light theme to the dark theme. To enable this,
Go to Settings.
Select Display & Brightness.
Select Theme.
Click Dark.
On some Android devices, the location of the dark mode settings may vary. For example, on OnePlus devices, it will be located under the customization menu. Simply, type Dark on the settings search bar to find it easily.
After enabling it, the theme of all the supported apps, including Google Discover feed will be changed to the dark theme.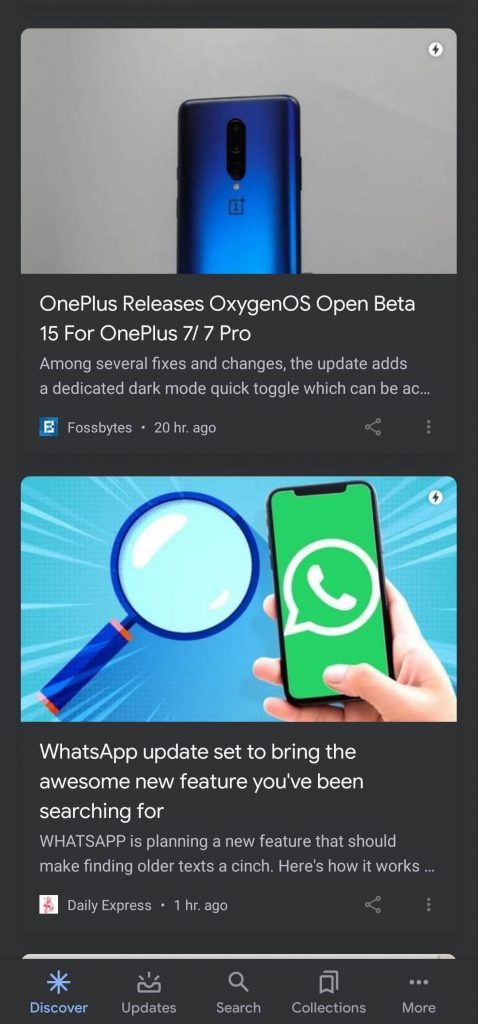 Android 9 and below
Devices running Android 9 and below versions don't have a native option to enable Dark Mode. But, there are ways to enable Dark Mode on Google Discover feed on those devices.
Note: This method may not work on some devices.
Long-press an empty space on your home screen.
Select Wallpapers.
Choose a darker image and set it as wallpaper for your home screen.
Now, you can see dark mode on the Google Discover feed.
Enable Dark Mode using Google App
As Google Discover feed is part of the Google app, you can also enable the feature from there.
Step 1: Launch the Google app.
Step 2: Click the three dot-menu icon and select Settings.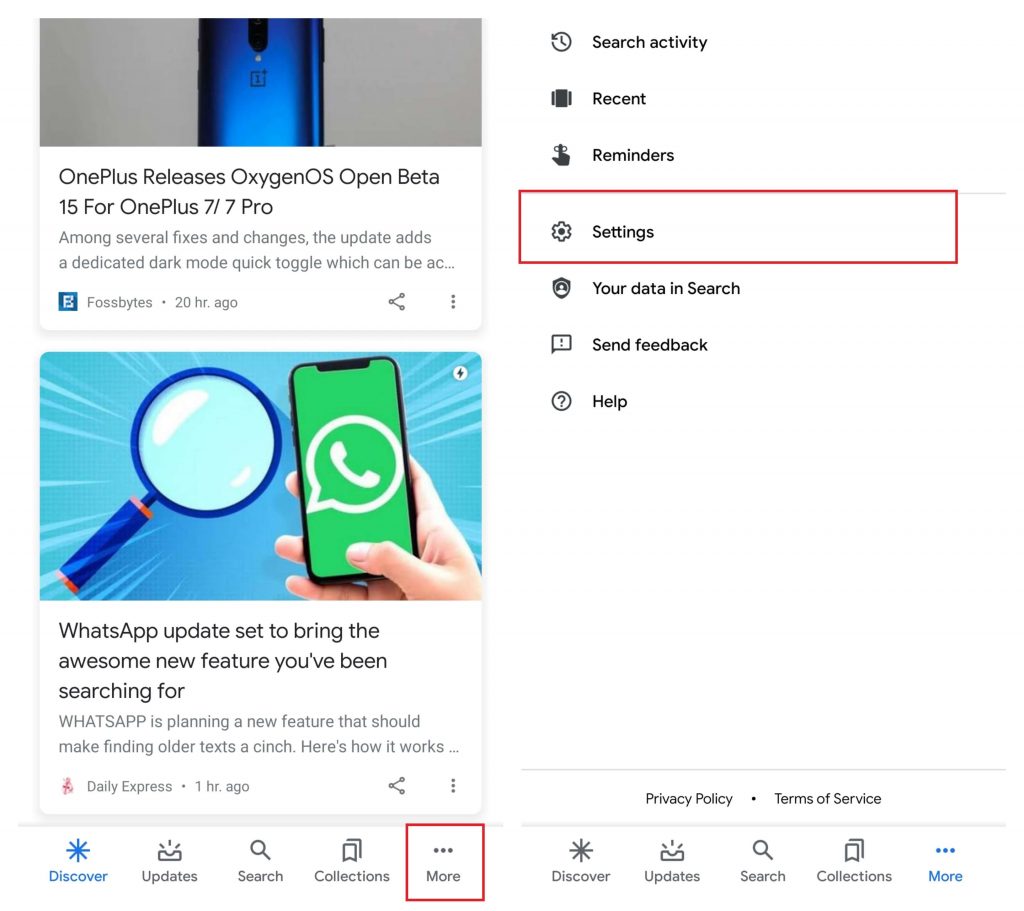 Step 3: Click General.
Step 4: Scroll down to select Theme.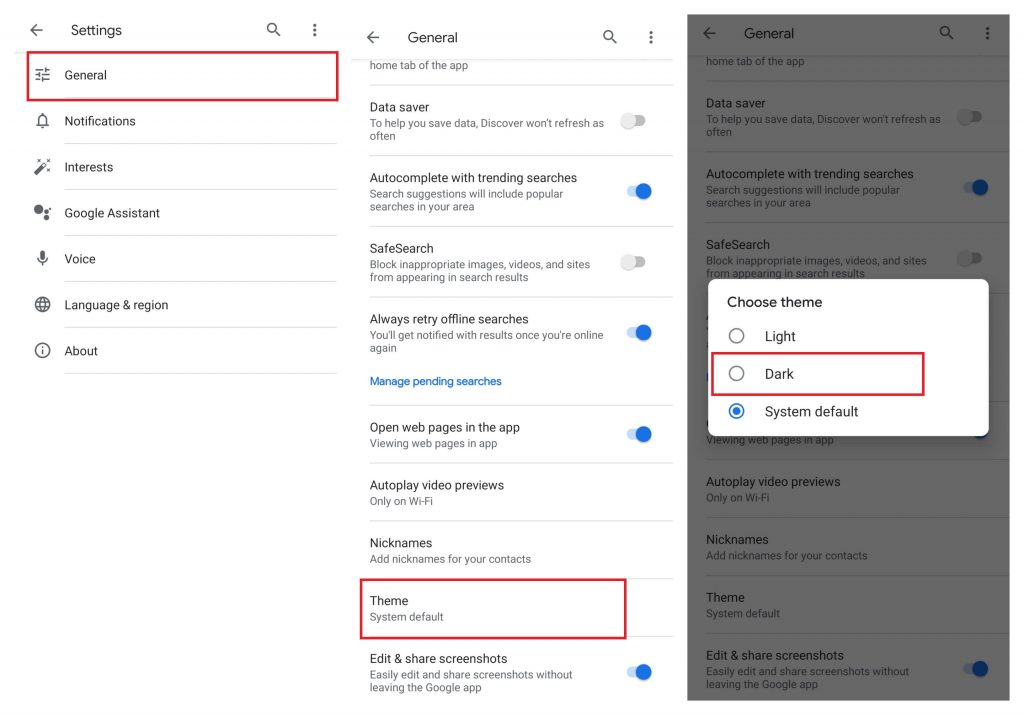 Step 5: Change the theme to Dark.
Google Discover Dark Mode Gone – How to get it back?
If you have joined the beta version of the Google app, you may have lost the dark mode setting on Google search and assistant feed with the latest update (version 11.9). But, after the two days of update, Google has removed the bug and added the feature back. Now, you can find the setting in the same location.
Any suggestions or queries to share about this article? Use the comments section provided below. Meanwhile, follow our Facebook and Twitter profiles for the latest updates.
Was this article helpful?