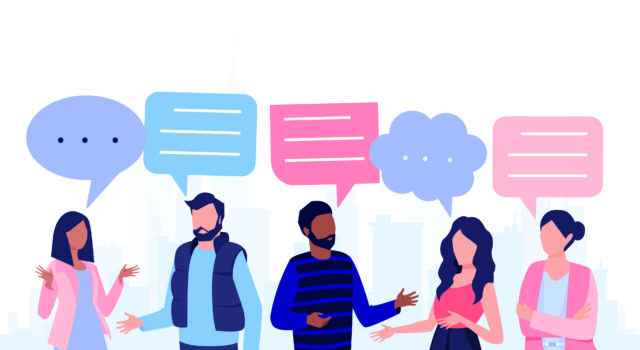 Developers may look for an alternative to Twilio communications solutions due to several reasons. Firstly, Twilio can be more expensive, which may not be the best fit for startups with budget constraints. Secondly, Twilio lacks free incoming SMS, which may not be feasible for some businesses. Lastly, Twilio has limited support team coverage, which may not offer the level of assistance some businesses require to get these tools up and running.
However, several Communications Platforms as a Service (CPaaS) Twilio alternatives offer a customizable API structure and user-friendly interfaces. Here's our carefully curated list of the top 10 Twilio competitors that are worth your consideration.
1 – ZEGOCLOUD API, SDK, and UIKit Solutions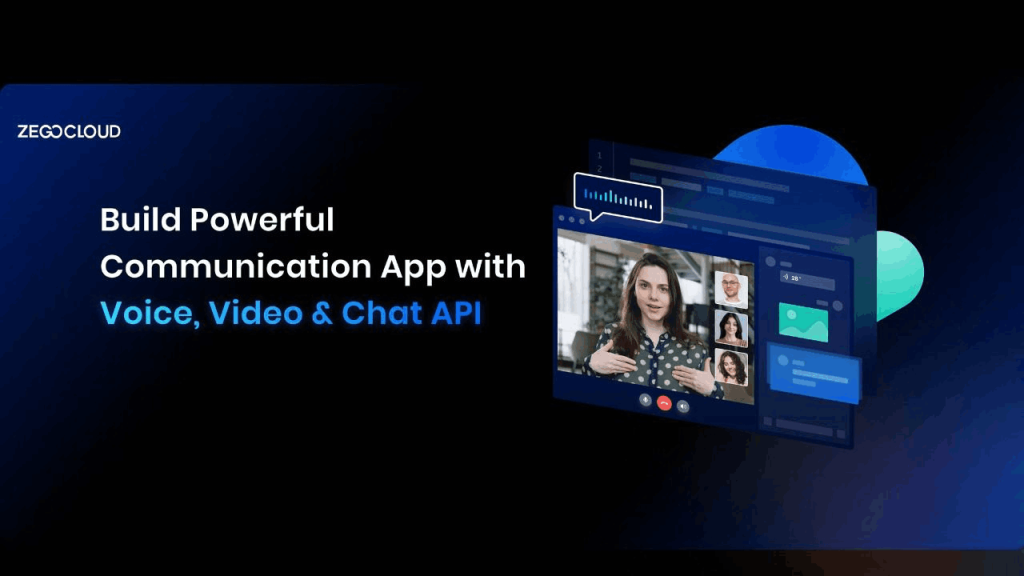 ZEGOCLOUD, founded in 2015, is an emergent and potential global leader in cloud communication services and a capable Twilio alternative. It provides efficient and robust solutions that facilitate the building of reliable and scalable video-calling and interactive live video-streaming features into mobile, desktop, and web applications. With just four simple steps, enterprises and developers can leverage ZEGOCLOUD's powerful communication APIs to embed voice, video, and in-app chat experiences into their apps.
ZEGOCLOUD Notable Features
Social solutions that enable users to create 1-on-1 and group video calls, live audio rooms, and social live streaming features
Real-time communication monitoring and security features such as two-factor authentication, end-to-end encryption, and access control
Scalable for any number of users in your target audience
Provides detailed performance insights, offers easy integration with existing systems and applications
Cost-effective with competitive pricing plans.
Website: https://www.zegocloud.com/
2 – Sinch Communications API Solutions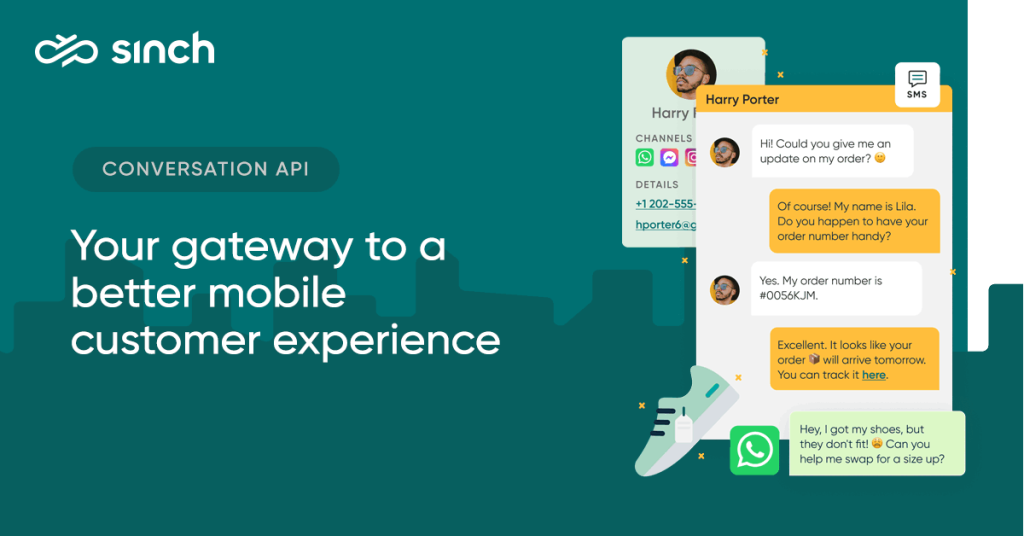 Sinch is a leading customer engagement platform that offers a wide range of communication tools, including SMS, voice, video, and verification tools. The platform enables businesses to manage communication channels efficiently and securely while reducing costs and amplifying engagement. One of the standout features of Sinch is its SMS API, which allows for the sending and receiving of SMS messages through a single connection for efficient communication.
Sinch API Notable Features
Ability to send and receive SMS messages through a single connection
Use of ISO-8601 standard for timestamps
Availability of new features with additional parameters in requests and responses
Accessible URLs for the REST API depending on the geographical area
Website: https://www.sinch.com/
3 – Bandwidth API Solutions for Voice and Messaging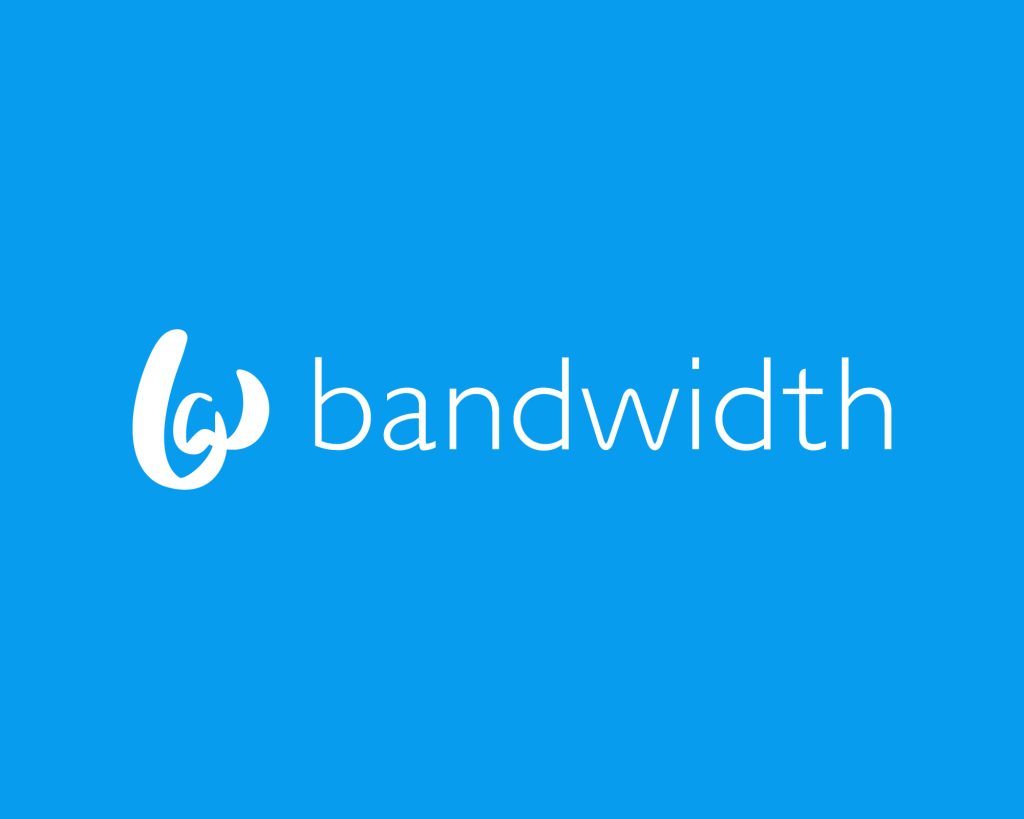 Bandwidth API Solutions for Voice and Messaging is a comprehensive platform that enables businesses to easily integrate voice and messaging capabilities into their applications. With a focus on reliability, scalability, and security, Bandwidth's suite of APIs provides developers with the tools they need to create customized voice and messaging experiences for their users.
Bandwidth API Notable Features
Voice and Messaging APIs: Bandwidth's voice and messaging APIs are designed to be easy to use and integrate into any application, with a range of features including voice calling, messaging, and call tracking.
Number Porting: With Bandwidth's number porting capabilities, businesses can quickly and easily transfer existing phone numbers to their platform.
SMS and MMS: Bandwidth's SMS and MMS APIs allow businesses to send and receive text and multimedia messages with ease.
Call Tracking and Analytics: Bandwidth's call tracking and analytics features provide businesses with valuable insights into their voice traffic, helping them optimize their communication strategies.
Advanced Security: Bandwidth's platform is built with security in mind, with features like two-factor authentication and encryption to protect user data.
Website: https://www.bandwidth.com/glossary/bandwidth-apis/
4 – Vonage API for Communications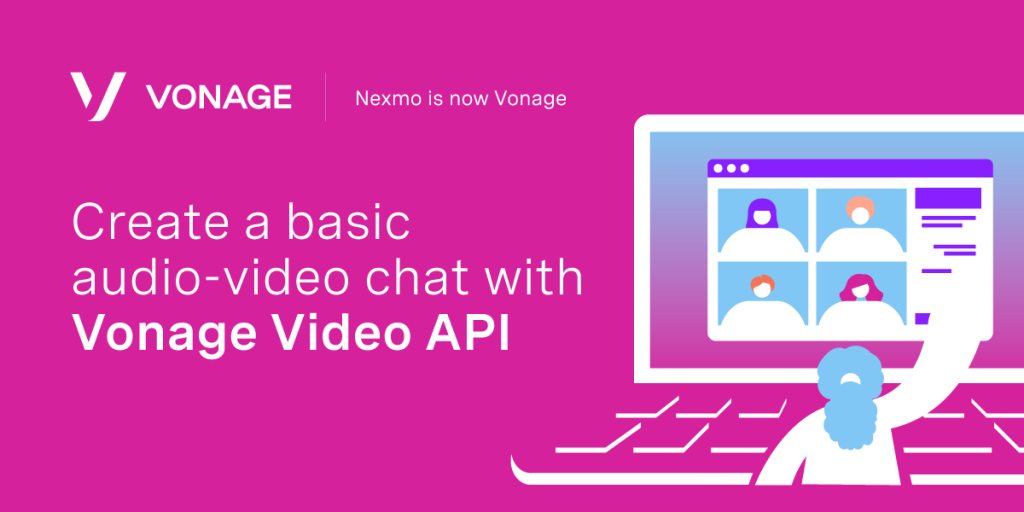 Vonage Communications API, formerly known as Nexmo, is a cloud-based communication API platform that enables businesses to integrate messaging, voice, and video capabilities into their applications. With Vonage Communications API, businesses can connect with their customers through a variety of channels, including SMS, MMS, phone calls, video calls, and social messaging apps. This API provides a range of features that make communication seamless and easy.
Vonage API Notable Features
Two-factor authentication for greater security
Number Insight – a unique API used to apply real-time sources to existing customer information
Programmable voice, chat, and video solutions
Website: https://www.vonage.com/communications-apis/
5 – Videosdk API Solutions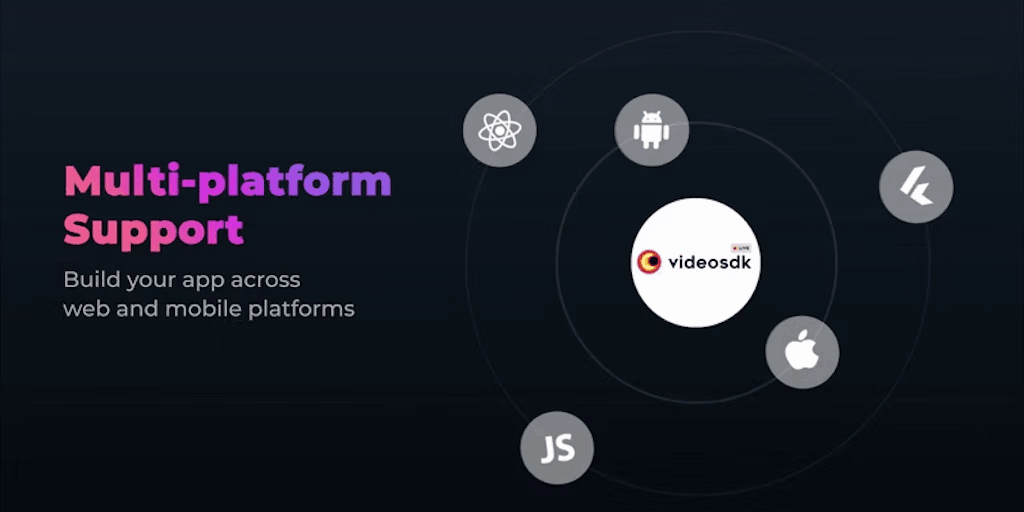 Videosdk offers an easy-to-use API that integrates live-streaming features into various apps and platforms. Its Interactive Live Streaming SDK is designed to provide top-notch APIs that dynamically adjust stream quality to match each user's device or platform.
With Videosdk, users can create customized recordings, including dynamic layouts for simultaneous streaming to multiple channels and record live streams for on-demand viewing. The live video streaming APIs are customizable to individual needs, offering different layouts, popup chat options, SDK video recording, and more.
Videosdk Notable Features
Connection API for custom backstage, on-stage, and breakout experiences,
Support for up to 5k participants,
Simplified resolution and quality control,
Easy setup in just 10 minutes.
Support for over 20 frameworks.
Website: https://www.videosdk.live/
6 – Telnyx Messaging and Voice API Solutions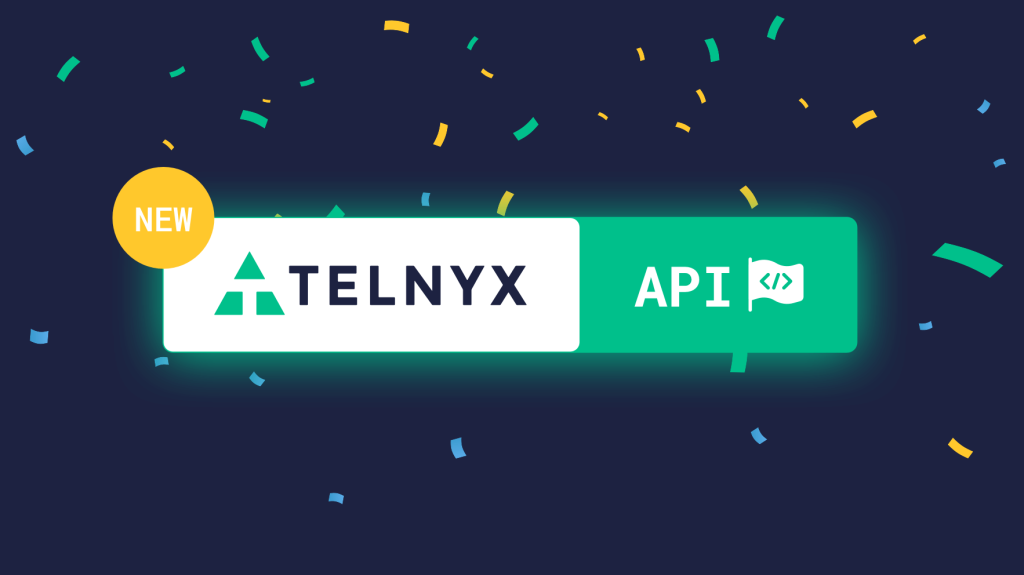 Telnyx offers an all-in-one customer engagement platform with industry-leading APIs for voice, SMS, MMS, video, and more to help businesses communicate and engage with their customers in a personalized way. Telnyx also helps clients navigate complex regulations, industry trends, and technical best practices for easy customer engagement. Their Messaging and Voice API Solutions are designed to provide a seamless and reliable communication experience to users.
Telnyx APIs Notable Features
Global Sms And Mms Capabilities
Carrier-Grade Voice Quality
Private Network Infrastructure
Advanced Routing Capabilities
Website: https://telnyx.com/
7 – Plivo API Solutions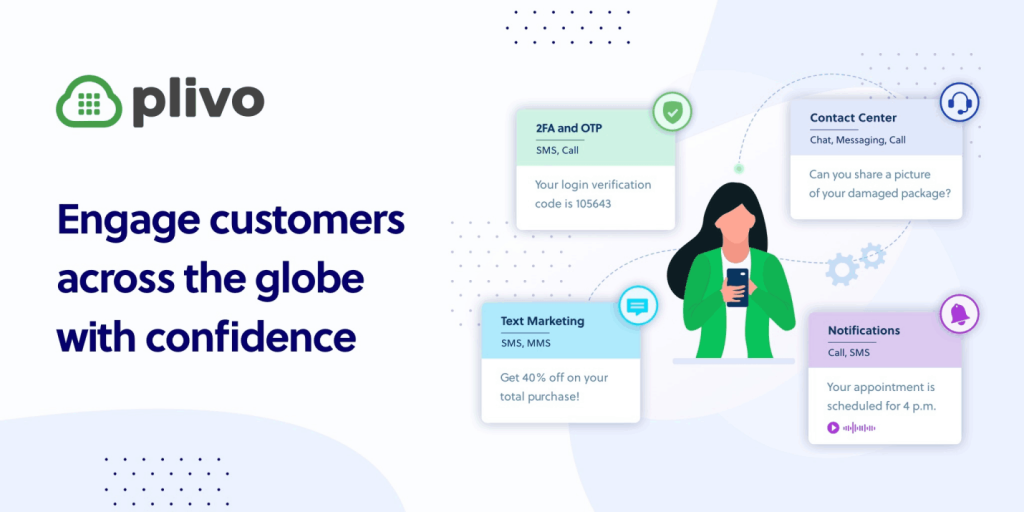 Plivo is a cloud-based communication platform that offers reliable and scalable API solutions for voice, SMS, and MMS communication needs. Their API solutions are designed to help businesses of all sizes enhance their communication capabilities and improve customer engagement. With Plivo's API solutions, businesses can easily integrate communication features into their applications and websites to streamline workflows and improve overall efficiency.
Plivo API Notable Features
Global coverage with access to over 190 countries
Carrier-grade voice quality for crystal-clear audio
SMS and MMS capabilities for text and multimedia messaging
Two-factor authentication for added security
Voice broadcasting for mass communication
Advanced call routing for improved call connectivity
Website: https://www.plivo.com/docs/sms/api/overview/
8 – MessageBird Communications API Solutions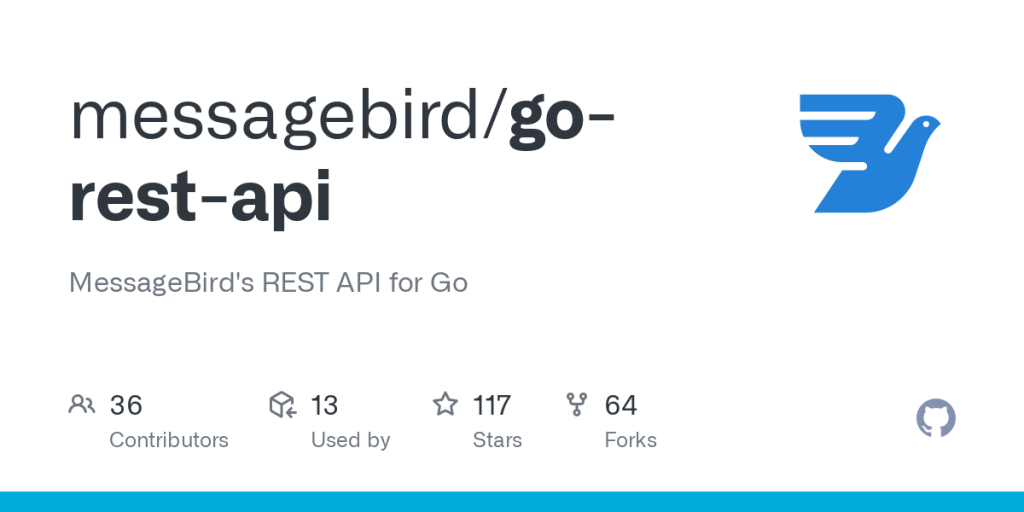 MessageBird offers a comprehensive communication platform that provides API solutions for SMS, Chat, and Voice functionalities. Their API solutions enable businesses to communicate with customers seamlessly and efficiently. With a RESTful endpoint structure and JSON format, MessageBird's API documentation makes integration easy, and their SDKs are available in several languages. Along with HTTP status codes, the error object provides information to make fixing errors easier.
MessageBird Notable Features
Programmable Conversations API for seamless communication across multiple channels
Voice call support for effective outbound sales
Conditional fallback channels for increased message delivery
SDKs available in multiple languages
Standard HTTP status codes for easy API success or failure indication
Website: https://developers.messagebird.com/api/
9 – SendBird API Solutions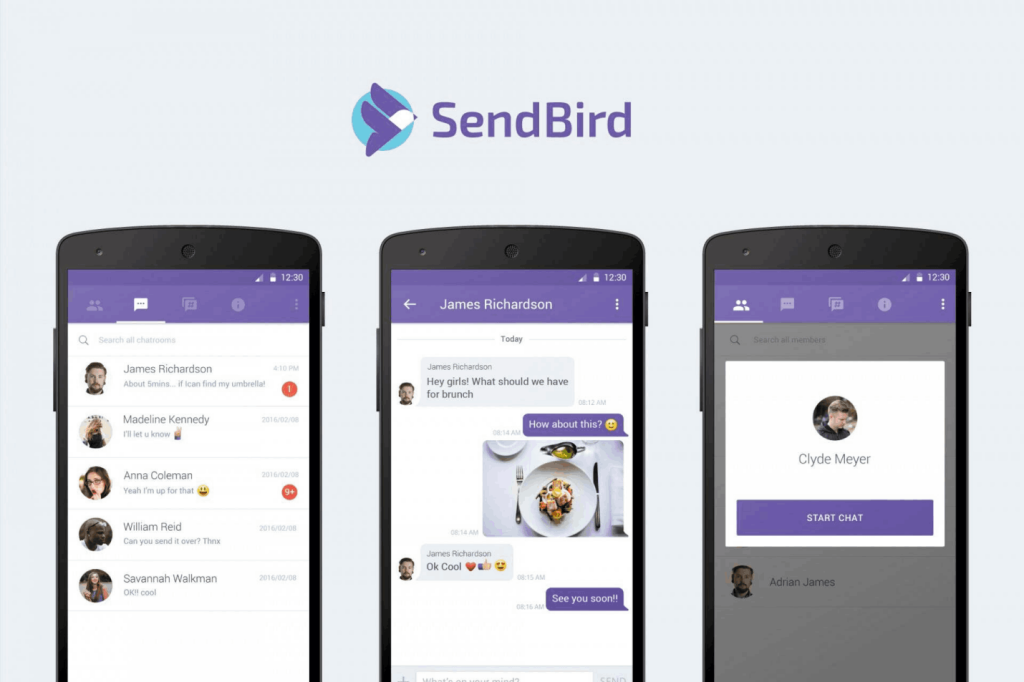 SendBird offers a comprehensive API solution for businesses to integrate chat and to message features into their applications and websites easily. With SendBird's API, businesses can provide a personalized communication experience to their customers and improve overall customer engagement. Using SendBird's API also helps businesses save time and money by avoiding the need to build a chat infrastructure from scratch. Additionally, SendBird's API is highly scalable, allowing businesses to add more users and features as they grow.
SendBird API Notable Features
In-app messaging for seamless communication
Group chat capabilities for community building
Customizable chat UI for brand consistency
Real-time messaging for instant communication
Advanced analytics for monitoring chat performance
Integration with popular CRMs and messaging platforms
Website: https://sendbird.com/docs/chat/v3/platform-api/prepare-to-use-api
10 – 100ms Video API Solutions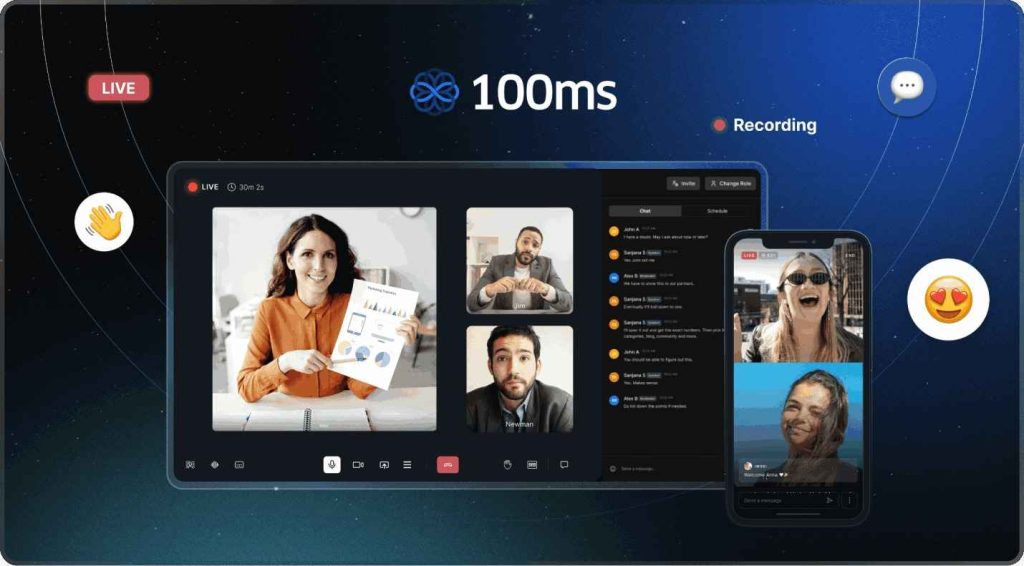 100ms differentiates itself from Twilio Live by providing developers with increased flexibility and freedom. This platform supports additional platforms such as Windows in addition to JS, iOS, and Android, offering ready-to-use configurations, unlike Twilio. 100ms also supports RTMP streaming, integrated chat, pre-built integrations, and more. Although 100ms is more expensive than Twilio's solutions, its flexibility and scalability justify the extra cost. One of the most significant advantages of 100ms is its short setup time, with the ability to stream to an audience of up to a million viewers. This fact is supported by customer testimonials found on the 100ms website.
100ms Notable Features
Support for a variety of operating systems and frameworks
Up to 10,000 participants can join live video calls
Virtually no bandwidth limitations
Ability to customize recordings as per individual needs
Website: https://www.100ms.live/
Was this article helpful?