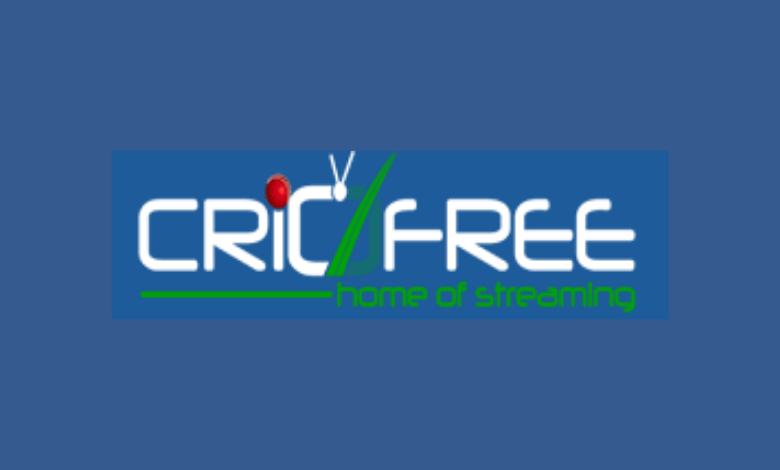 Cricfree is one of the sports streaming sites that stream live events from various channels. It streams content from English Premier League, NBA, NFL, MLB, etc. Moreover, it is completely a free streaming site and doesn't charge any money to stream sporting events. It has driven excess traffic with a massive audience group. Cricfree offers a wide variety of content to stream. Above all, it is an ad-free sports streaming site. It provides content from all major live TV channels.
What You Can Watch on Cricfree?
Irrespective of its name, Cricfree offers more content than you expect. Apart from Cricket, you will get access to stream other sports like
Football
NFL
NBA
Rugby
Tennis
Boxing
Baseball
Motors
Hockey
UFC
Darts
WWE
Basketball
You can enjoy any sports live event from anywhere, anytime. It even streams sports live from channels like Sky Sports, Fox Sports, NFL Network, ESPN, NBCSports, and many more from all around the world.
Is Cricfree Legal and Safe to Use?
No. Cricfree site is completely illegal to stream on any device or country. The sporting event that you can find on Cricfree is copyrighted by various companies/channels. While streaming them for free, you will end up facing legal issues. Even though you can hide your IP address and privacy with VPN, it is not safe to use the Cricfree streaming site.
Is Cricfree Down?
Because of its working nature, the site may be taken down by Government in your country. However, you can access Cricfree official website or proxy sites with the help of a VPN. Proxy sites are nothing but websites that provide similar features with different domain names.
Cricfree Site Design
It has got a simple and neat design with a straightforward interface. You can easily navigate to each and every menu. It even got a quite decent outlook. Overall, it is a clean site with a neat interface.
Header Section: The header section includes the site name, and below that, you can find the 15 different icons featuring different games.

Footer Section: It explains the site and comes along with the disclaimer.

Main Body: The main body of the site will change based on the sport you select. But the content remains the same. It includes schedules of different games, sports live events, and other sporting events with date time and Watch link.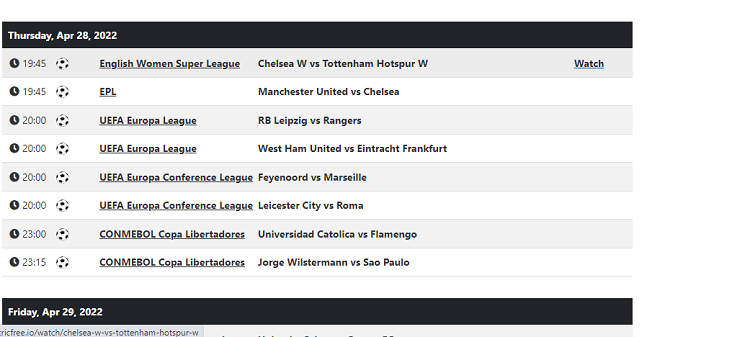 How to Watch Cricfree on Any Device
(1) Launch a web browser on your PC or smartphone.
(2) On the address bar, enter the official URL of Cricfree.
(3) The homepage will appear with the various sports icon at the top and upcoming events in the center of the page.
(4) Select the event you want. If the event is not listed on the homepage, tap the particular Sport icon on the header and select the event.
(5) Under the Available channels section, click on the channel you want.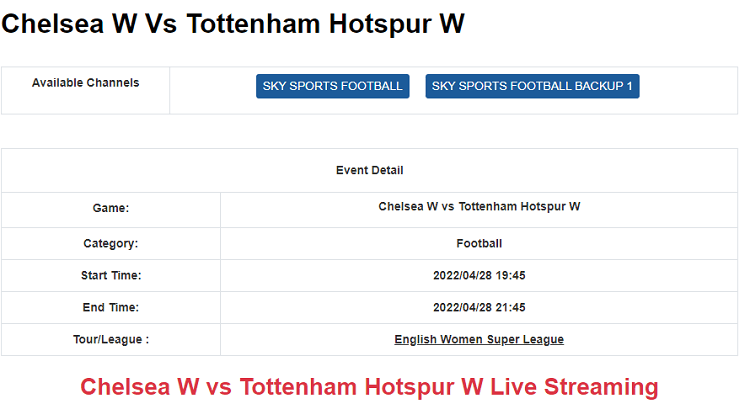 (6) Tap on the Play icon and the stream will start immediately.
Cricfree App for Android
Apart from using the web version, you can also use the Cricfree app on Android devices by downloading the apk file from the trusted sites. It is applicable to all devices running on Android-based devices.
#1. Open a browser on your Android device.
#2. Search for the Cricfree apk by entering it on the search bar.
#3. From the trusted site, download the apk file.
#4. Run the downloaded file, and the device will prompt you to allow certain settings to install apps from unknown sources.
#5. Allow permission and then install the app.
#6. Launch a VPN and connect to a server.
#7. Open the Cricfree app and stream the content you want.
Pros and Cons
+ The streaming links offered by this site come with high-quality streaming.
+ It covers 10+ sports with a wide variety and range of content.
+ The site even comes with a clean design and an intuitive interface.
+ Above all, it offers free membership and doesn't cost you any.
+ Moreover, it is an ad-free service.
– The pop-ups that appear during streaming will be annoying even though it is an ad-free service.
– You need to register to stream.
– Also, the domain is very unstable, and it will keep on changing.
Alternatives to Cricfree
As we mentioned earlier, Cricfree may not be accessible all the time. Hence it is advisable to know the similar sites you can use whenever the Cricfree website is down.
BatManStream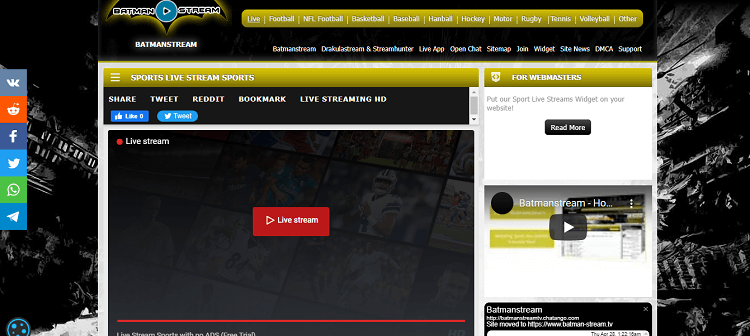 BatManStream is one of the best alternatives for Cricfree. It offers various sports live events like Football, NFL, Basketball, Baseball, Handball, Hockey, etc. You can get live streams of all sports and related events. It is a free site but comes with many pop-up ads. It even features a chat platform where everyone can chat while streaming.
Stream2Watch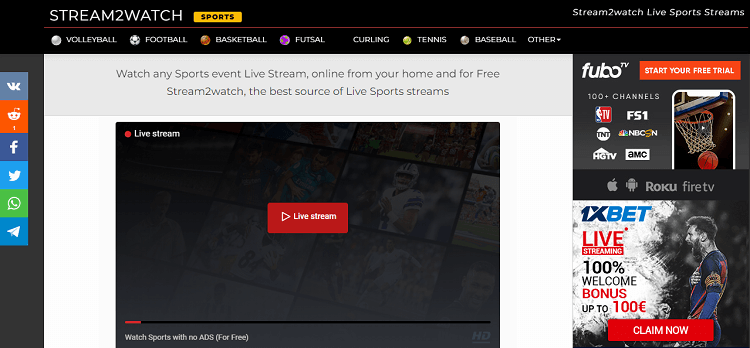 The next best alternative is Stream2Watch, which is quite different. It is like an IPTV site that offers various live TV channels from different countries worldwide. It offers nearly 350+ live TV channels. Apart from sports, it offers various other channels that offer series, movies, TV shows, etc. It comes with in-depth sports coverage with multiple features.
VIPRow Sports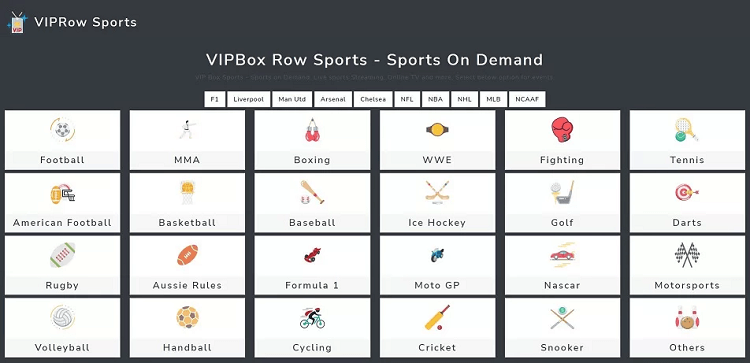 VIPRow Sports is next in the line for alternatives to Cricfree. You can enjoy multiple sports and sporting events without any subscription or registration. It is completely a free site, but the unwanted ads and pops-up will be annoying sometimes. It has a clean and nice user interface. With 20+ sports being offered, it is one of the best sites to stream.
FootyBite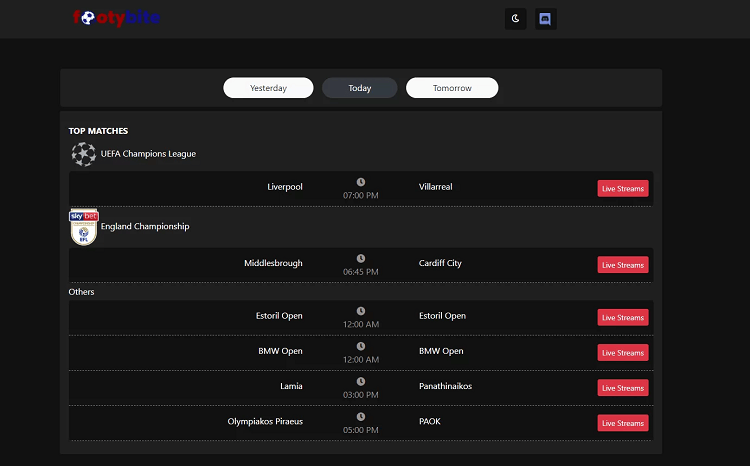 Yet another alternative is FootyBite. Unlike Cricfree, FootyBite is a dedicated site to stream Football and related activities. It is a completely free streaming site that offers various streaming links. With great design and a wide range of Football coverage, it also comes with various Football news and updates.
Wiziwig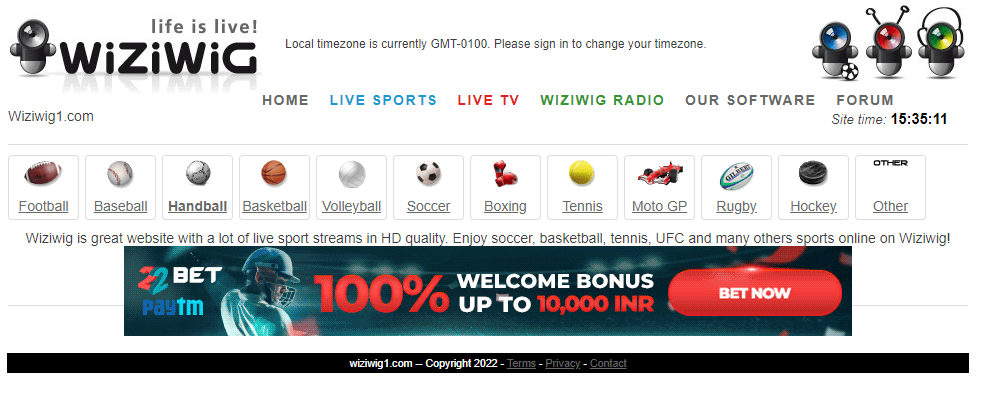 Wiziwig offers various sports streaming that includes Football, Baseball, Handball, etc. It is one of the most popular sites. You can stream various live streams under each sports category. Also, it is one of the clean and straightforward sites to stream various sports streaming. So you can always try it as an alternative.
You can enjoy multiple sports with a clean and neat interface. It is one of the must-try streaming sites to stream multiple contents.
Frequently Asked Questions
1. Is there a Cricfree TV app to download?
Yes. Cricfree provides an app for TV, smartphone, or tablets running on an Android-based operating system.
2. Why is Cricfree not working?
The site may be taken down by your Government for violating the copyright laws.
Was this article helpful?