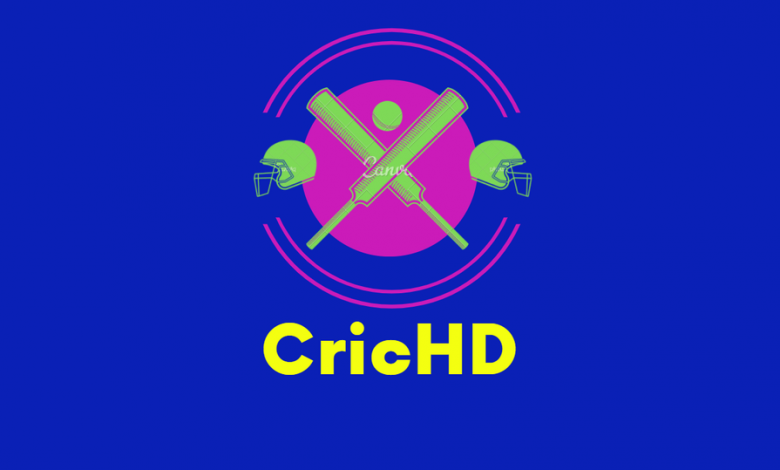 CricHD was started in 2013 as a free live cricket streaming site. CricHD is one of the popular sports streaming websites. Though the streaming site is meant for Cricket matches, you can also stream other sports like Football, Formula 1, and more. You can find TV channels for all the sporting events you want. Apart from streaming live matches, you will get the schedule for all your favorite teams.
Disclaimer! CricHD is an illegal streaming site, and we are not responsible for any issues that arise while accessing this platform. If you want to access CricHD on your device, use it at your own risk.
Pros and Cons
+ Light / Dark Theme.
+ Sign up required to chat.
+ There are a couple of popup banner ads that you can close simply by pressing the Close button.
– Non-uniform font sizes.
– Highly cluttered.
– The user interface and the user experience were not up to modern standards.
What You Can Watch on CricHD
As we said, CricHD also streams a few other sports content apart from Cricket.
Football
Rugby
Tennis
Moto Race F1
NFL / American Football
WWE
Boxing / UFC
NHL / IceHockey
NBA / Basketball
MLB / Baseball
Golf
Hockey
Cycling
Volleyball
Darts
Snooker
User Interface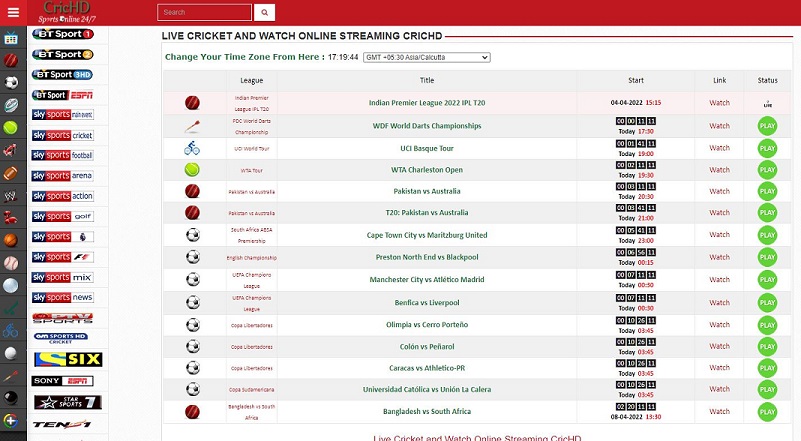 You will find a left sidebar with a Sports channel list on the landing screen. By tapping on the required sports menu, all the upcoming games will appear on the right-side area with the Watch button to stream the event.
Next to the sports category, all the available 20+ live TV channels will appear. By tapping on the desired one, it will redirect to a page where you need to select the streaming link to stream that channel. Some of the popular channels available in CricHD are BTSport, ESPN, Willow, TSN, EuroSport, and more.
On the top right corner of the home page, you will two options: TV Guide and Android App.
By tapping on the TV Guide, all the upcoming events will appear on the page.
Live Score
Watching a video stream may be inconvenient at times. In such a case, live scoring would be best suited. However, CricHD still lacks a live scoring system. It would be one of the most welcome features. To get instant scores, you have to refresh the page frequently.
Ads
Although the UI and UX require a major revamp, the Ad experience was also annoying. Moreover, it showed ads even while video streaming was about to start. Some of them are unskippable ads. But, when the video starts streaming, there will be no ads.
Unwanted PopUps
We felt every click allowed was subsequently followed by two popups showing up. As a result, it completely distracted us. This is the major issue with the webpage. Most of the ads are spams and misleading ads. When you mistakenly click an ad, it will open multiple tabs. You have to close all the tabs manually. Considering the website, this is the major drawback of the webpage.
Video Ads
Rewarded videos are skippable. On the contrary, popup banner ads were placed inside the video player, making it seemingly impossible to skip the ads or close them.
User Experience
User experience needs a lot of improvements, as they still don't seem to use any modern framework like bootstrap or material design yet.
How to Watch CricHD on Any Device
Note: Make sure you have turned on a VPN, as the official website of CricHD is restricted in several countries.
1 – Open a browser and visit the official site of CricHd.
2 – On the home screen of CricHD, select the sport you want to watch. You can also select the required Sports TV channel.
3 – On the next screen, select the streaming link displayed on the screen.
4 – Click on the Play button to start streaming the match.
Those who had a device with an Android or Android operating system can download the CricHD apk file to stream the required sporting event.
1. On the home screen of CricHD, tap the Android app button in the top right corner.
2. After downloading the apk file, run the file and install the CricHD app on your device.
Note – Before installing the app, your device may prompt you to allow permission for installing apps from unknown sources. Allow the necessary permission to install the app without any issue.
3. Once the application was installed, launch a VPN and connect to the secured server.
4. Launch the CricHD app on your device and stream the live channel or sporting event you want.
CricHD Alternatives in 2022
Since CricHD is not a legal site to stream sporting events, it may stop working now and then. In those scenarios, it is better to know a few similar sites for streaming the required sports content.
LiveTv
CricStream
Verdict
Even though it managed to live stream certain sports, it fails to work on certain games. However, note that you would require a VPN to make things work. Yet, plenty of streaming links appear to be broken, so they need to manage the links properly. On a whole, CrickHD is an average free streaming platform.
Frequently Asked Questions
How to Watch IPL on CricHD?
On the landing screen, look for the title 'Indian Premier League T20.' To watch the live game, click on Watch adjacent to the title. On the next screen, choose which channel you prefer to watch the game on.
Is CricHD safe?
CricHD is not completely safe to use. It is advisable to use a VPN service while accessing sites like CricHD. They will safeguard your privacy and browsing history.
Is there an app for CricHD?
Yes. CricHD has an android app that you can access on smartphones and tablets. You can find the apk file for CricHD on various third-party sites.
Was this article helpful?