What is?
FlexiSPY Review: Features, Pricing & How to Use
FlexiSPY is the complete monitoring software you require to spy on any device.

The Internet isn't safe all the time for anyone using it including kids and adults. It even lowers the productivity of the employees at times as it has a lot of things to distract. It is a better deal to get remote monitoring app on any device in order to compete with all the disadvantages of the web. There are hundreds to choose from when you want to monitor someone from a remote distance. It is certainly important to get the right spy or motoring app when security is the primary factor. Here in this article, we have reviewed the most acclaimed monitoring software called FlexiSPY. Get into the article to find more about FlexiSPY, its features, platform support, how it works, and more.
What is FlexiSPY?
FlexiSPY is a powerful spy app that will secretly monitor the device in which it is installed. It will stay hidden thus, you can monitor your girlfriend's smartphone activity without their knowledge. FlexiSPY will capture all the incoming and outgoing information on the device. The installer can monitor the activities from any browser or with a mobile viewer app. It is great for parental controlling as it lets you keep an eye on your child's device activity. In the same way, it can be used as an employee monitoring tool. It is an all-in-one tool that records almost every tap of the device from phone calls, messages, environment, browser, app activity, gallery, and lots more. Above all, FlexiSPY provides the most accurate information that no other spy app can deliver.
Why FlexiSPY?
Undoubtedly, there are many more monitoring tools available just like FlexiSPY. Although all of them look more or less similar, they aren't actually the same as FlexiSPY. It is an innovative and unique tool that monitors every nook and corner of the device. The impressive features that any user can make use of are,
Record phone calls and IM calls
Premier instant messaging monitoring
Capturing photo or video using a phone camera
Update software remotely
Live recording phone surroundings
Keystroke logging
Tracking GPS location
Geo-fencing
SMS and email tracking
Tracks browser history and bookmark
Check the device battery level
Notifies SIM changes as alerts and more.
How does it work?
The user has to buy the right FlexiSPY license from its official website and sign up for the FlexiSPY subscription. With this, you will get detailed instructions on how to install it on the target device that you want to spy. After the installation, you should sign in to your FlexiSPY Portal or control panel that comes at free of cost with every subscription.
With this, FlexiSPY will start to monitor and track your target device. This spy tool will record every other activity performed on the target device into its maximum security servers. Then the recordings will get transferred to the control panel or portal. The subscriber can view, download, and save the recording as proof.
Compatible Devices
FlexiSPY is the most reliable monitoring app to provide quality spy. It was the first commercial Spy app in 2006. It has been more popular ever after a decade. So, it's developers has made it available for the most popularly used smartphone and desktop platforms.
FlexiSPY is available for smartphone devices running on Android OS and iOS. Also, it can be installed on desktops with Windows OS and macOS. Additionally, the app is also available to access from the web browser portal. This is available as a part of the FlexiSPY subscription. With the wider device compatibility, monitoring device's activities are all the way handy and simple with the FlexiSPY.
Plans & Pricing
FlexiSPY is available for multiple platforms and hence it's pricing differs based on it.
Note: FlexiSPY has a 10-day money-back guarantee from the date of purchase. Cancel its subscription without losing your money if you aren't satisfied with its performance or if you find it not working on the target device.
For PC and Mac,
FlexiSPY starts at $68/month. Else, you can choose 3 months plan at $99 or 12 months at $149.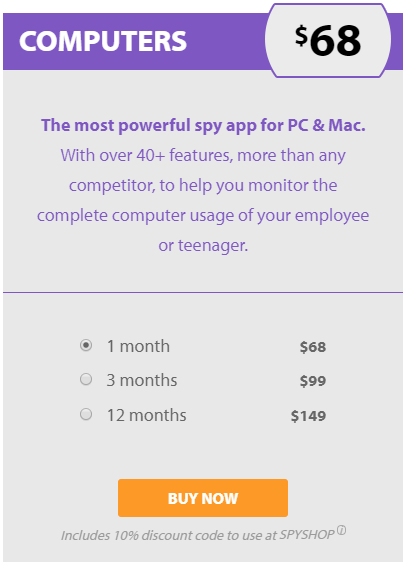 For Android and iPhone,
FlexiSPY offers three different plans at varies prices and features.
Lite version starts at $29.95/month
Premium version starts at $68/month and
Extreme costs $199 for 3 months.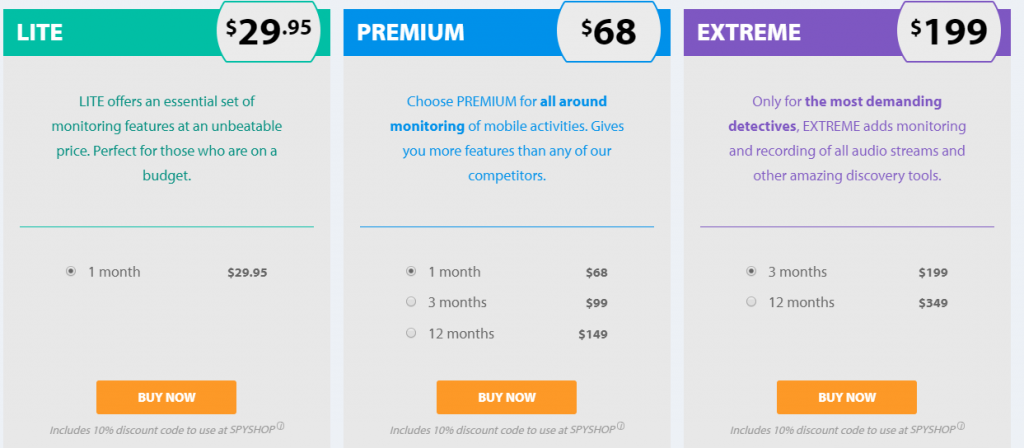 For iPad,
Get iPad version at $68/month. Otherwise, you can opt to pay $99 for 3 months or get 12 months pack at $149.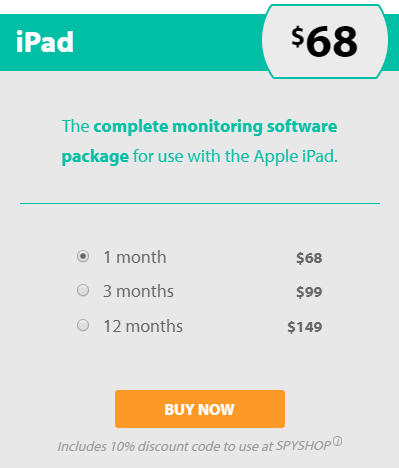 How to Install FlexiSPY?
You need not be a pro to download and install FlexiSPY. All you primarily need is little of your time, patience, and the target phone.
Note: The following steps are carried out assuming that your device is rooted or jailbroken. FlexiSPY works even on non-rooted and non-jailbroken devices.
IMPORTANT! FlexiSPY won't help you if you don't have the target device. Also, the advanced features like recording IM messages and calls will work only if your Android is rooted and the iPhone is jailbroken.
Steps to Buy FlexiSPY
Follow the steps given below irrespective of the device in which you are going to install FlexiSPY.
(1). Visit the official webpage of FlexiSPY (https://www.flexispy.com/) using the web browser.
(2). Click on Buy Now button.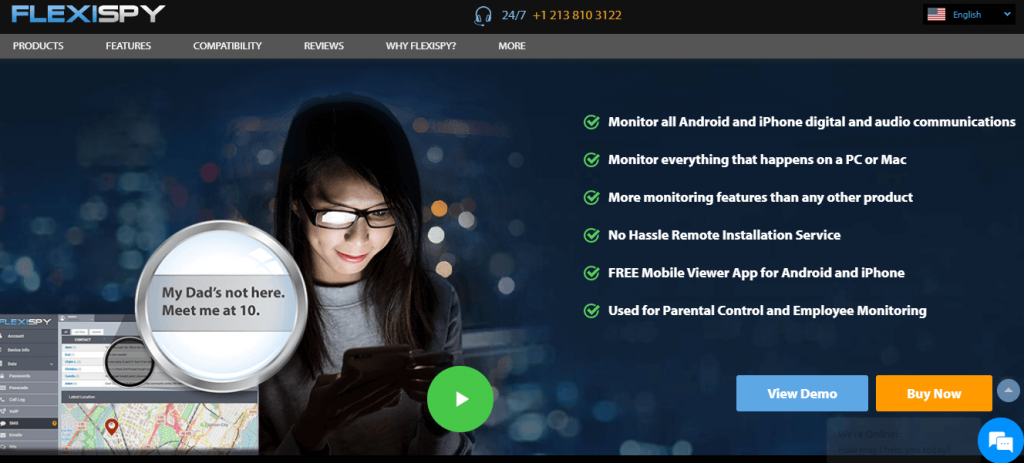 (3). On the next screen, choose the platform between Android, iPhone, iPad, Computers, and Portal. For instance Android.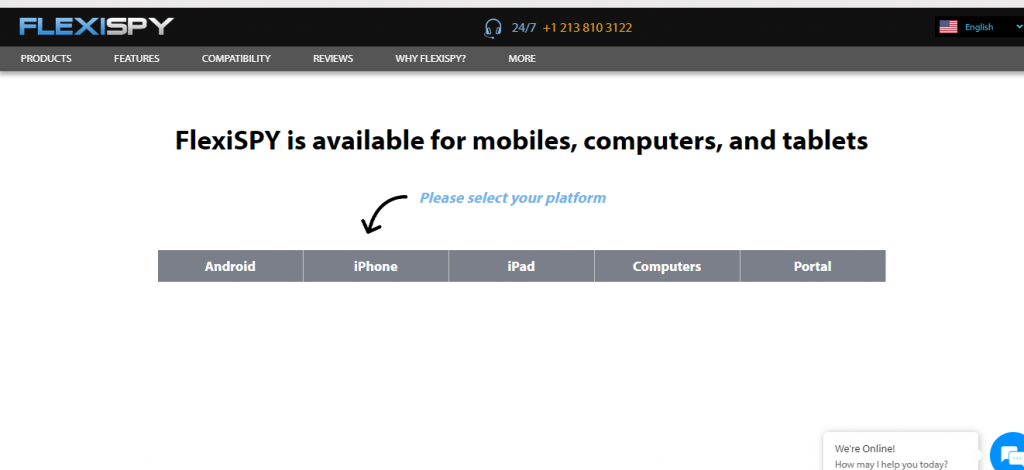 (4). Select the plan based on your preference and click on Buy Now button.
(5). Wait for FlexiSPY to proceed you to secured checkout.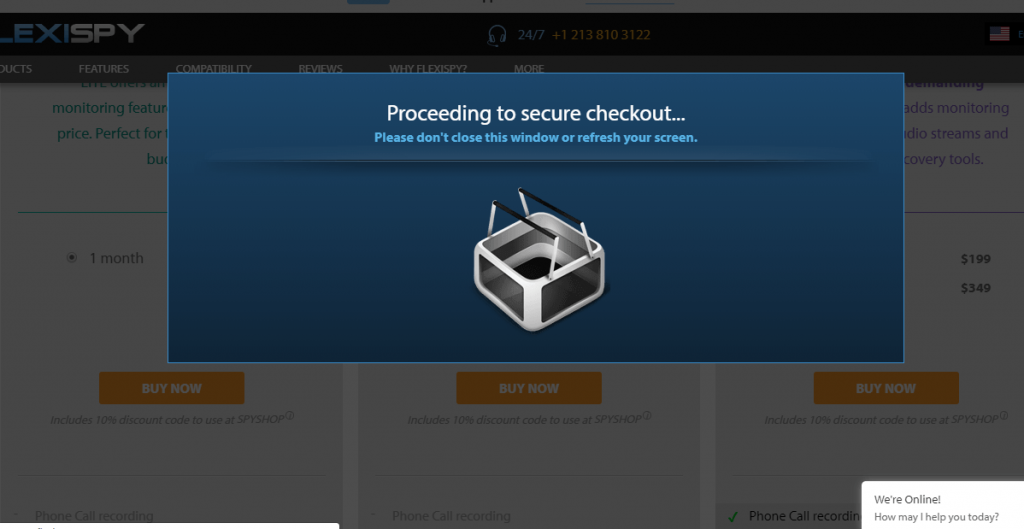 (6). The next page will show you what you are buying. Then enter the email address, choose a payment option, check in the box under Additional information, and click on Place Order.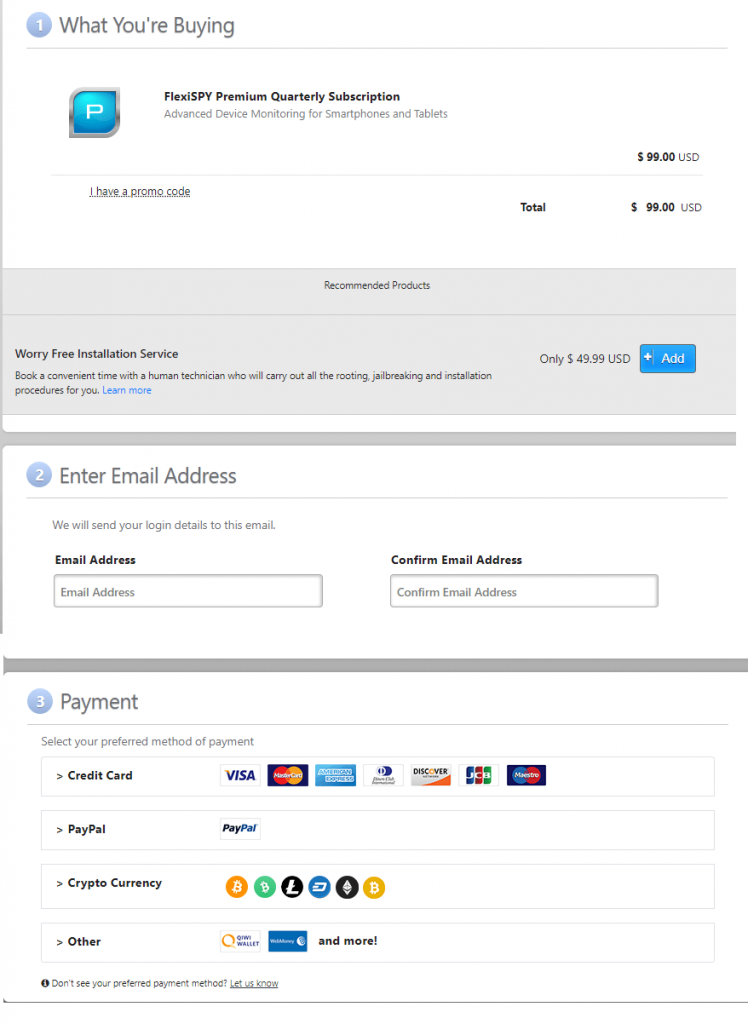 (7). Check your email's inbox for login information like login link, username, and password. Click the link shown on the email
(8). Enter the username and password as shown on the email and click on the Login button.
(9). On the Welcome screen, select the language by clicking on the drop-down link. Then click on Next.
(10). Press the X mark to close the customer notice.
(11). On the Installation Wizard, check-in the license you have purchased to install. Press Next.
(12). Choose the target device platform. Select anything between Android, iPhone/iPad, etc, and press Next.
(13). Select the option that reads your device is rooted or jailbroken and press Next.
Now skip to the section based on the target platform you want to install and use FlexiSPY.
Steps to Install FlexiSpy on Android?
(1). On the target Android phone, open the web browser.
(2). Type in as http://mflx.biz and press enter.
(3). You will notice FlexiSPY installation being done automatically.
(4). After the download, launch file manager and navigate to download folder on SD card.
(5). Click on the FlexiSPY file that has just completed its download.
(6). Choose to complete the action using Package installer on the pop-up.
(7). Tap on the Install button to install it on the target Android phone. Then press Open.
(8). On System Update screen, click on Not Yet to disable re-authentication and notification on SuperSU.
(9). Then, tap on OK, I got it. Open SuperSU button.
Note: In most cases, SuperSU will be installed after rooting. Else get it from the Play Store.
(10). On SuperSU, click on the Settings tab. Scroll down to uncheck Re-authentication and Show notification options.
(11). Launch SystemUpdate and click on Grant to let it access your device.
(12). Click Yes > Already Done > Next > OK > Restart Now.
(13). Provide the activation code as shown on your email by FlexiSPY and click on Activate.
(14). Click OK > No to hide your spy activity > OK and wait for SystemUpdate to disappear on the target phone.
Steps to Install FlexiSPY on iOS?
(1). Open Cydia on your iOS device.
(2). Click on Sources tab from the bottom.
(3). Select Edit option and the press Done.
(4). Then click on Add to enter the Cydia/APT URL as http://ios.mfl.biz and click on Add Source.
(5). Wait for the FlexiSpy repositories to install. Then click on Return to Cydia.
(6). Select ios.mfk.biz under Sources screen.
(7). Choose Utilities > System Core.
(8). On the next screen, click Install followed by Confirm.
(9). Wait for the package to install. Click on Restart SpringBoard.
(10). Your iOS device will refresh. Then enter the license code and click OK.
Note: It is given under step 13 on Installation wizard.
(11). On Installation success pop-up, click OK.
(12). Choose No on your iOS device if you don't want the target device user to know that you are monitoring.
Note: You should see System Core screen irrespective of pressing Yes or No in the above steps. If you don't get it, then open log, press #, and your code. Then tap on the call icon. On System Core screen, click on Configure to control monitoring the target device functions.
That's all. Go to the installation wizard on your browser, and click on Step 16 and scroll down to select My activation is complete. Then log in to your account and control the target device.
Note: FlexiSPY will install on the desktop platform and there is no manual setup required. Windows PC and Mac PC users will find the settings in the Account Dashboard under the Help menu.
How to Use FlexiSPY?
Using FlexiSPY is all the way simple and easy. Once after you have successfully installed the app on the target device, you can log into your account on your browser to look at the target device user activities. Now you can spy on any activity or app usage like WhatsApp, WeChat, Snapchat, Viber, Facebook, and more. You will find every other detail as recording with date and time, duration, etc.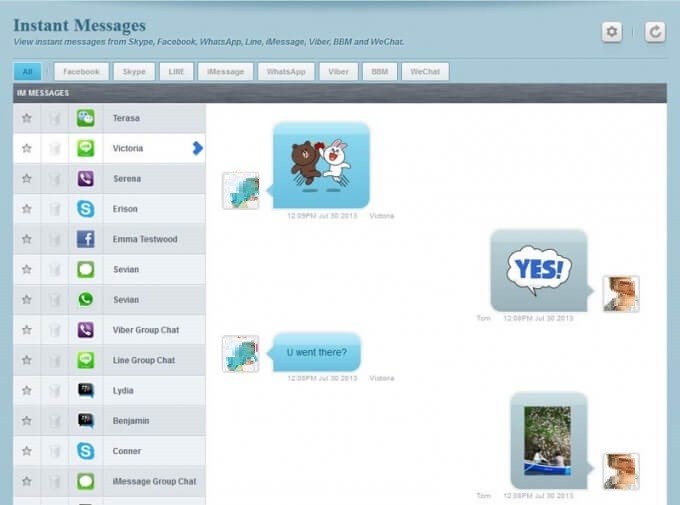 Pros
There are tons of benefits and advantages accessing FlexiSPY. They are,
Has advanced monitoring features
Tracks device location
Monitors photos and videos captured by the device camera
Tracks internet bandwidth, passwords, etc.
Provides alerts, download reports, and more
Tamper control support includes a visible or hidden mode
Live technical supports available via chat, email, and phone
Multi-device monitoring support available
Cons
Compared to other rivals, it has a lesser disadvantages.
Websites and app blocking isn't available
Doesn't alert with uninstallation
Expensive software
Some advanced features work only on a rooted device
FlexiSPY Alternatives
Below are the best alternatives to this software.
Mobile-spy.com
Cerberus
Our Opinion
We found lots of advantages after comparing FlexiSPY with lots of its rivals in terms of features and functionality. If you don't mind about its price and want to monitor your child or employee for valid reasons, then FlexiSPY is worth using. Otherwise, it isn't your cup of tea and you can go with its alternatives.
Have this article descriptively dealt with FlexiSPY and do you found this section useful? Drop your views as comments. For more such articles, you can follow us on Facebook and Twitter.
Was this article helpful?