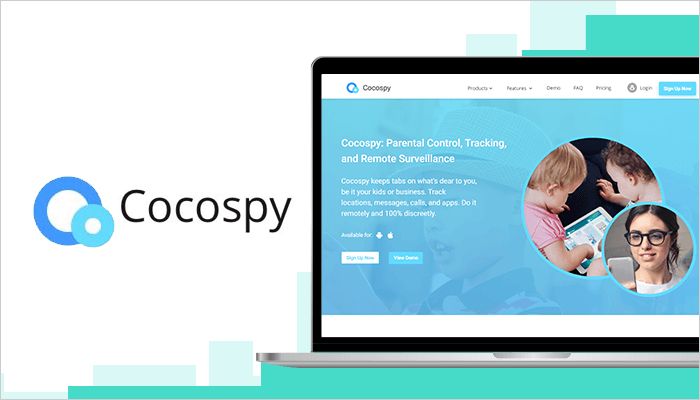 Selecting the best spy app is always a difficult task. With so many options available on the market, you may sometimes pick the wrong one. In this guide, we will talk about Cocospy, a popular spy app used by people across different parts of the world. According to the official website of Cocospy, it has nearly one million users.
What is Cocospy?
Cocospy is one of the best spy apps available right now. With Cocospy, you can track and monitor the activities of your girlfriend/boyfriend/, child, or any other person. Even though it was created as a parental control app, it is also beneficial for the people who want to track their spouses and co-workers. It lets you monitor the chats of all social media apps, call logs and text messages of any target device. As it has built-in GPS functionality, you can also use this app to find your lost or misplaced device.
One of the important things about Cocospy is that, apart from providing accurate and real-time information, it also protects your data. Apart from the actual user, you are the only person who can view the activities of the target device. Having said that, the company doesn't save any data on their servers. Hence, you can use this app without worrying about privacy issues.
How Much it Costs?
While reviewing the app, Cocospy has offered six subscription plans (three for Android and three for iPhone devices).
Basic
Premium
Family
Business
Android
$39.99/month
$59.99/3 months
$99.99/year
$49.99/month
$69.99/3 months
$119.99/year
$69.99/month
$99.99/3 months
$199.99/year
–
iPhone
–
$49.99/month
$79.99/3 months
$129.99/year
$99.99/month
$199.99/3 months
$399.99/year
$399.99/month
$699.99/3 months
$999.99/year
Note: 7-day money back guarantee for all plans.
Cocospy offers different subscription plans for iPhone and Android devices. Select the best one according to your needs. While comparing with other popular spy trackers, Cocospy is less expensive and provides more tracking features.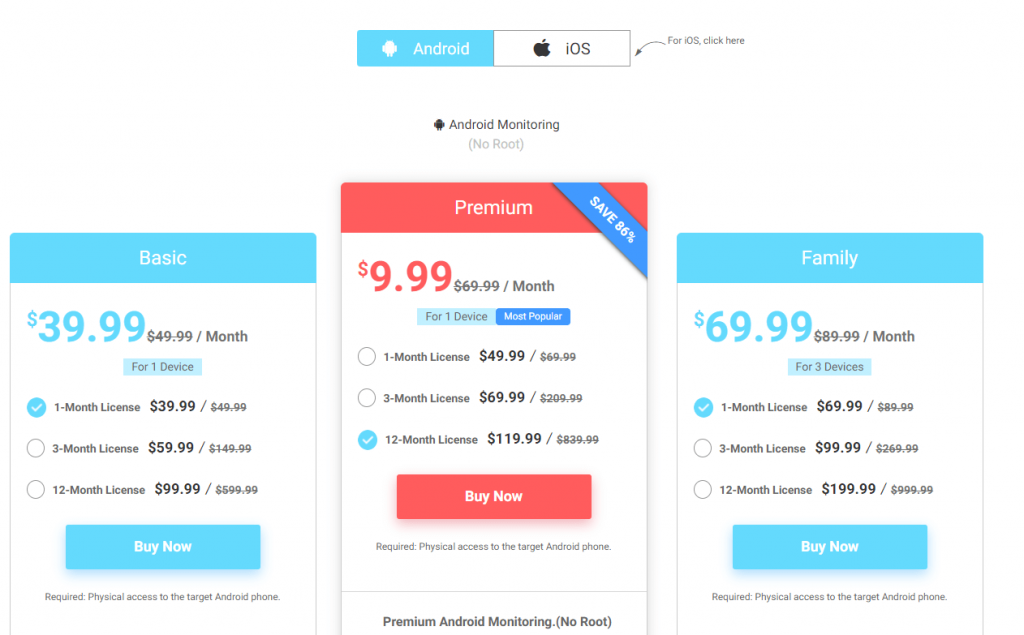 Features
Here are some of the things that you can track with the help of Cocospy app:
Call Tracker – Track all the incoming and outgoing calls along with its duration
SMS Tracker – Read all the incoming, outgoing and deleted text messages
Location Tracker – Track the accurate location of the device with its co-ordinates
Track FB Messages – Read all the Facebook messages (both personal and group chats)
Social media tracker – Track all the activities of social media apps like Facebook, Instagram, Viber, Snapchat, and many more
Track browser history – View the browsing history of the target device including the most visited sites, website descriptions, and timestamps
Does it Require a Jailbreak/Root?
No. The best part about Cocospy is that you don't need to jailbreak or root the Android or iOS (target device). It saves you a lot of time and all the features can be accessed without rooting or jailbreaking.
Stealth Mode
Most of the spy apps on the market claim to be stealthy. But, it causes the device to slow down, dries the battery, restarts the device, and helps the actual user to find that their device is under tracking. However, Cocospy is a true spy app and makes it impossible to detect.
The iOS version works completely through the web browser and doesn't require any downloads. The Android version weighs only 2 MB and you can easily hide the app on Android after installation. The process will run on the background without using too many resources.
How to Spy using Cocospy?
Step 1: First of all, head to the official website of Cocospy and sign up for a user account by simply providing a valid email ID and password.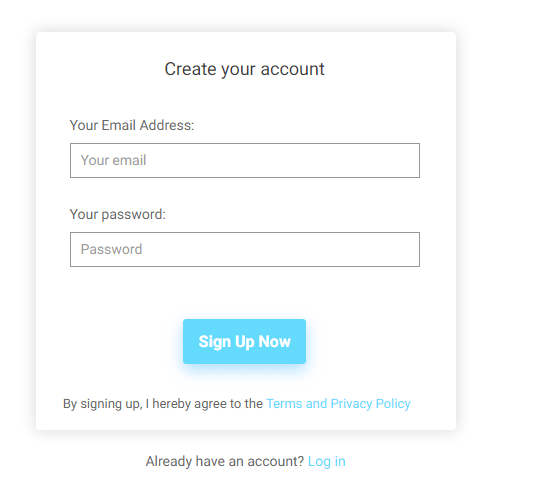 Step 2: Select and purchase the desired plan for your need. Premium version is ideal to spy a single device and the family plan lets you spy three devices.
Step 3: If the target device runs on Android, you will need physical access to the device for 5 minutes. Install the 2MB app on the target device and hide it after installation.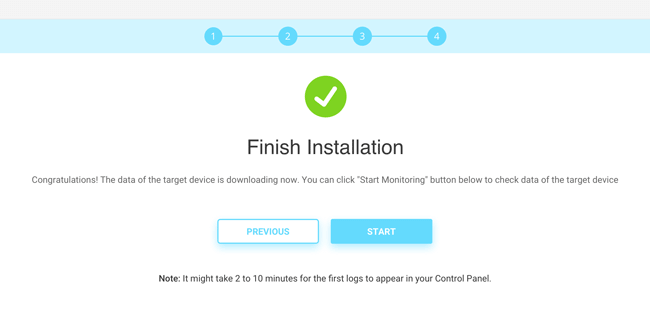 If it runs on iOS, configure the iCloud credentials of the target device. You don't need any physical access to the device.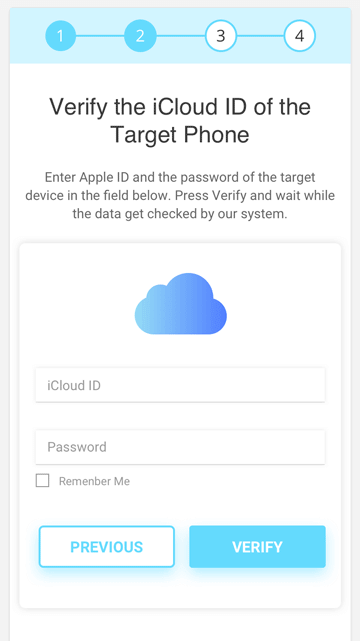 Step 4: After setting up, log in to your Cocospy account on the remote device. On the Dashboard, you will find the options to track GPS locations, text messages, social media activities, browsing history, and more.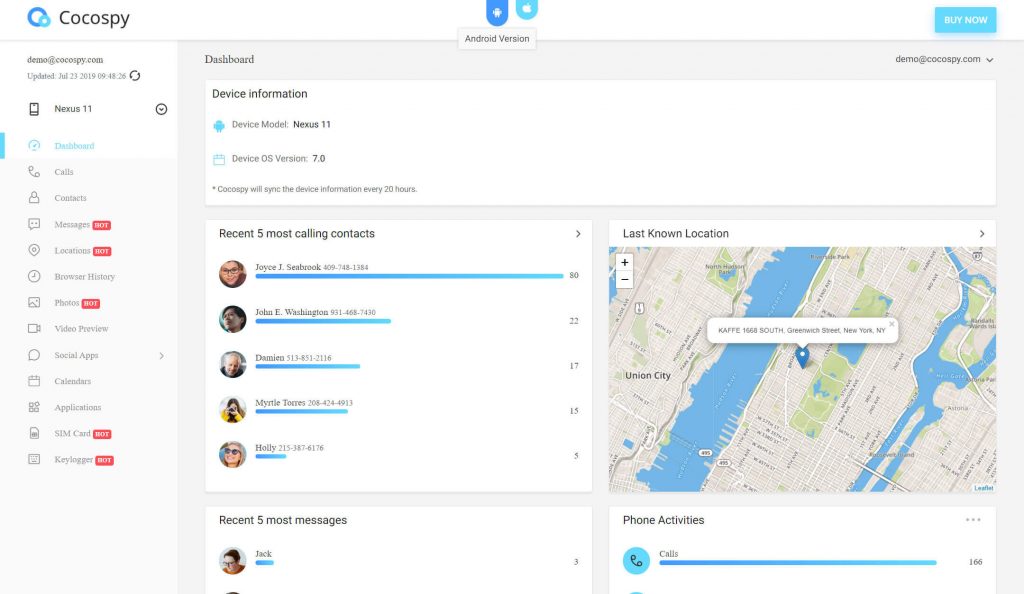 Cocospy Alternatives
Below are the best alternatives to this software.
Mobile-spy.com
Cerberus
To Conclude
Cocospy is an excellent tool to track any iPhone or Android device. It offers a great set of features to spy messages, call logs, and many more activities without physically accessing the target device. Use the comments section to share queries and feedback related to Cocospy.
If you're interested in reading more review articles, follow our Facebook and Twitter profiles.
Was this article helpful?