Roku made itself noticeable in the line of digital media players. It easily competes even with its biggest rivals at an affordable price. It has classified itself into different streaming players at different prices. So, there is a Roku player for everyone and of which this section deals with Roku Ultra. It is one among the top tier media player that gives the best of home entertainment. It is better to have a closer look at Roku Ultra, its features, specifications, reviews and more interesting features if or not Roku Ultra is in your buying consideration. At the end of this review, you will get a clear knowledge of whether Roku Ultra is useful and satisfies your streaming needs.
What is Roku Ultra?
Roku Ultra is launched as a part of fifth-generation Roku streaming players in 2016. Later models are now available on sixth, seventh and eighth generation. It was released along with Roku Express and Express+, Roku Premiere and Premiere+. With Roku Ultra, you will be able to stream in different qualities including HD, 4K and HDR. If you want a streaming player that works on your existing smart TV, then Roku Ultra goes well. It is great to access along with the live rooms, home theatres, and primary TVs. With Roku Ultra, you can stream contents you love watching without equipment fee. Without any second thought, anyone can replace the cable box with Roku Ultra.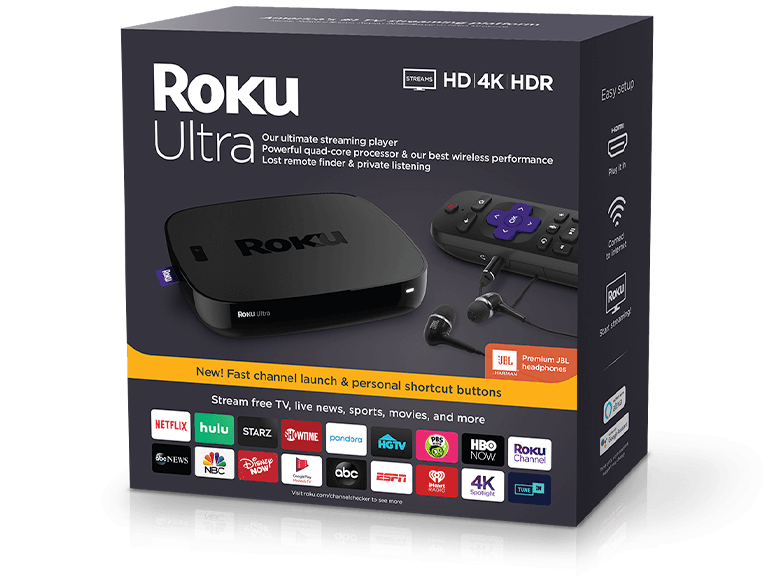 Roku Ultra Specifications
Processor
ARM Cortex A53 quad core 1.2 GHz
RAM
1 GB
Max UI Resolution
1080p
Max Playback Resolution
4K60fps
HDR
Networking
802.11c MIMI dual-band wireless
10/100 Base-T Ethernet
Ports
Power,
Ethernet 10/100 HDMI 2.0a
microSD
USB
Audio
Digital stereo over HDMI
DTS Digital Surround pass through over HDMI
Dolby ATMOS and Dolby Audio pass through over HDMI
HDR Support
HDR10
Compatibility
Google Assistant
Alexa
Size
4.9 X 4.9 X 0.85 inches
Weight
8.0 ounches
What's Included in the Package?
You will get the following components as a part of Roku Ultra package.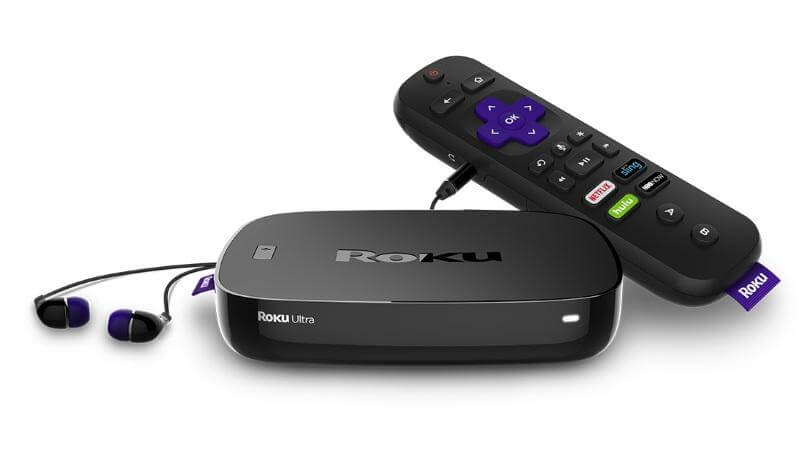 Roku Ultra streaming player
Enhanced voice remote
Premium JBL headphones
2AA baterries
Power adapter
How to Setup Roku Ultra?
Setting up Roku Ultra is all the way simple and easy if your smart TV has HDMI port.
1: Plug in Roku Ultra to the HDMI port of your smart TV using HDMI cable.
2: Then, connect the power adapter into the power outlet and its other end to the player.
3: Power on Roku Ultra using Roku remote after inserting the 2AA batteries.
4: Select the right HDMI port in which Roku Ultra is plugged as the input source.
5: To connect Roku Ultra to WiFi, navigate to Network > select Set up connection > choose Wired or Wireless.
6: On your phone or PC, visit https://my.roku.com/signup to create a Roku account.
7: Follow the on-screen instructions on the TV. To activate Roku Ultra, visit my.roku.com/link from PC or phone and enter the link shown on your TV.
Roku Ultra Remote & Roku Mobile App
It is easy to control Roku Ultra if you have its voice-enabled remote controller. Even if you don't have, you can use your phone as a virtual remote.
Roku Ultra Remote
Any Roku Ultra player comes with a Roku remote included in the package itself. It has a minimal number of buttons and thus controlling contents playing on Roku Ultra is simple and handy with a click of the button. The buttons you will find on Roku Ultra remote includes a power button, navigation, volume, mute, voice button, forward, fast forward, personal shortcut. Some of the latest model Roku remote features separate button for Netflix, Hulu, Sling and Disney+ channels.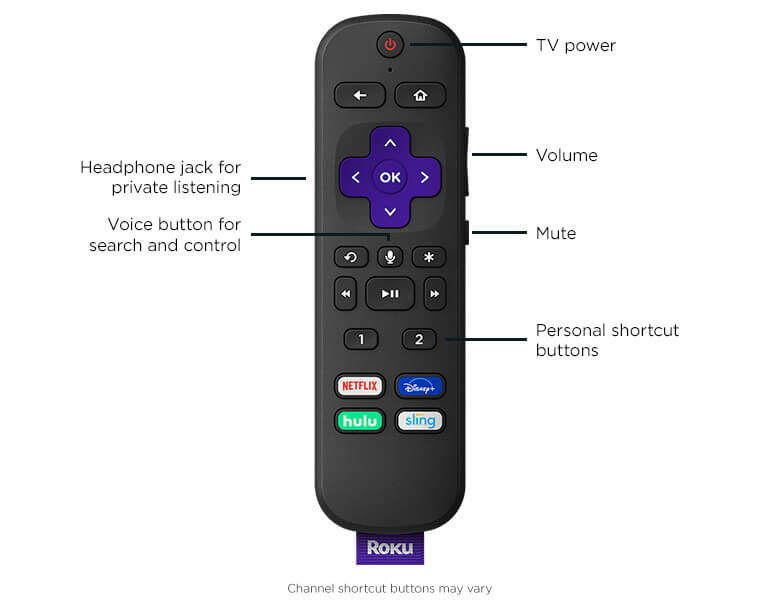 Roku Mobile App
If you have lost the physical remote or want to take advantage of controlling Roku Ultra using a smartphone, then get Roku Mobile app. It is available for Android on Play Store and for iOS on App Store. You can use it as a second remote to control your TV with Roku Ultra. It supports channels search using a keyboard, control volume, share media like photos, music, video, etc., to TV. Launch Roku Mobile app on your phone, press Remote to get a virtual remote on your smartphone. You can use the virtual remote just like Roku Ultra remote to control media playback.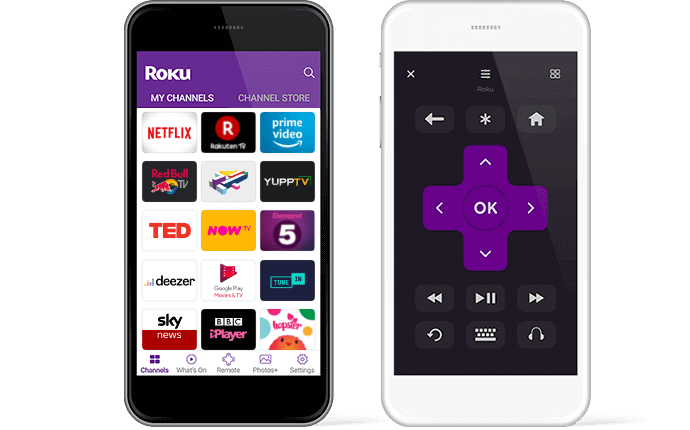 How to Find Contents on Roku Ultra?
The steps given below will help you find anything you want to watch on Roku Ultra using different methods.
Using On-Screen Keys
This method is the handiest option to search or find anything on Roku Ultra. It deals with on-screen keys of Roku.
Step 1: Press the Home button on the Roku remote.
Step 2: Use the navigation keys to move up or down to select Search.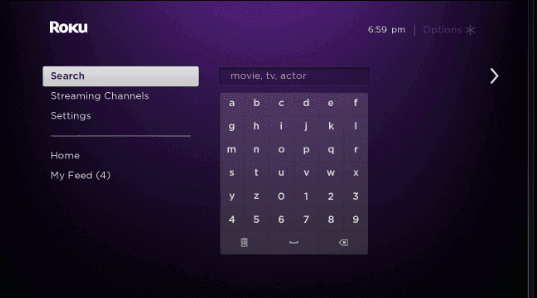 Step 3: Type in the name of the channel, movie, TV show, actor, etc, and Roku will show instant suggestions.
Step 4: Highlight your choice to select it and in case of channels, select Add Channel.
Using Voice Command,
As Roku Ultra is compatible with Google Assistant and Alexa, you can control or search for anything using your voice.
Tip! Look for mic or magnifying glass icon button on the Roku TV and it implies your Roku remote is voice compatible.
Primary Requirement:
Make sure your Roku is running on Roku OS 8.2 or later
Install Roku Mobile app on Android or iOS phone
To use Voice Command from Remote,
Step 1: Press the mic icon and use conversational phrase to ask Roku to bring up contents you need.
For instance, "show me cartoon" or 'launch Roku Channel Store'.
To use Voice Command from Roku Mobile App,
Step 1: Launch Roku Mobile App and select Channels or What's On from the bottom.
Step 2: Press the magnifying glass icon to go to the search page.
Note: Sometimes you will find the microphone like icon instead of glass icon.
Step 3: Click the microphone icon to initiate voice to search or control Roku Ultra.
What to Watch on Roku Ultra?
Currently, Roku Ultra supports streaming a large number of services. It is upgraded for a fast channel launch and personalized shortcut buttons. The Roku Ultra users can watch almost any contents ranging from movies, TV shows, music, and much more. It supports thousands of free as well as premium channels and you can get it for the endless streaming experience. The popular best Roku channels available are,
BBC iPlayer
Netflix
Hulu
STARZ
HBO NOW
ABC
ESPN
NBC
PBS Kids
Google Play Movies & TV
Pluto TV
Deezer
ITV
Acorn TV
Tubi TV
TED
Boomerang
Shout Factory TV
Our Opinion
Roku has become a pioneer to bring the best of TV streaming to home. If you are using a Roku player, then you can upgrade it to Roku Ultra. Although Roku Ultra costs £99.99, it is worth the money. It has been revamped for 2019 and is currently available for sale in select countries. If you want to know a similar streaming player like Roku Ultra, then you can get a Fire TV cube at £110.
Have any queries or suggestions that we have to concentrate on? Feel free to share them as comments. Follow our Facebook and Twitter page for the latest articles.
Was this article helpful?