SHOWTIME is a subscription-based video streaming service which gives you access to stream on-demand and live broadcast contents of SHOWTIME networks. The service is only accessible in the US and its territory regions. With this service, you can stream award-winning series like Homeland, Billions and Shameless. You can also stream live boxing events, SHOWTIME originals, documentaries and popular comedy shows.
When it comes to Live TV, you will have access to stream SHOWTIME East and SHOWTIME West. High-speed internet connection is enough to stream both the channels.
All the latest episodes of any series will be available for on-demand streaming once they're premiered on the TV. However, the on-demand streaming of programs like boxing events, documentary series and the sports events may take upto 24-36 hrs to become available on the SHOWTIME app.
How much it costs?
Currently, there are two subscriptions available in SHOWTIME. The first one costs $10.99/month and the next one costs $99.00/year. If you're a new user, you will get 7-day free trial for both plans. You will be not charged during the trial period. You can cancel the subscription before the trial period to avoid being charged.
Click here to subscribe for SHOWTIME.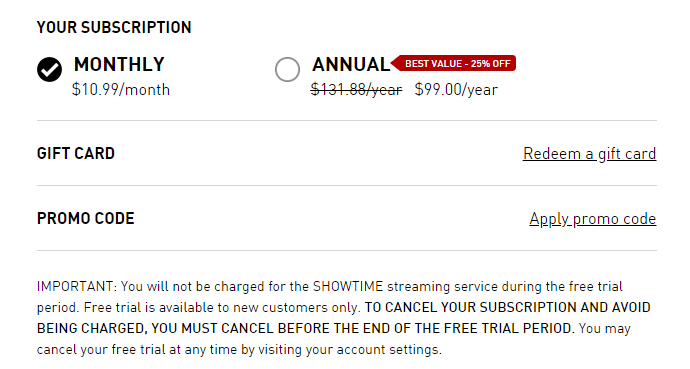 SHOWTIME supported devices
SHOWTIME app is available for all kind of platforms. Here are the devices that officially supports SHOWTIME:
Apple TV (3rd gen & higher)
LG Smart TV
Samsung Smart TV
Fire HD Tablets
Android mobiles & tablets (Android 4.4 & higher)
iPhone, iPad and iPod Touch ((iOS 9.0 & higher)
Windows
macOS
Here are the steps to stream SHOWTIME on your favourite device
Download the app on your device from the respective store.
Launch the app and go through the on-screen instructions to sign-up for SHOWTIME. Once signed up, you can stream its contents.
Note: If you already purchased this service, sign in with your login details and stream the contents.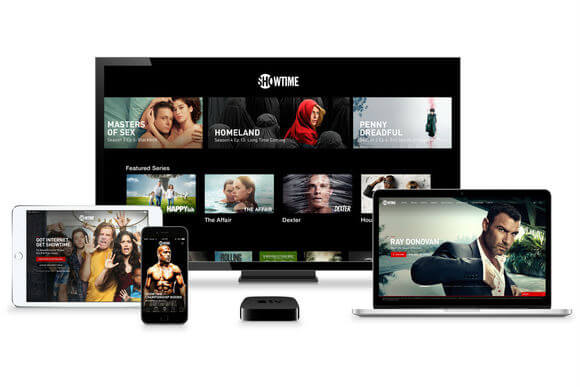 Along with the above-mentioned devices, it is also accessible through web browsers.
Open a web browser on your mobile or PC.
Visit showtime.com and select START YOUR FREE TRIAL.
Select either a monthly or yearly plan and enter your payment details.
Complete the payment process and start streaming its contents.
Other ways to stream
In addition to the web browser and above-mentioned devices, It is also accessible by subscribing to the below-streaming services/channels.
Hulu – Sign up for any one of the Hulu plans and add SHOWTIME as a premium addon ($10.99/month).
Amazon Prime Video – With the Amazon Prime subscription, you can access SHOWTIME by adding it from the Channels section.
Sling TV – Just like Hulu, you need to add this app as an addon ($10.99/month) while signing up for the Sling TV Orange or Blue.
Youtube TV – Add SHOWTIME ($10.99/month) as an additional network while signing up for YouTube TV ($49.99/month)
AT&T TV – Available as premium network ($10.99/month) on most of the plans.
How to download programs on SHOWTIME?
Currently, the downloading feature on this service is only supported in iPhone/iPad (iOS 10 & later), Android (OS 4.4 & later) and Amazon Fire TV Stick.
If a media in this app supports downloading, a downlod icon will appear on the information page of the respective program. Just click that icon to download the media for offline access. The downloaded programs will appear on the Download List section. You can download 15 titles on a single device. Depending on the title, the period to stream the downloaded contents may vary.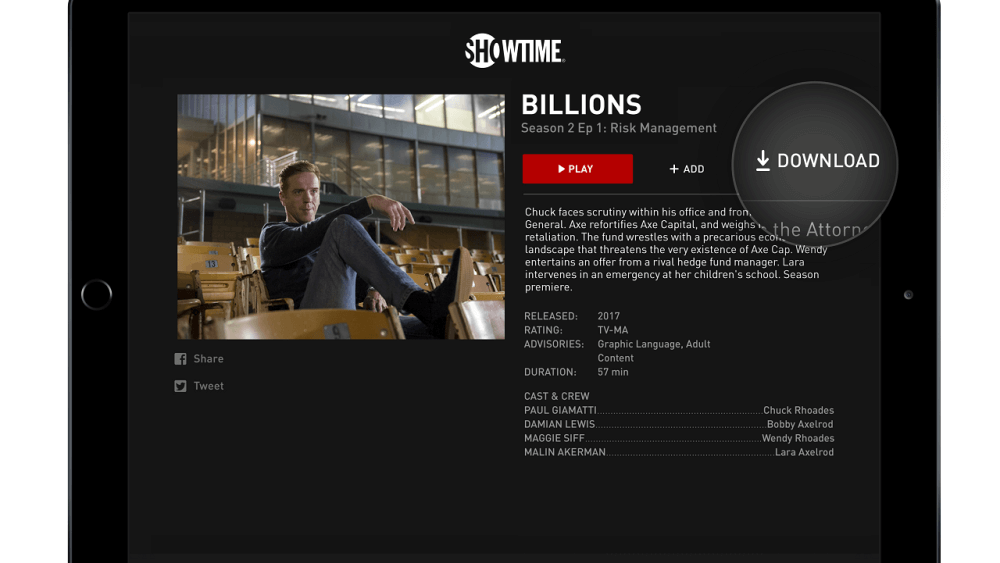 SHOWTIME vs SHOWTIME Anytime
Both SHOWTIME and SHOWTIME Anytime was owned by SHOWTIME networks and they give you the access to stream SHOWTIME originals, movies, live TV and sporting events in the US and its territories. The only difference between the two services is that SHOWTIME Anytime requires a traditional SHOWTIME subscription through a participating TV provider. For SHOWTIME, you just need a supported device and active internet connection to stream the contents.
Do you want to share any information related to this app? Mention it in the comments section. Follow Techowns on Facebook and Twitter for the latest tech news and updates.
Was this article helpful?