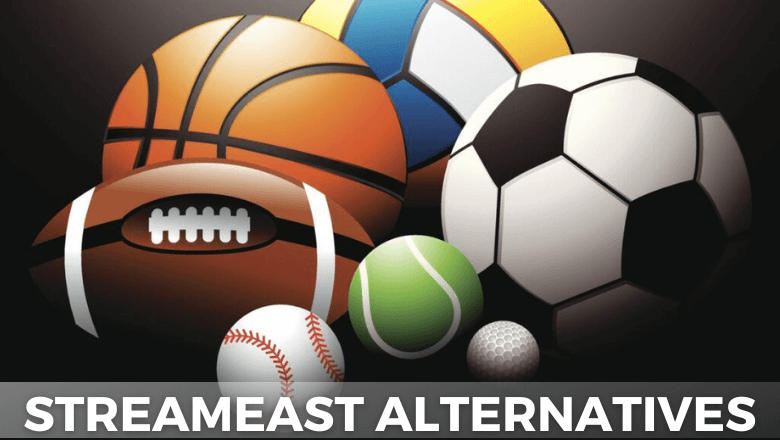 If you're a Sports enthusiast, you may have heard about StreamEast. It is a popular platform for watching Live Sports without any fee. However, the website is not secured and is restricted in certain countries. So, you can use the sites that stream the live sporting event of your favorite leagues and teams. So we have curated a list of 15 alternatives that provide similar features to StreamEast.
All the services below are free of cost, and you can choose the one that fulfills your streaming needs.
Best StreamEast Alternatives For Sports Streaming
Since the following websites aren't legal to use in several countries, install a VPN and secure your privacy. Some of the recommended VPNs are
Cricfree
Cricfree is a live sports streaming service that mainly focuses on cricket matches. It also streams other sports, including NFL, NBA, MLB, and many more.
For each sporting event, you will get more than two streaming links. It will be very helpful when one of the links fails to load the live event.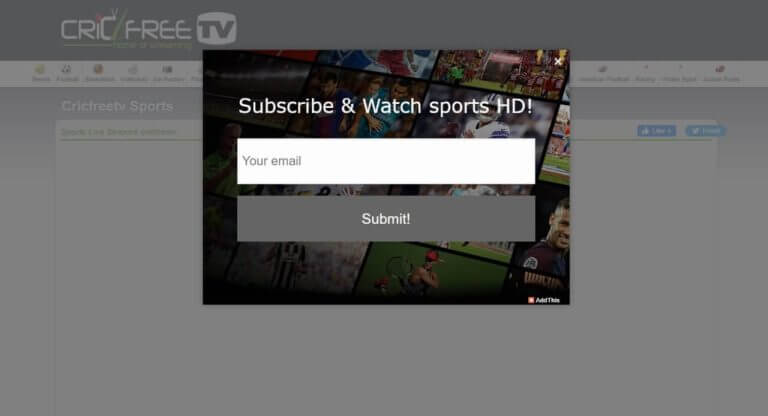 | PROS | CONS |
| --- | --- |
| No registration is required as it is free to stream. | It contains a lot of pop-up ads. |
| It covers both domestic and international cricket events. | It may require a VPN to stream some content. |
VIPRow Sports
VIPRow Sports is a popular online sports streaming service. You can stream various sports, including football, MMA, boxing, WWE, AFC, Rugby, F1, snooker, and more.
It is the cloned version of VIPBox and VIPLeague. You can watch the matches in high-quality resolution. Since it is free to stream, you have to watch a few advertisements while streaming.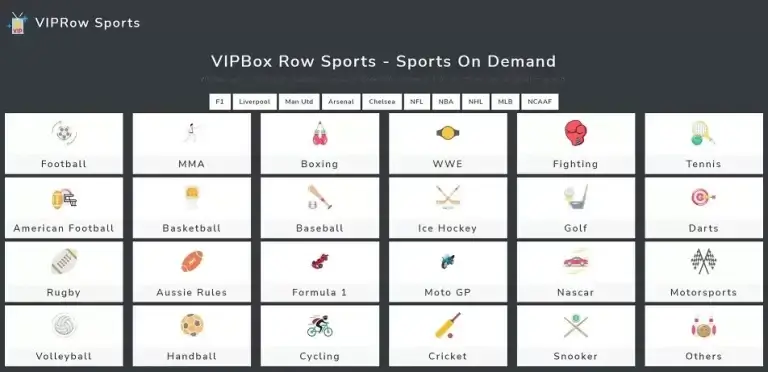 | PROS | CONS |
| --- | --- |
| It is extremely user-friendly. | It is not available on any official or verified app stores. |
| It has a chat box that allows users to communicate, connect, and discuss. | Multiple download requests may infect your device with malicious software. |
VIPBox TV
VIPBox TV is a well-known streaming service for watching live sports events. It allows sports fans and followers to stream on-demand sports events, matches, or highlights.
It is highly rated due to its HD resolution streaming quality. The website is simple to use and allows users to navigate through the content easily.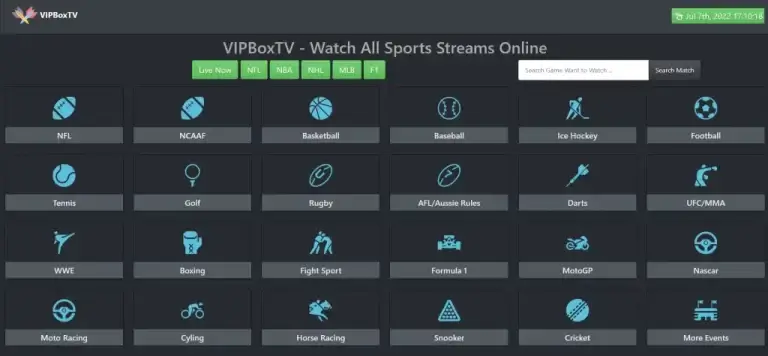 | PROS | CONS |
| --- | --- |
| It offers streaming video, updates, news, and links to sports events. | Too many commercials before streaming. |
| It only allows legal content | You must enable VPN to secure your privacy. |
VIPLeague
VIPLeague is the next StreamEast alternative for online sports TV, which includes sports videos and has a lot of sports information.
Users can watch live football, UFC, WWE, and Fighting for free. It blocks thumbnails and also the streaming links to have a great streaming experience.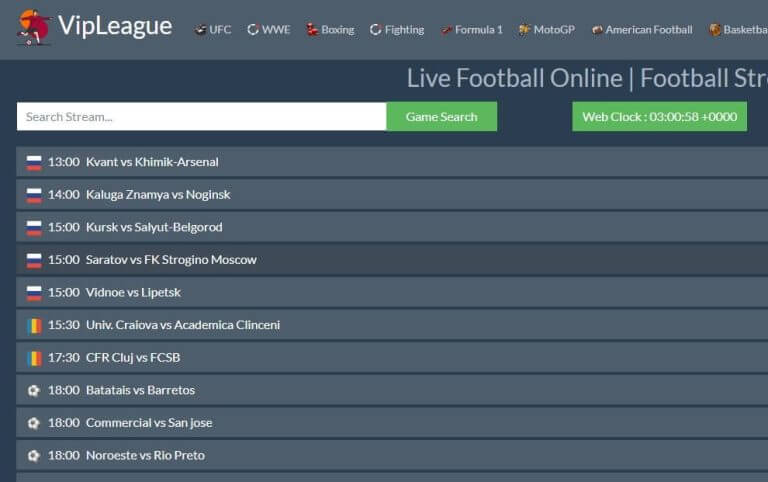 | PROS | CONS |
| --- | --- |
| It is mobile-friendly, so you can stream it on your smartphone. | You will be greeted with several pop-ups and advertisements. |
| Easy-to-navigate menus and well-defined categories. | Ad-blockers may not work properly. |
Sportsurge
Sportsurge is an online streaming service that offers popular games, including NBA, MotoGP, F1, football, baseball, and many more. You can also watch the live matches, scores, and highlights of existing games.
It carries the sports channels such as ESPN or NBC Sports. It allows users to share their feedback.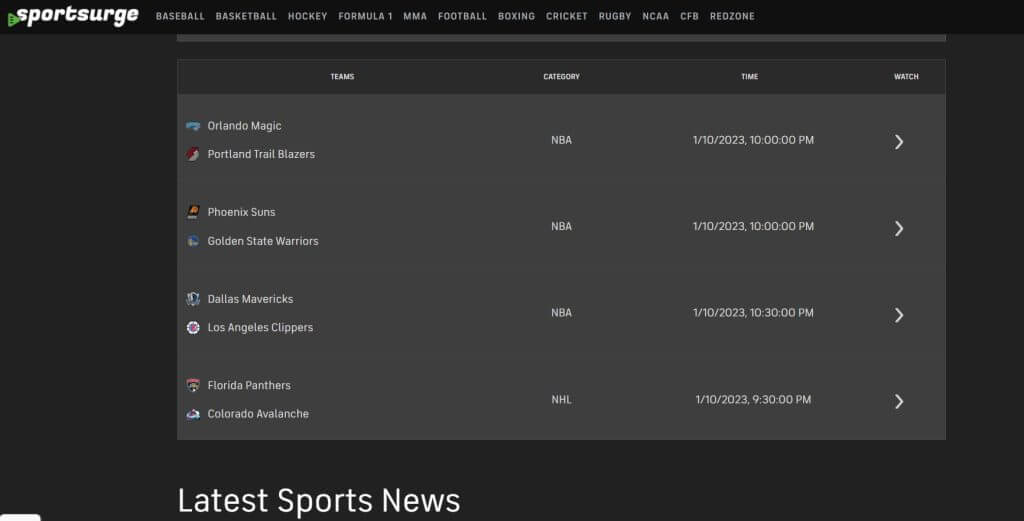 | PROS | CONS |
| --- | --- |
| It is simple to use with an intuitive interface. | Takes a lot of time to load the video. |
| It is supported on all devices with a web browser. | The frequent pop-up adverts may interfere sometimes. |
Crackstreams
Crackstreams is the best streaming site for sports lovers. Users can watch different sports from any location on many devices.
Users can find a large collection of sports categories, such as MMA, boxing, football, and cricket. You can stream many live sports channels from various countries across the world.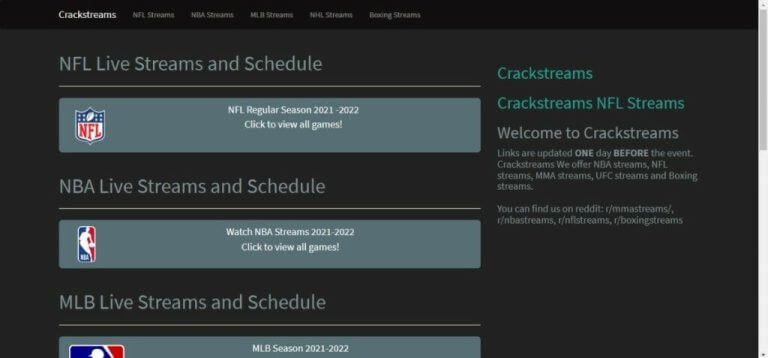 | PROS | CONS |
| --- | --- |
| It is completely free to use. | Currently, it is not streaming UFC, MMA, boxing, and NBA events. |
| Crackstream is a legal website. | The pop-up ads may inject viruses into your device. |
Batman Stream
Batman Stream is one of the free streaming sites for sports fans and followers. It has a massive collection of sports to stream. It offers a chatroom feature to communicate with the user. Batman Stream provides high-quality streaming of live sports. Also, it includes fencing, equestrian, e-sport, and handball.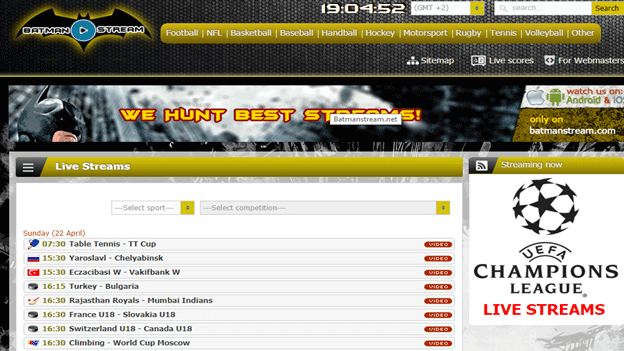 | PROS | CONS |
| --- | --- |
| New events will be added frequently. | It runs on ad revenue, and you should turn on AdBlocker to stop the ads. |
| Streams all sports for free. | The layout is in a disordered state. |
Sportlemon
Sportlemon is a great place to stream high-quality live sports matches or events. You can watch games such as hockey, tennis, boxing, ice hockey, moto baseball, volleyball, and much more. Users can watch the videos in HD or 3D streaming quality. You can access all sports events, fixtures, and updates on this site.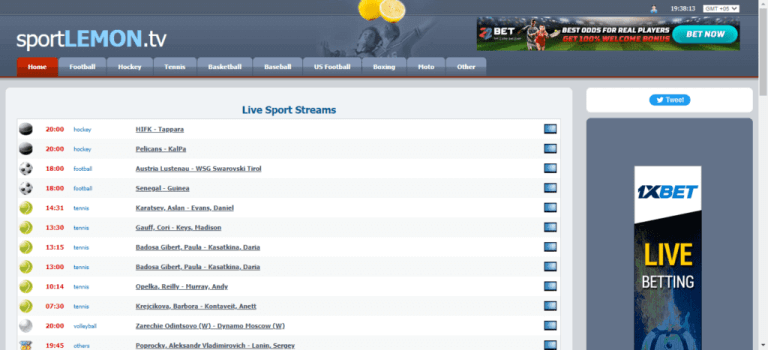 | PROS | CONS |
| --- | --- |
| It never slows down the performance. | To access all features, you need to sign up or register. |
| The interface is simple, fast, and user-friendly. | To secure your site, enable VPN. |
FirstRow Sports
FirstRow Sports is the most popular live-streaming website for sports. You can live stream many sporting events, such as NFL, NBA, MMA, MLB, NHL, Soccer, F1, etc., in high-definition resolution without a monthly fee.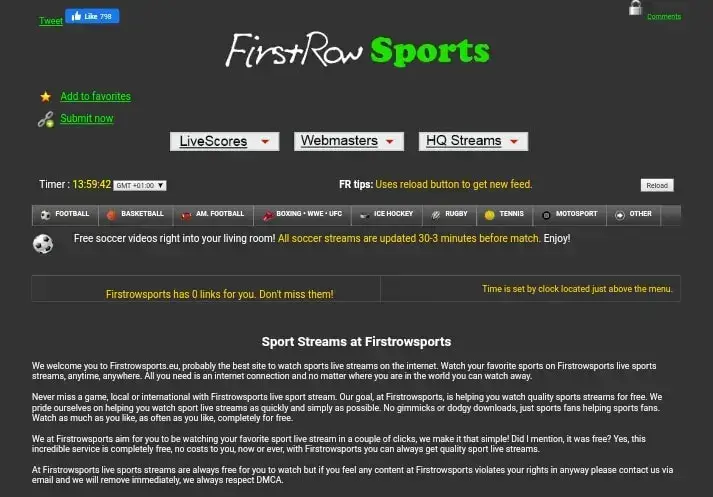 | PROS | CONS |
| --- | --- |
| It offers HD streaming for all sports events. | This website is geographically restricted. |
| It has a live scoring tab on its homepage. | Contains too much of annoying advertisements. |
Buffstreams
Buffstream is the pioneer streaming platform that offers live-streaming links to sports lovers. It offers users to watch a large number of sports streaming servers to watch live matches.
It is 100% free to access. Users can watch only NBA, soccer, NFL, Moto GP, F1, WWE, UFC, MMA, Tennis, Boxing, Golf, Darts, and Rugby on Buffstream.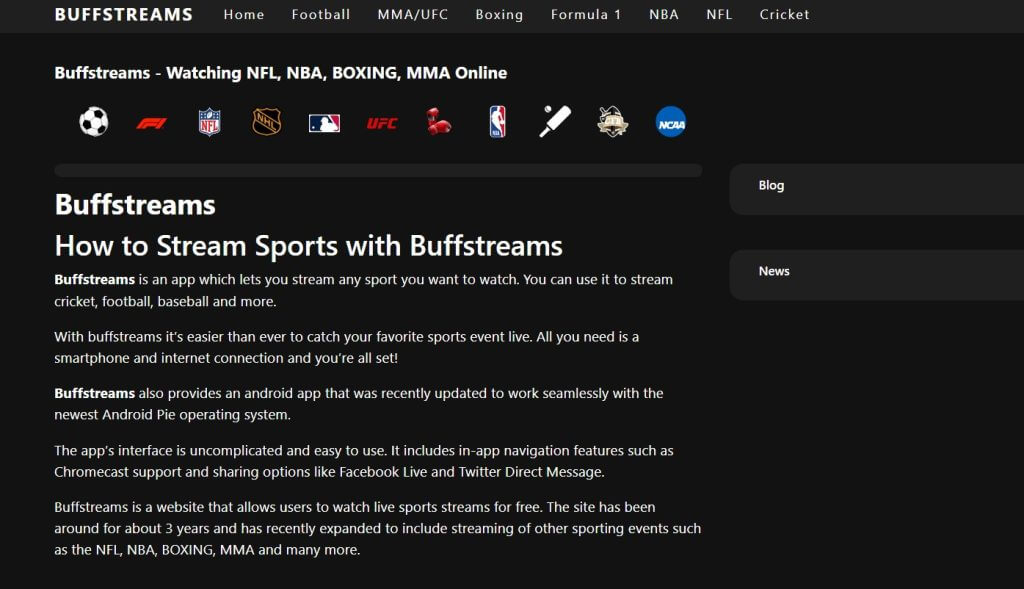 | PROS | CONS |
| --- | --- |
| The website will be updated at regular intervals. | The website is subjected to various copyright infringements. |
| It has a simple and user-friendly interface. | You can't watch on-demand content on this site. |
Stream2Watch
Stream2Watch is a streaming site that precisely focuses on online sports streaming. Users can get free streaming for a wide range of sports. It has a chat feature to discuss current sports events.
You can able to find the language of the commentators of the game. It allows users to watch the videos in high quality and without interruptions.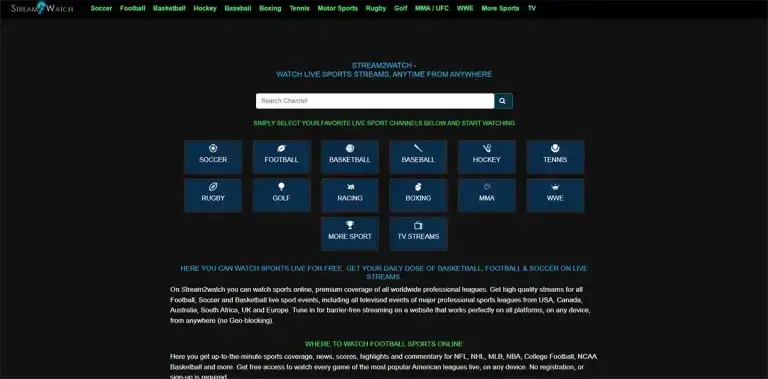 | PROS | CONS |
| --- | --- |
| It has a dynamic interface to watch live TV and sports easily. | Some of the links are invalid. |
| It offers 350+ channels for free. | Some countries are restricted from using this website. |
DaddyHD
DaddyHD is the most deserving internet-based streaming website for sports. It offers you to watch sports events such as tennis, volleyball, cricket, ice hockey, handball, soccer, WWE, cycling, horse racing, and much more.
DaddyHD is absolutely free-to-use, and you don't need to sign up or register an account to access the content.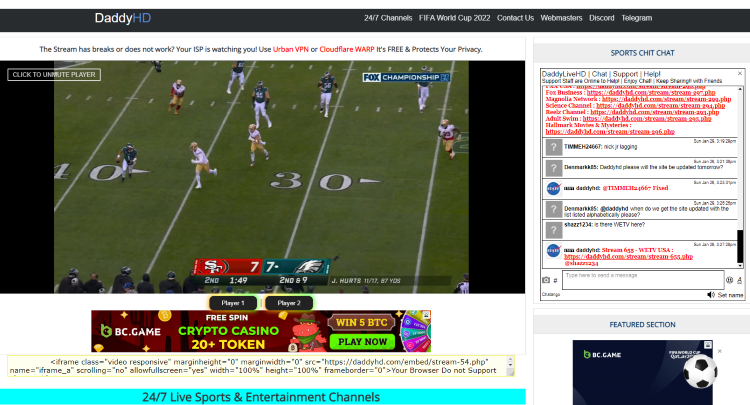 | PROS | CONS |
| --- | --- |
| Play the sports content in HD resolution. | You must enable VPN to access some live TV channels. |
| It has a built-in closed captions feature and a full-screen mode. | You cannot binge-watch the on-demand content offline. |
CricHD
To stream live cricket matches, CricHD is the best choice. You can select many sports events, including IPL, PSL, ICC, etc., on the website.
It also offers users to watch other sports like College Football, Tennis, and MotoGP. CricHD provides high-quality links to sports events for any game.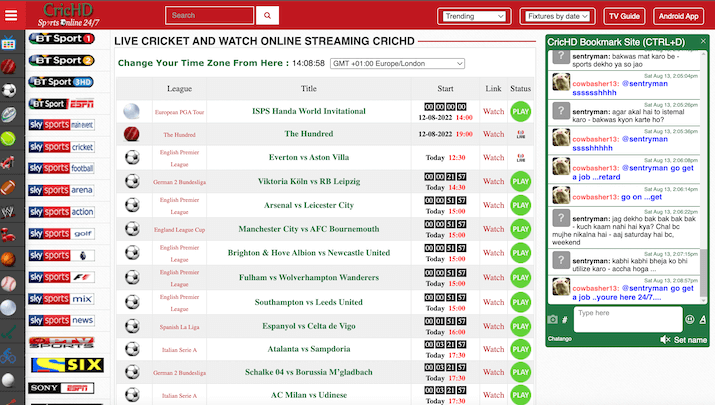 | PROS | CONS |
| --- | --- |
| It streams continental tournaments such as UEL or UCL. | Pop-ups may interrupt while streaming. |
| It is simple, free, and easy to use. | It only streams fewer sports events. |
Bilasport
It is a live sports streaming website that offers you to watch sports events from major networks, including UFC, NFL, MLB, and many others.
Unlike other sites, Bilasports offers news, live streams of events, highlights, other statistics, etc. You can also broadcast from many different sports channels.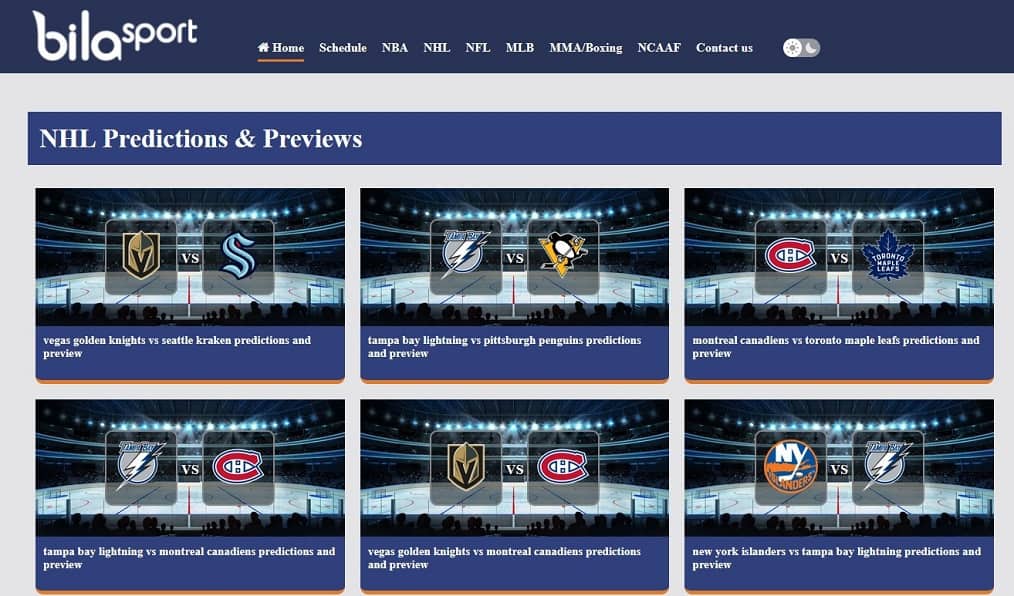 | PROS | CONS |
| --- | --- |
| It provides high-quality content and information. | You have to use a VPN to secure your privacy. |
| It has a comprehensive sports analysis. | The advertisements slow down the website. |
NFLBite
NFLBite is the last one on our list of best StreamEast alternatives. It is the idle place for die-hard fans of football. On this site, you can watch popular matches such as NHL, NASCAR, NFL, Premier League, and many more.
It offers you to stream live matches, scores, highlights, news, upcoming events timings, etc., on NFLBite. Each game provides more than 30+ links.

| PROS | CONS |
| --- | --- |
| It offers news, analytics, and a preview of football events. | It does not have many features on the homepage. |
| Users can upload links to live sports | No simultaneous streams are available. |
Frequently Asked Questions
Is StreamEast legal to use?
No. StreamEast is not a legal one to watch Live Channels.
Was this article helpful?